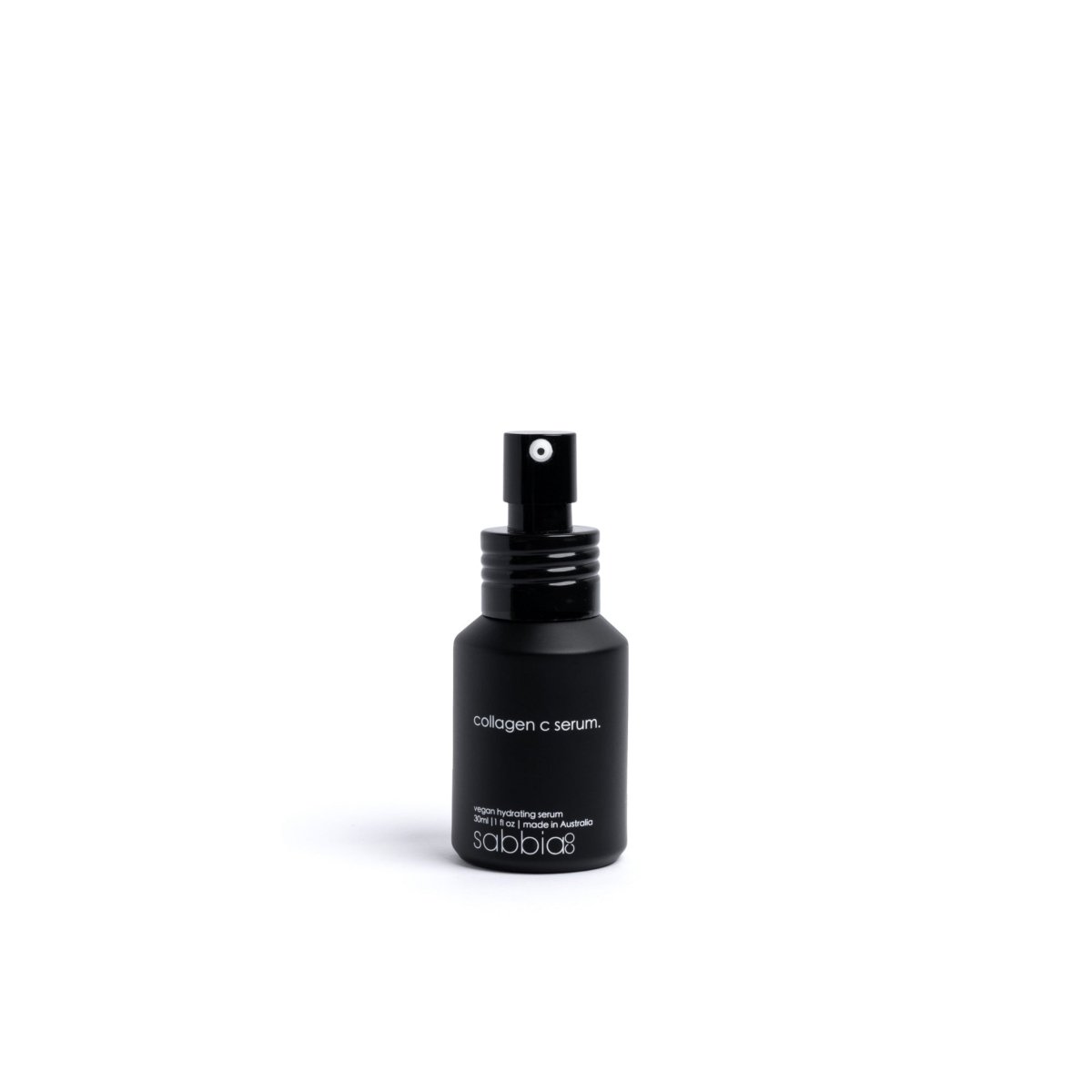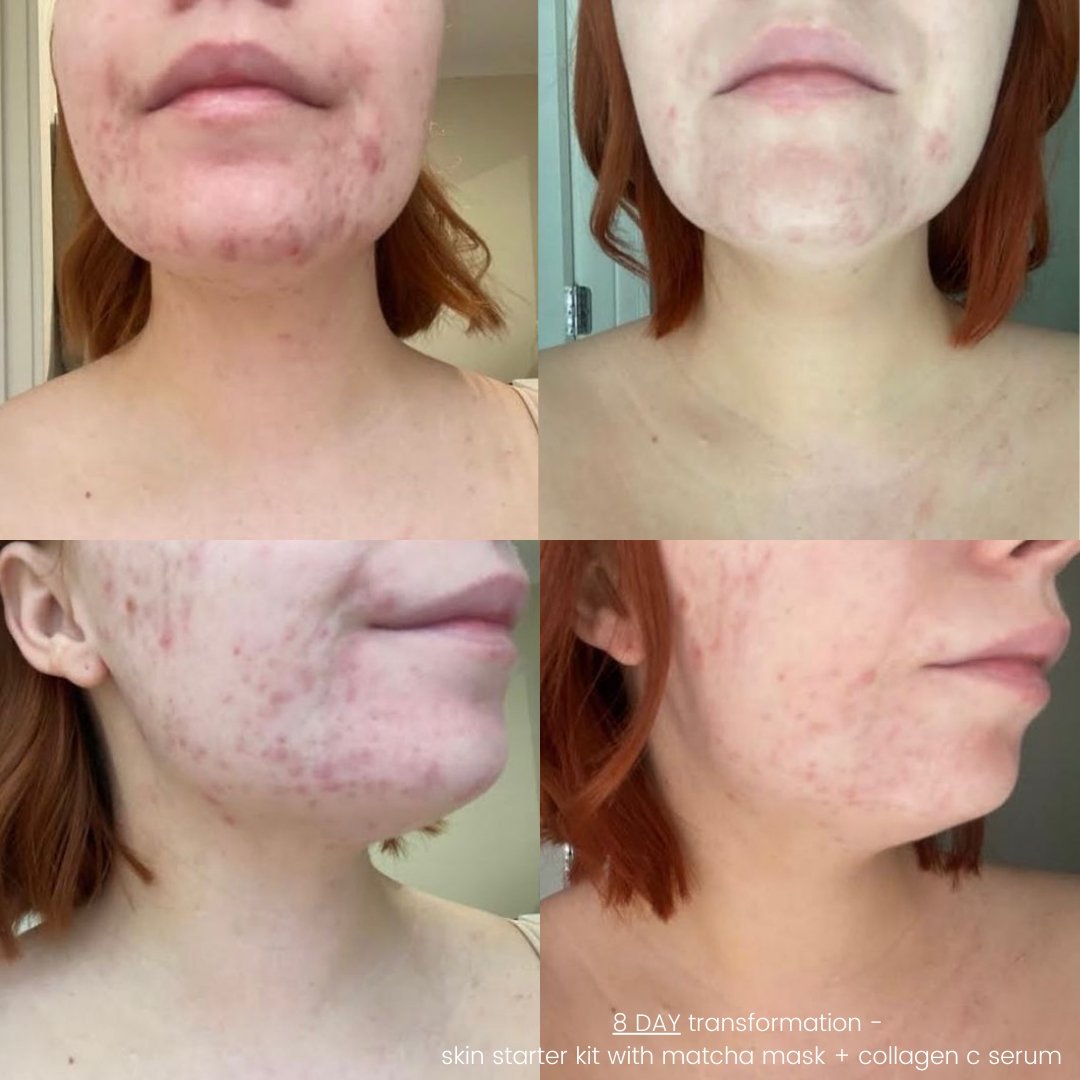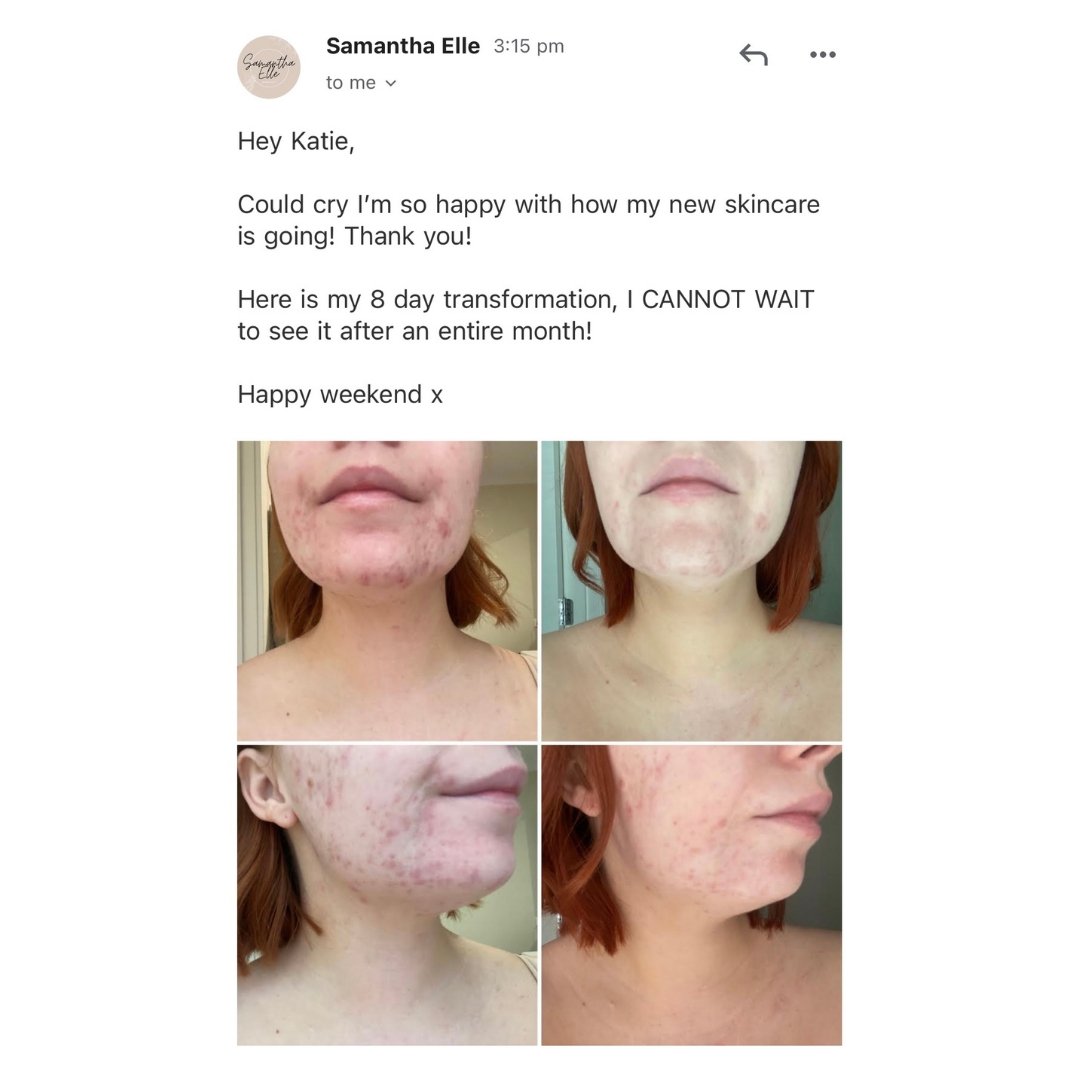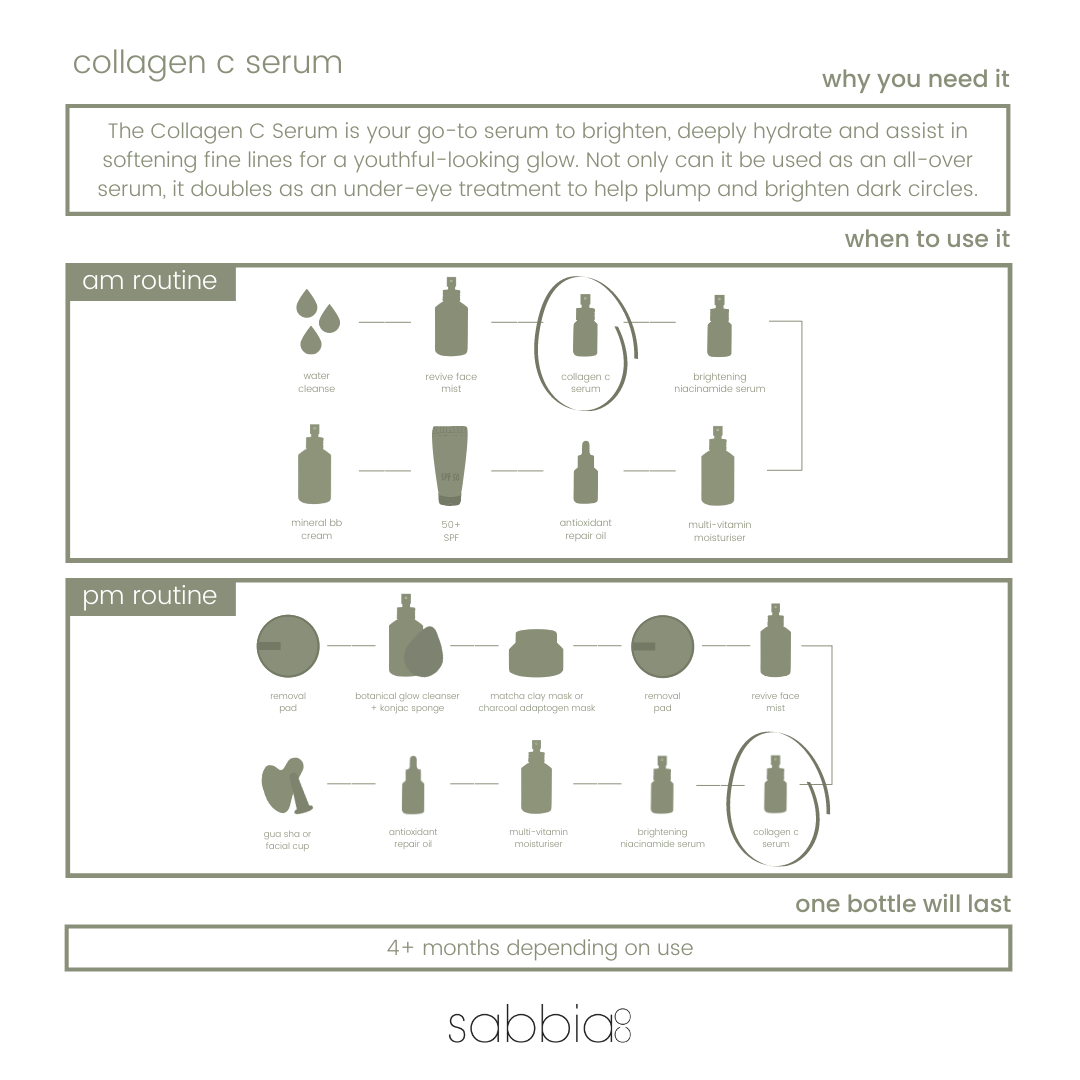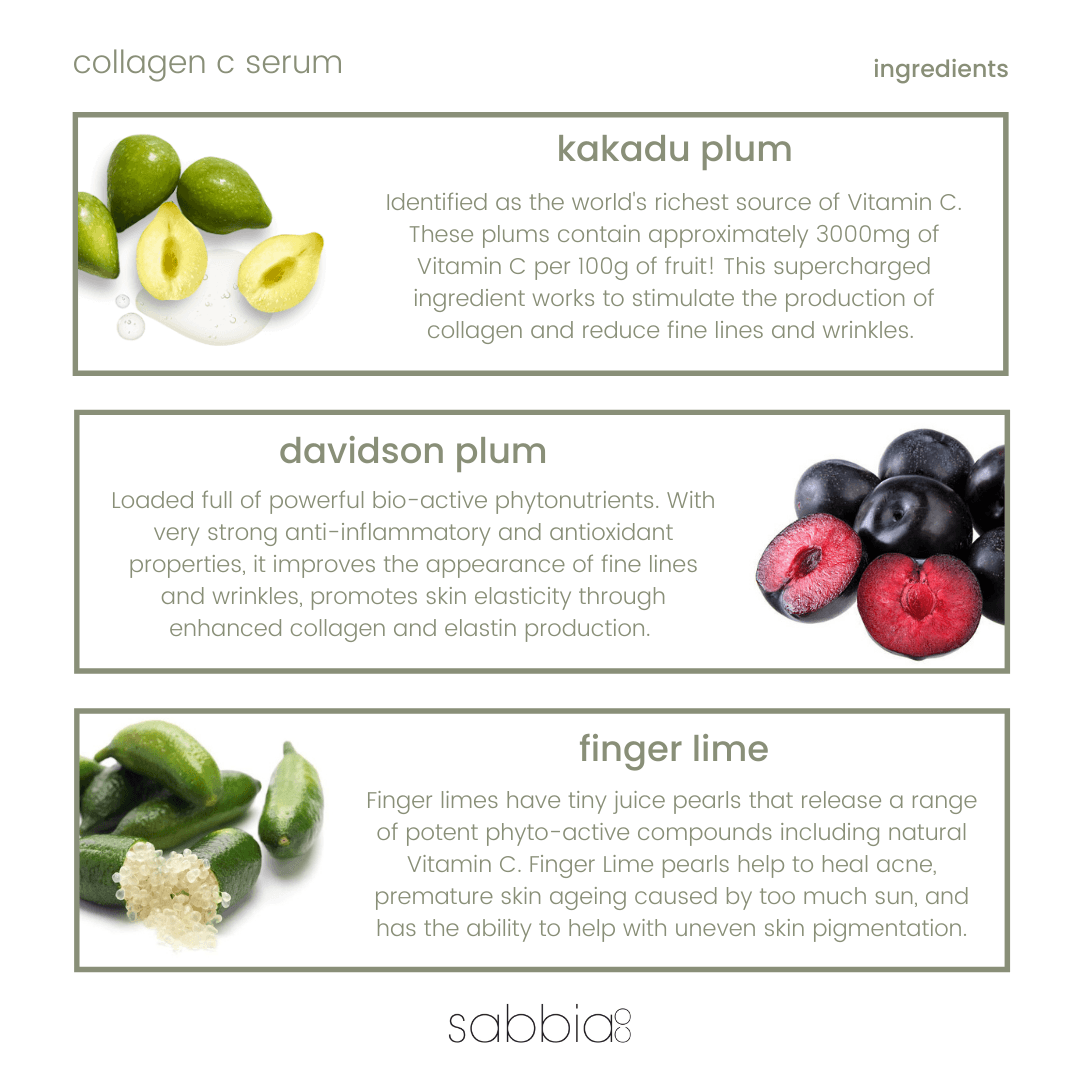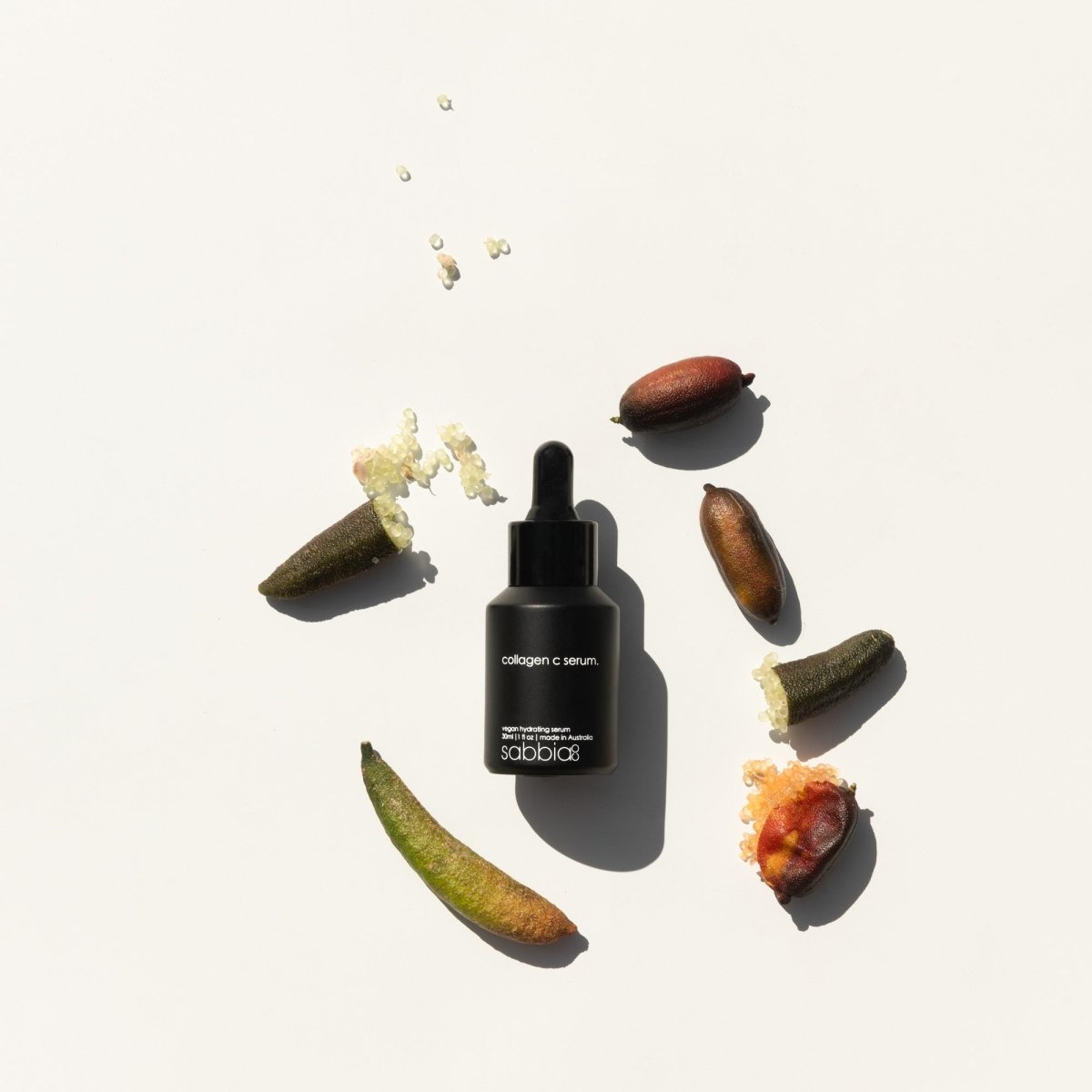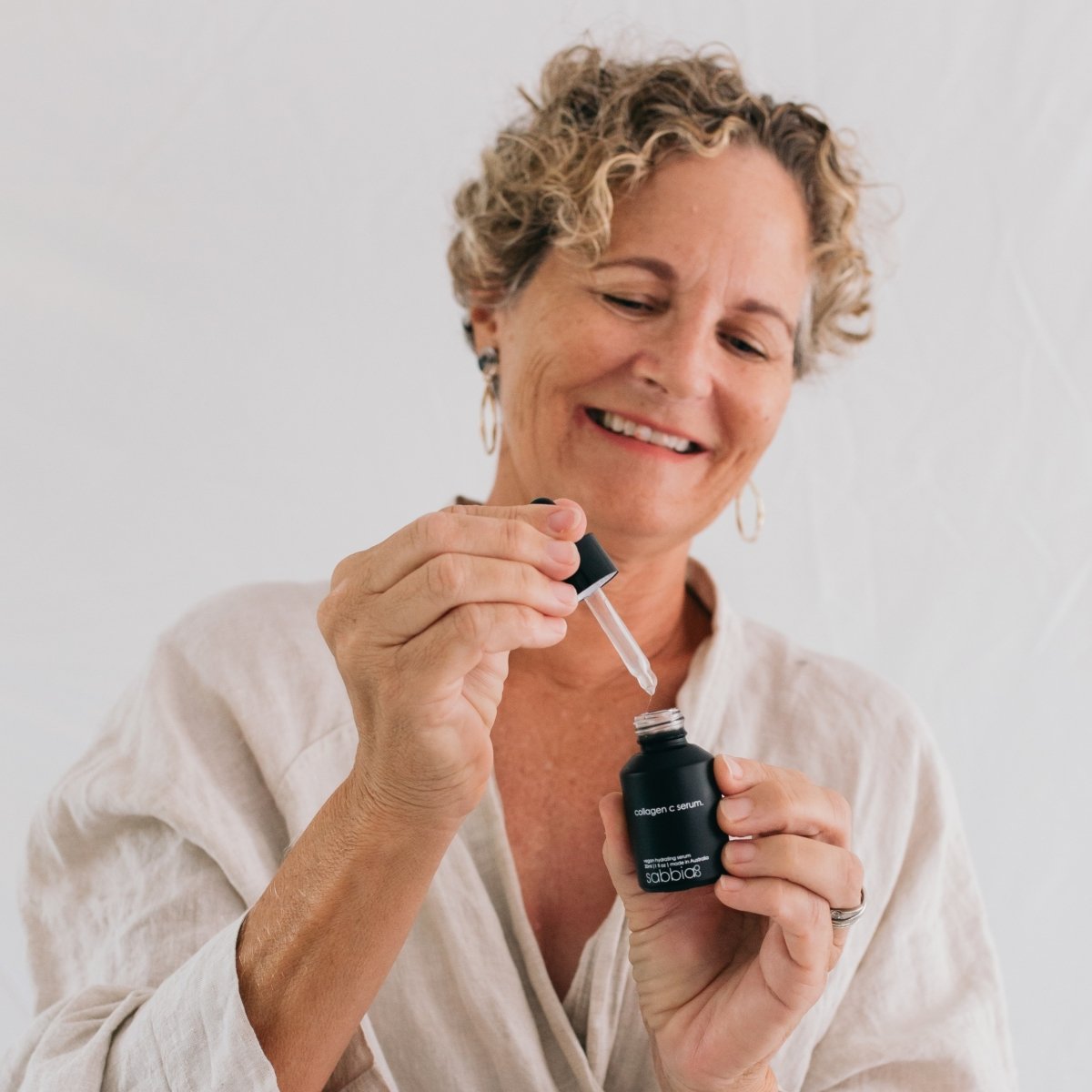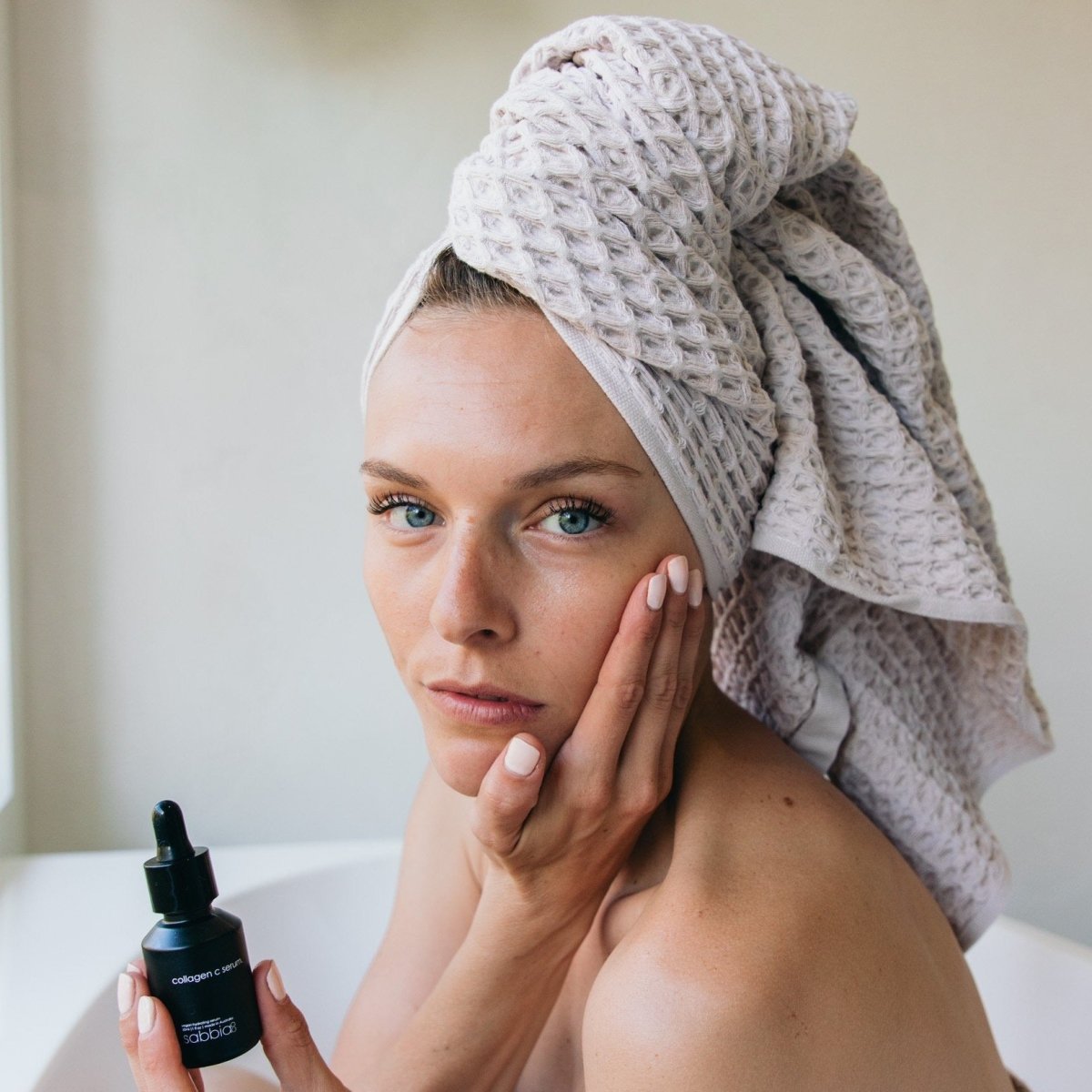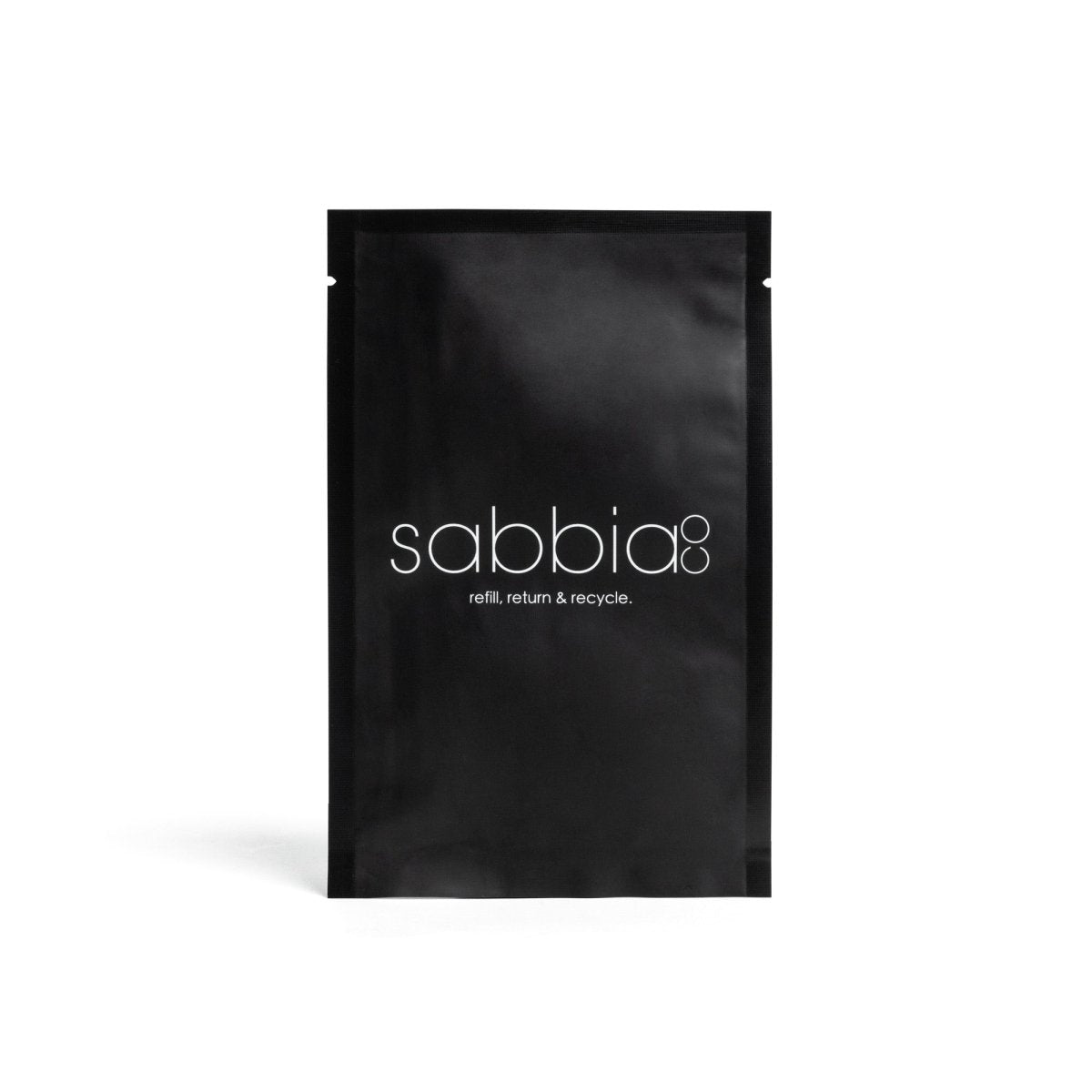 Description
A 4-in-1 facial serum to brighten, hydrate, boost collagen and elastin, and protect from free radicals to soften fine lines for a radiant glow. Formulated with Hyaluronic Acid, Marine Seaweed Collagen, and Vitamin C derived from Kakadu and Davidson Plum. That also doubles as an under-eye treatment for dark puffy circles.
・Key Benefits
✓ Collagen Peptide Boost: Supports collagen synthesis to enhance skin elasticity, promoting firmer, plumper skin.
✓ Potent Vitamin C: Brightens, rejuvenates, evens skin tone, protects and fights signs of aging.
✓ Hydrating - Hyaluronic Acid: Deeply moisturises and plumps the skin for a supple complexion from a cellular level.
✓ Skin-Soothing: Enriched Hyaluronic Acid, Peptides, Cucumber and Vitamins E and C for rejuvenation. Reduces appearance of fine lines and wrinkles.
✓ Antioxidant Rich: Protects against environmental damage and free radicals, reducing the signs of aging.
✓ Lightweight Fast-Absorbing: Lightweight formula sinks in quickly without residue. Allows skin to breathe without clogging pores. Feels comfortable and weightless on skin.
✓ Universal Premium Formulation: Crafted with the highest quality organic ingredients for optimal results. Suitable for all skin types, including sensitive skin.
✓ Free from Harsh Chemicals: No parabens, phthalates, or artificial fragrances.
✓ Eco-Friendly: Crafted with sustainably sourced ingredients and packaged in refillable recycled glass bottles.
✓ Vegan & Cruelty-Free: Proudly formulated without animal products or testing.
・How To
Step 1: Slightly moisten face, neck, and décolletage. This helps to hold optimal hydration.
 
Step 2: Apply 1-2 pumps of collagen c serum to clean fingertips and gently massage over the entire face, neck, and décolletage.  
* Can be used as an under eye treatment to reduce the appearance of puffy dark circles - watch how here.
Directions: Use morning and night after cleansing.
Learn more about layering skincare here.
・Ingredients
Ingredients: Sustainably packaged in recycled glass bottle and recycled cardboard box. Not tested on animals. Vegan. Australian Made.
Purified Water, Vegetable (Palm Free) Glycerine, Hyaluronic Acid, Vegetable Collagen (Seaweed), Davidsonia Jerseyana (Davidson Plum) Extract, Citrus Australasica (Finger Lime) Extract, Teriminalia Ferdinandiana (Kakadu Plum) Extract, Sclerotium (Mushroom) Gum, Lactobacillus (Radish Root) Ferment, Cocos Nucifera (Coconut) Fruit Extract, Populus Tremuloides (Aspen Bark), Cucumis Sativus (Cucumber) Seed Oil.
* = organic ingredients 
Warning: For external use only. We recommend patch testing a small area of skin first. Avoid eye contact. If an adverse reaction occurs discontinue use and consult your Doctor. Keep out of reach of children. Do not swallow. Store below 25°C/77°F.
・Suitable For
Here at Sabbia Co we pride ourselves in making skincare for EVERYONE! Our products are potent and effective while being gentle on sensitive skin.
Sabbia Co formulations have been developed by the Founder Katie herself after extensive research in Cosmetic Chemistry and Plant Based Medicine.
Sabbia Co products use high potency plant extracts to improve the skins health. This results in a healthy, more hydrated and repaired skin barrier. An impaired skin barrier is more often than not the cause of inflammation in the skin that presents instead as breakouts, redness, dryness and other skin concerns.
・Pregnancy / Breastfeeding Info
Safe and effective levels of high-performing plant/sea minerals that assist with increasing lost skin elasticity from pregnancy and depletion during breastfeeding. Also a MUST for those sleepless puffy eyes. See results here.
Increase your results with:
REAL customer results & reviews
Real People, Real Results
In a clinical study on 30 women, after 4 weeks of use. Subjects of all skin types, ages and ethnicities.
After a single use
• 100% said their skin was hydrated
• 96.65% noticed a healthy glow
In just two weeks
• 100% showed increased skin hydration
• 96.65% said the product brightened and depuffed under eye area
• 96.65% said the product revitalised and brightened the skin
Why This Vitamin C Serum Is Like No Other
FAQ
Why do I need to apply to damp skin?
A key ingredient in the collagen c serum is Hyaluronic Acid. Hyaluronic Acid holds up to 1,000 times its molecular weight in water meaning it hydrates and plumps the skin tissues. Assists in the production of collagen, helps the skin look plump, smooth, hydrated, firm and elastic.
When you apply collagen c serum to damp skin it allows the product to penetrate deeper and work its magic.
How will this help my skin?
Packed full of Australian vegan ingredients to plump, repair, strengthen and naturally boost your skins collagen and elastin. With Hyaluronic Acid, plant-based Collagen from Seaweed, Kakadu and Davidson Plum this serum is your skins botanical BOOSTER!
Not only is our Collagen C Serum packed full of skin loving liquids it has been uniquely formulated with a blend of Northern Rivers (NSW) Finger Lime, Cucumber Oil and Mushroom, to brighten, soothe and purify, providing your skin with a vibrant, nourished and luminous glow.
How can I refill / recycle this product?
Shipping
Fast shipping
Daily dispatch MON, WED & FRI
Order tracking
Once your order has been shipped you will recieve your tracking #.
Get in touch
If you have a question please email sabbiasquad@sabbiaco.com
loved by 20,000+ customers. loved by editors. soon to be loved by YOU.
Where does it fit in my routine?
In the AM
At Sabbia Co we personally do a water cleanse as soon as we wake, then follow with Collagen C Serum (plus an extra pump for under those sleepy eyes!). Then after exercise use the cleanser with konjac sponge followed by our AM skincare (mist, serum, moisturiser, oil, SPF and BB cream).
In the PM
First cleanse with makeup pad/cloth and water, followed buy konjac sponge and cleanser. Once the skin is cleansed you can follow with PM skincare (mist, serum, moisturiser, oil and facial tools).
Obsessed
Potentially my favourite sabbia product. My skin looks instantly brighter, hydrated and fresh after using this. I also love how quickly it depuffs my tried eys. I love that it is so multi use, doesn't leave my skin sticky.
Shame about the seaweed.
I love the idea of this serum and love the ingredients except for the seaweed. I wish this wasn't a trend at the moment because it means that people like me with very acne prone skin can't use it. I tried this out for a week but I broke out a lot. Please consider a reformation for us acne prone people.
Hi Carlia,
Thank you so much for your feedback, we've had several customers who have acne prone skin see incredible results with our collagen c serum formulation which is why it is a top seller.
Often incorporating vitamin c or ingredients that speed up your cell turnover will cause a purge (breakout) this is actually a great sign (as annoying as it is) as it means the product is working. I've linked our blog for more information - https://sabbiaco.com/blogs/sabbiasquad-specialist/what-you-should-know-about-skin-purging
Mostly amazing
I only use this under my eyes and slightly watered down as I'm prone to milia. I get hollow dark circles and this serum occasionally helps reduce the dark and plumps the skin around my eyes. When I don't water it down it works much better however I found I was getting the tiniest of milia showing up.
The Perfect Serum.
My skin concern is oily/breakout prone. I love this serum. It really feels like it soaks into the skin. Ive noticed my skin has been improving slowly over the last month of using the Collagen C Serum and the Multi- Vitamin Moisturiser and when I feel like I want a littlest extra I also apply the BB cream which doesn't break me out or cling to my pimples. Couldn't be happier. I just wish it came in a bigger bottle!!
latest from #sabbiasquad skin school
Finding the right products for your skin can be tricky, but layering your skincare correctly will help you prevent and treat issues. Knowing which products to use at what time...