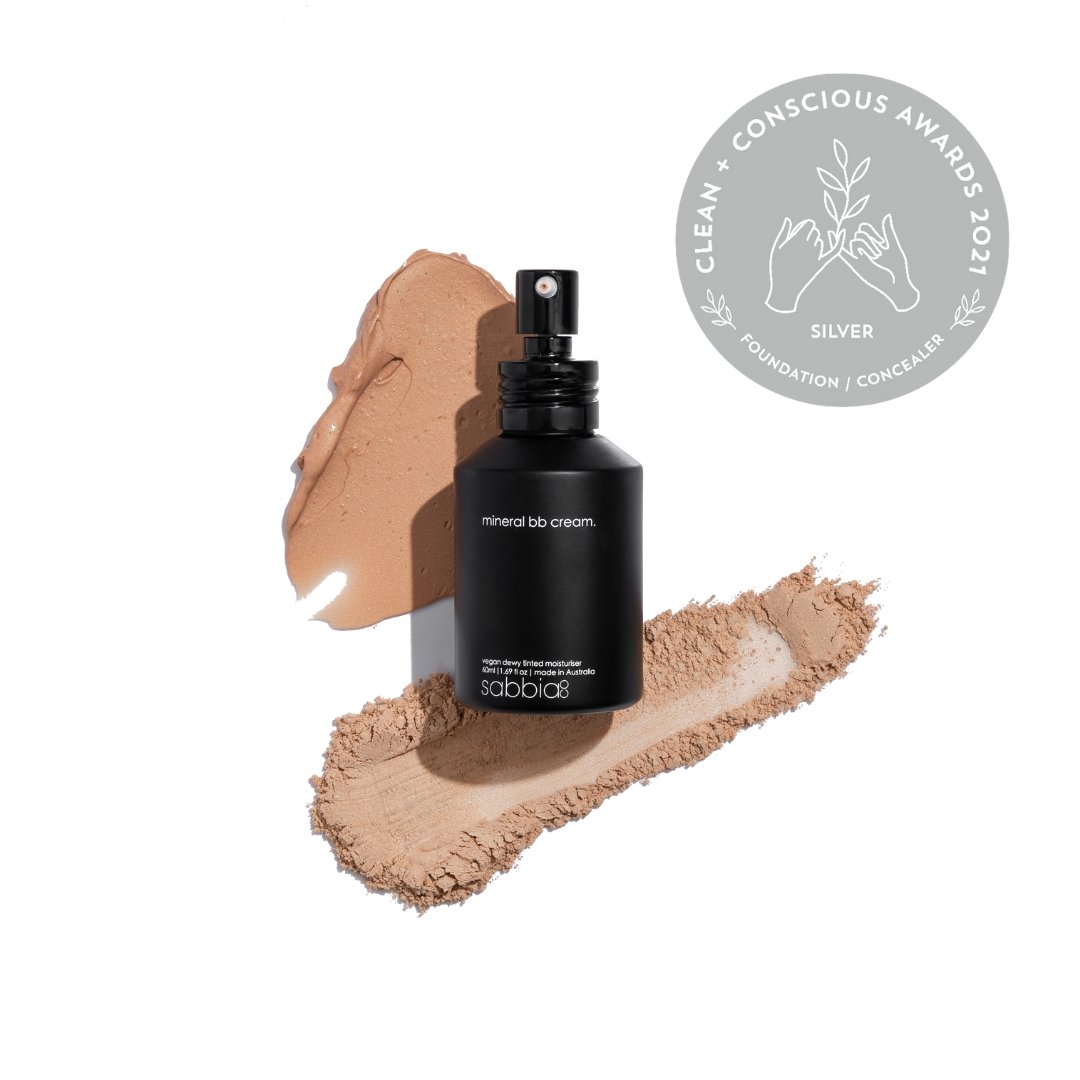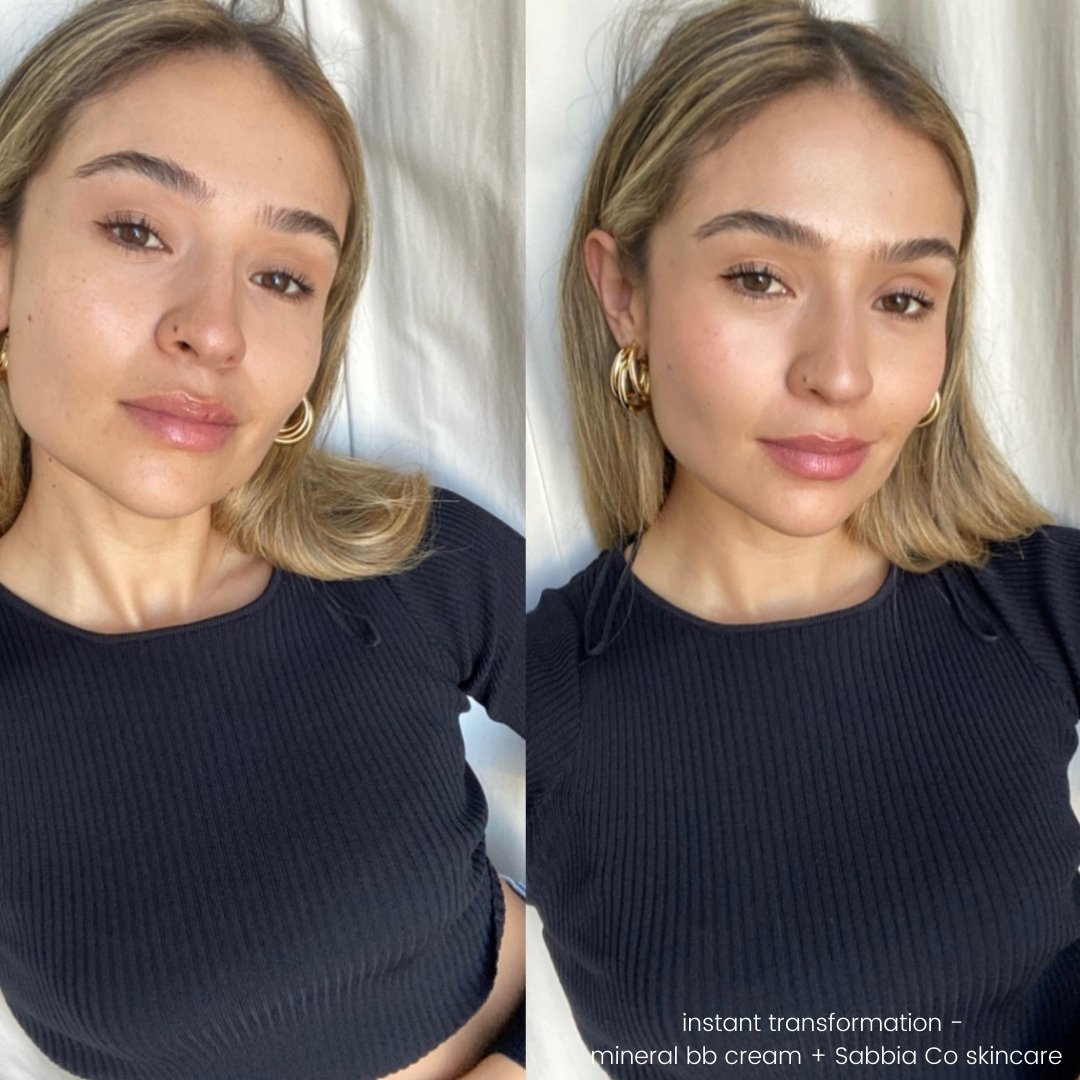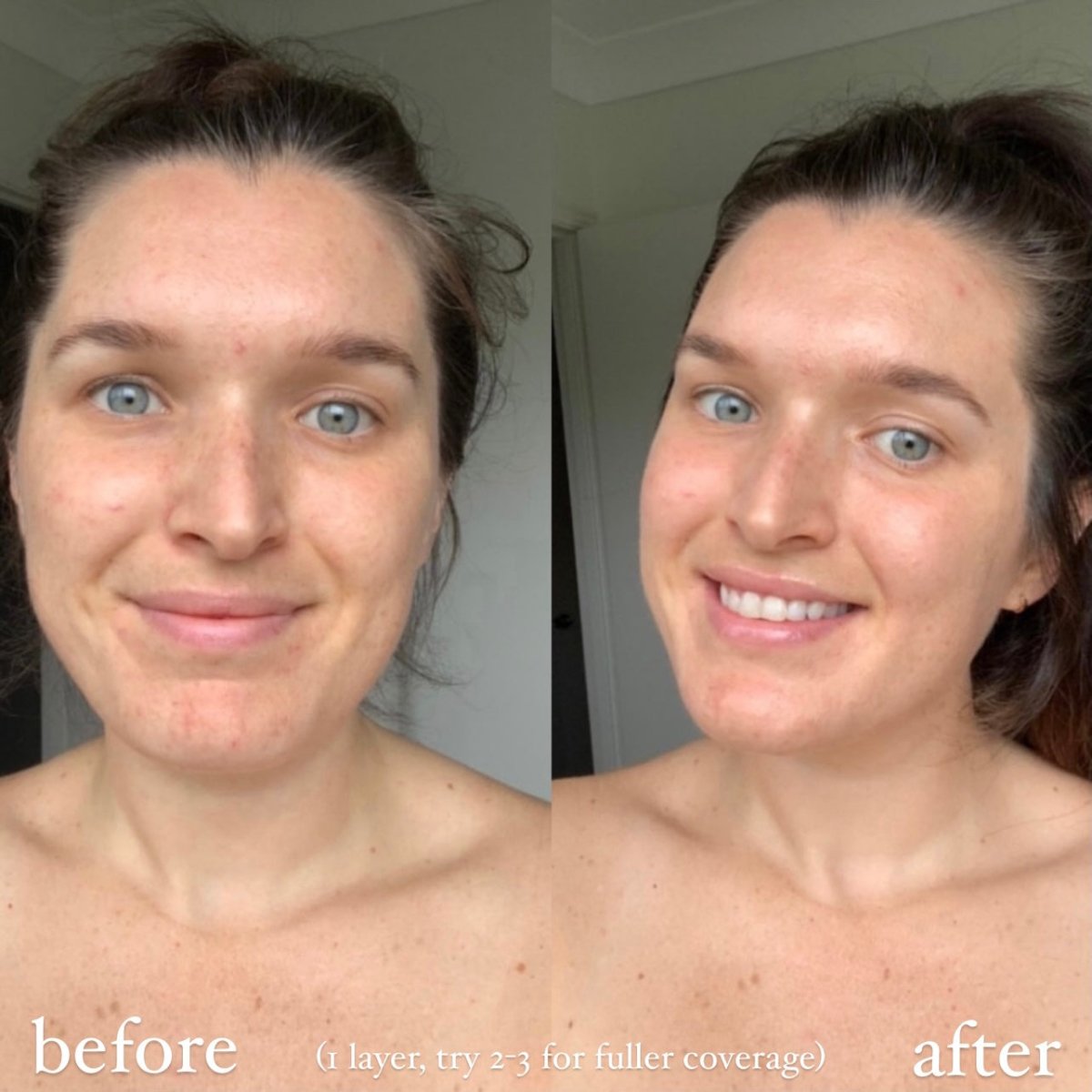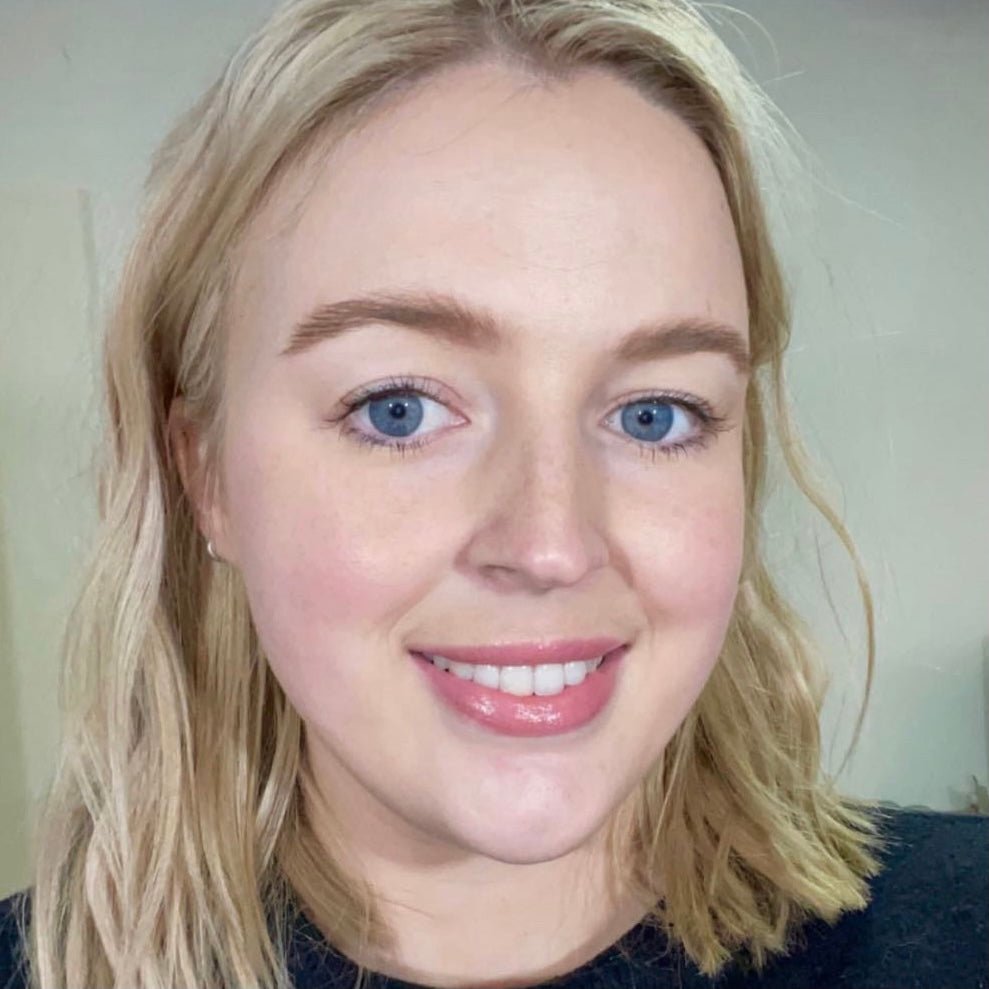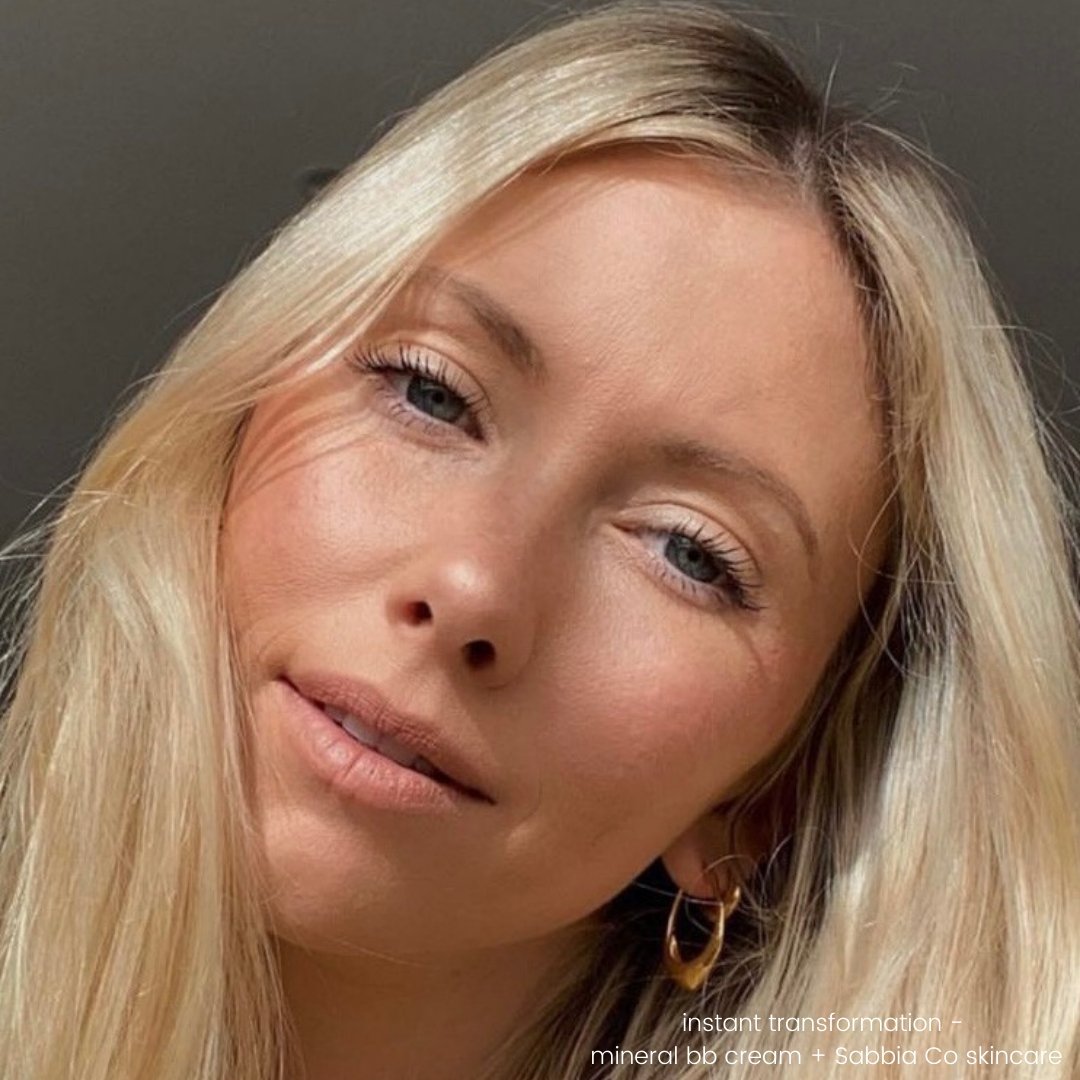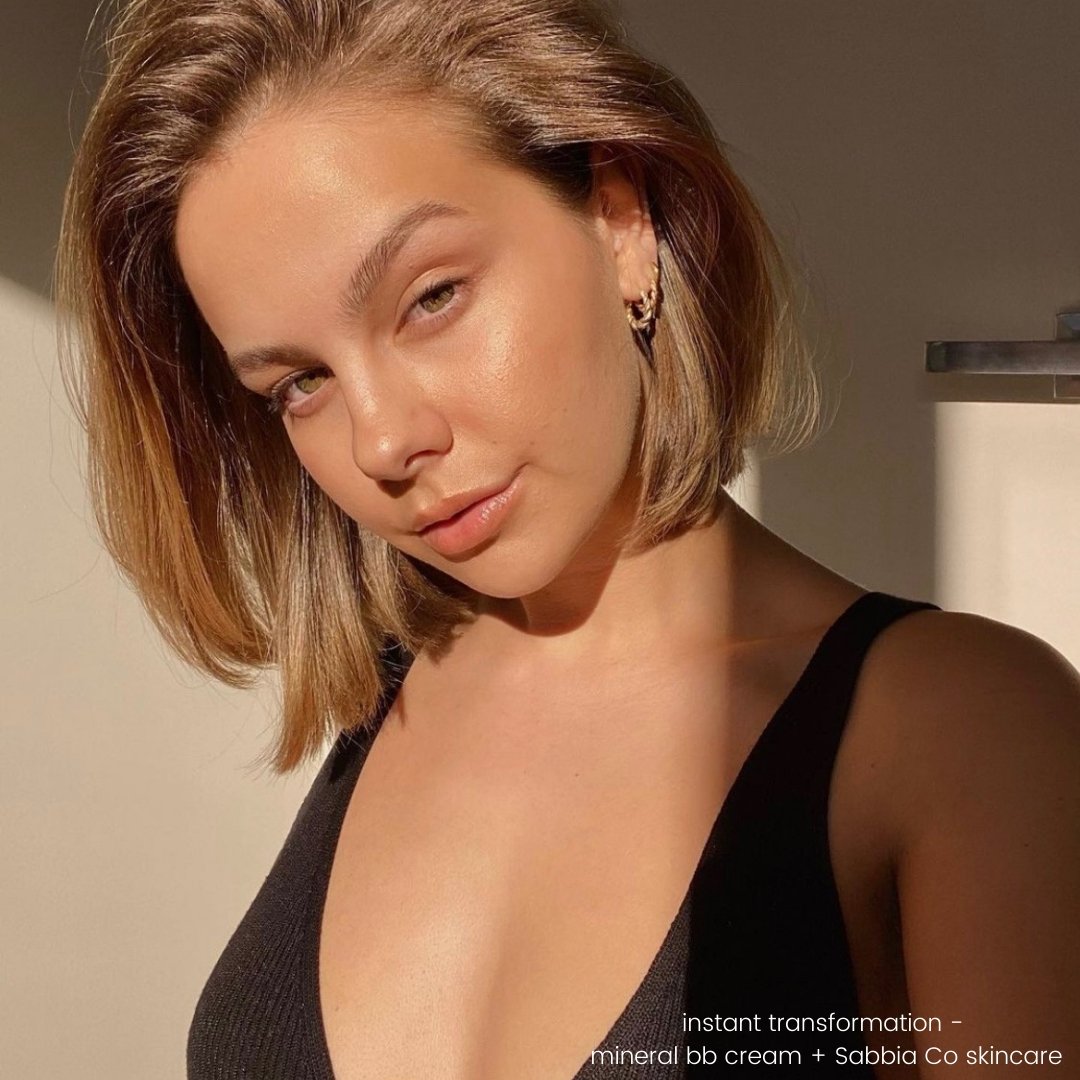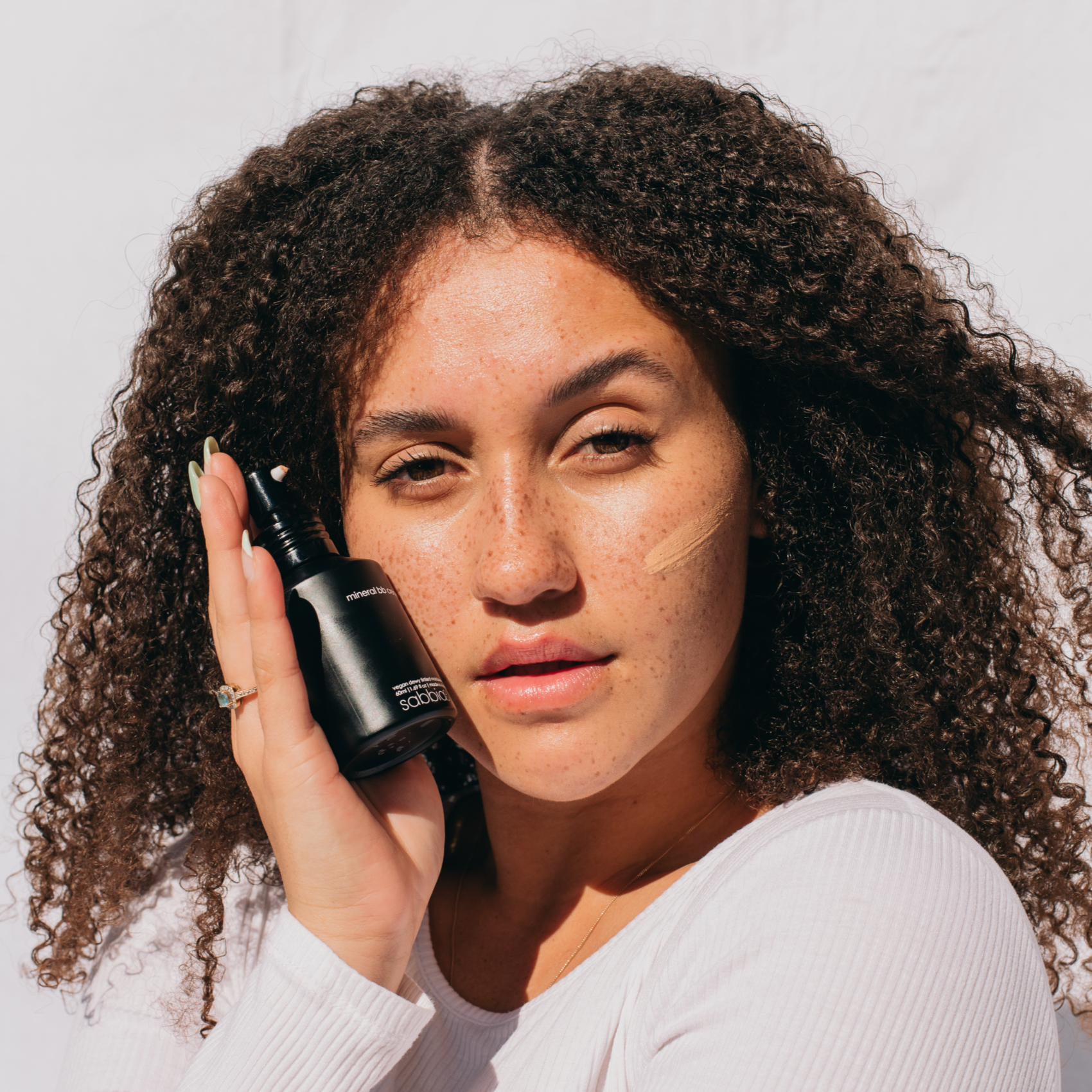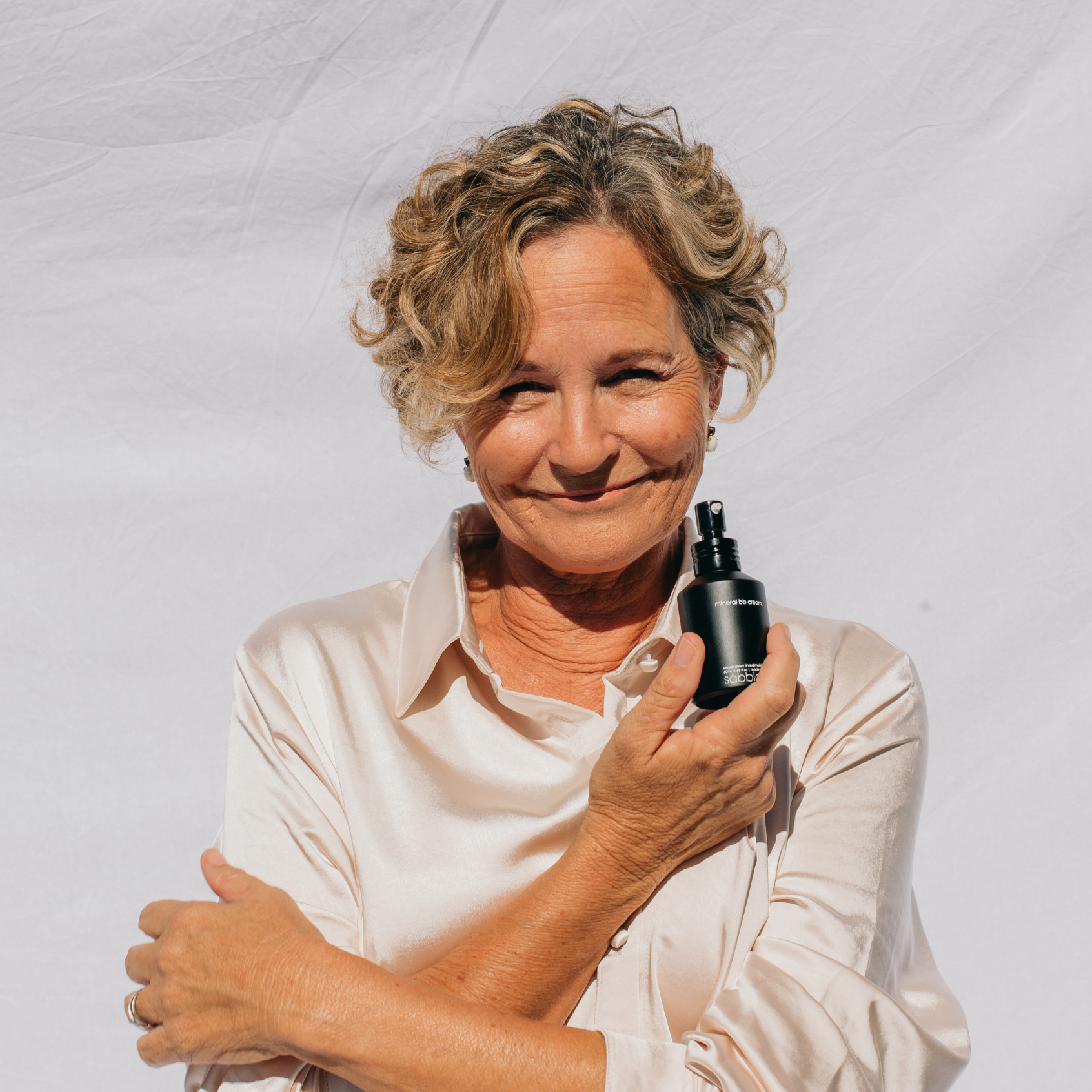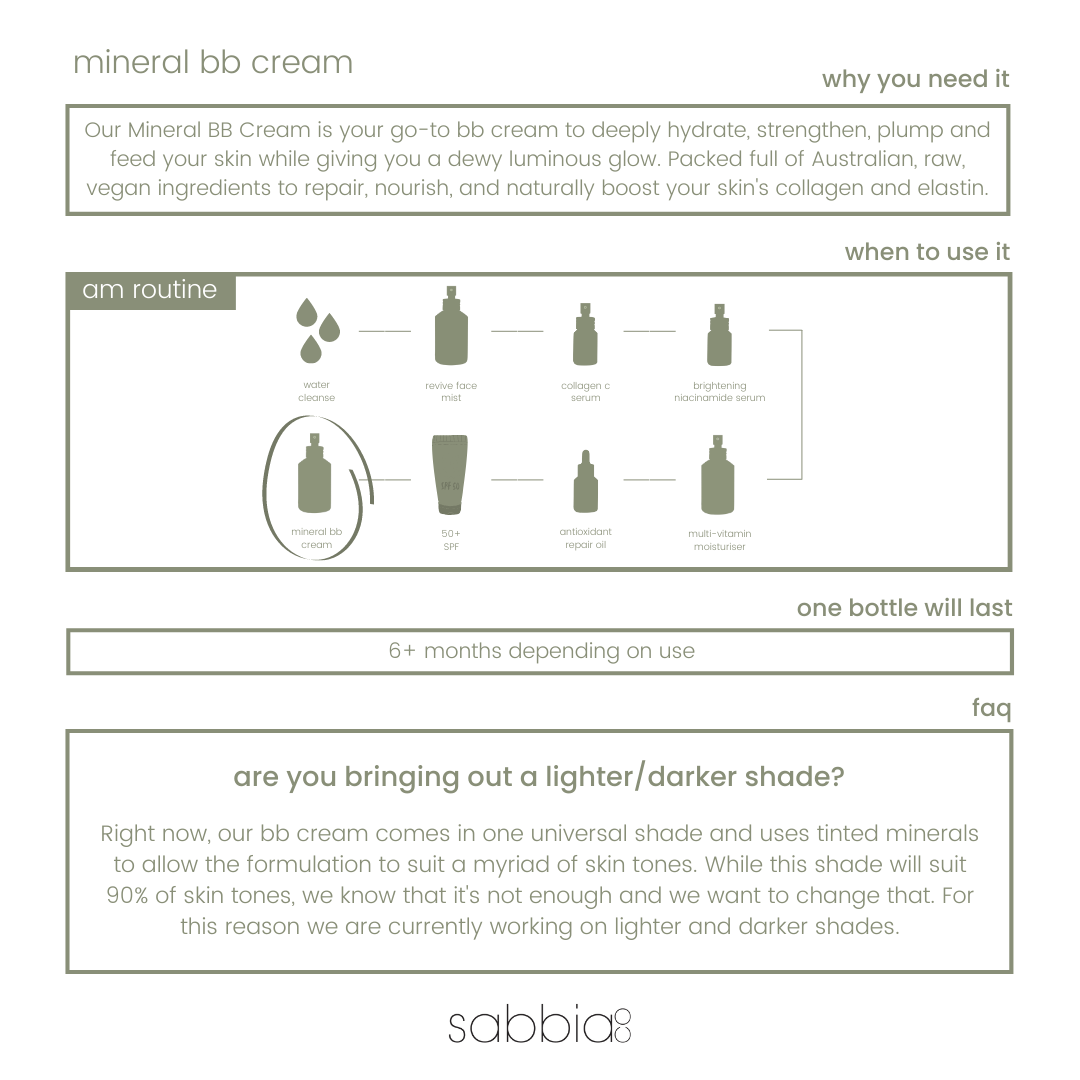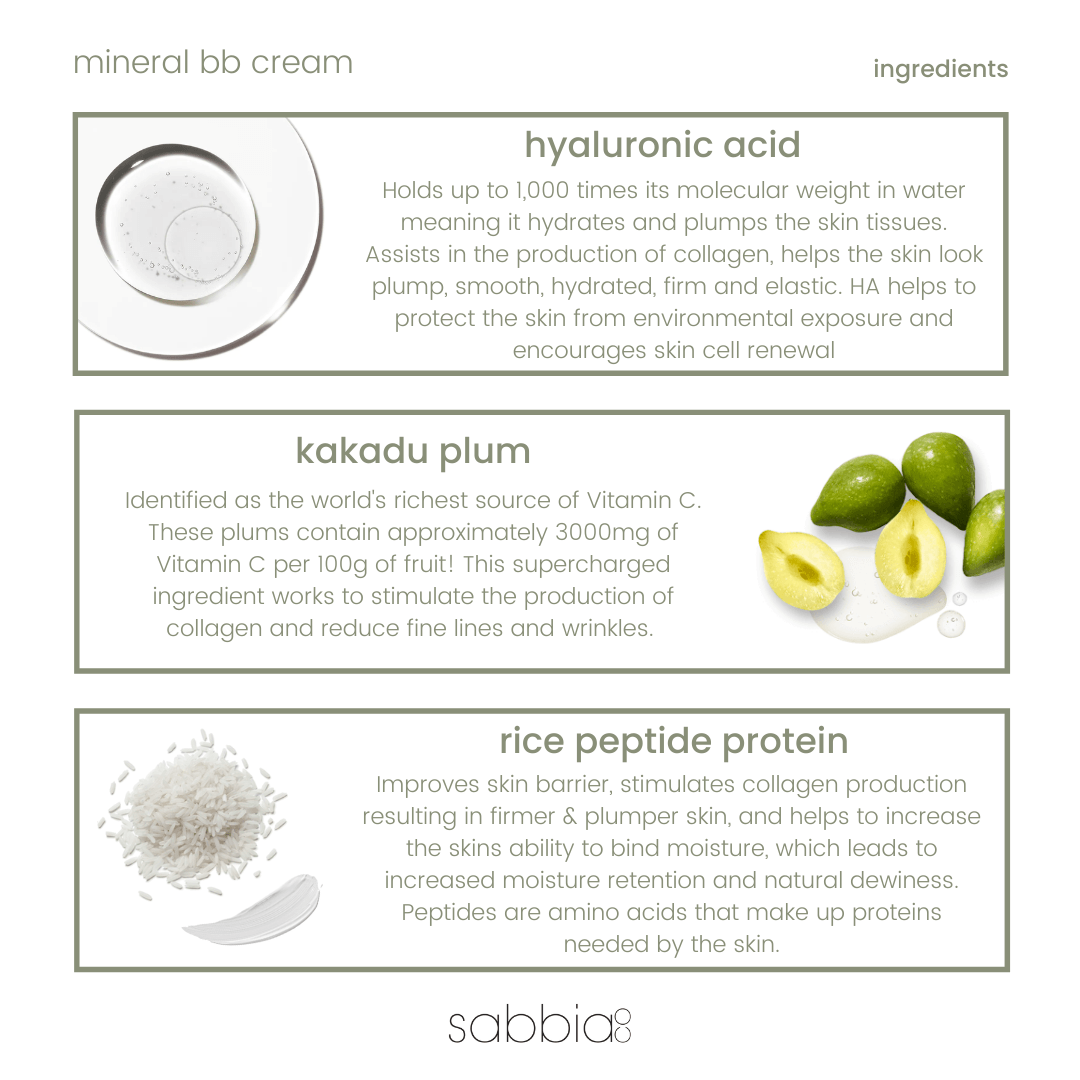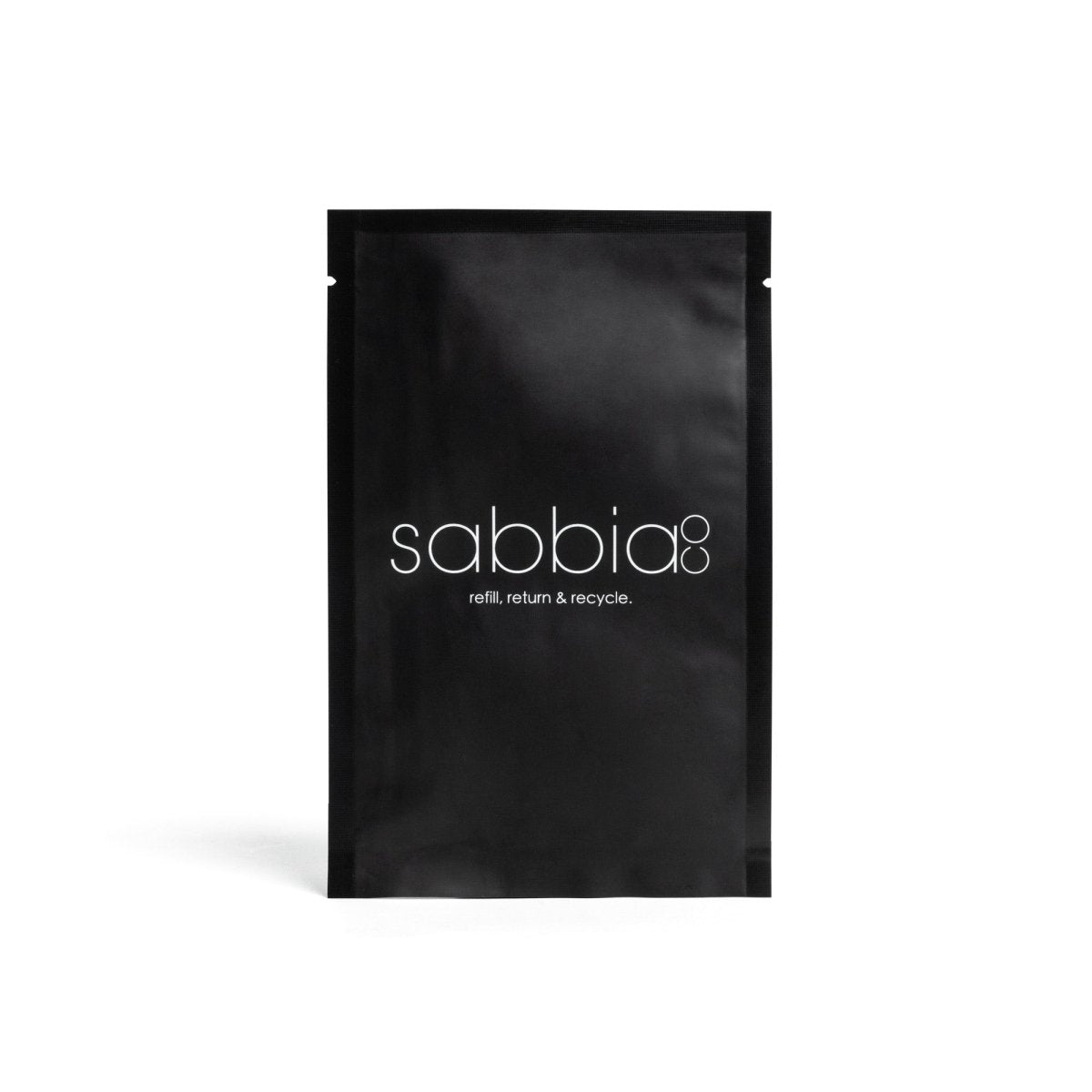 DOUBLE the size of standard BB Creams $30 for 30ml
"Everyone NEEDS this BB. I am such a convert! It is lush, gives plenty of coverage and blurs imperfections."
Description
A 6-in-1 bb cream, skin tint, primer, highlighter, buildable foundation and oil-free moisturiser formulated Vegan Peptides, Hyaluronic Acid, Kakadu Plum and other plant extracts to deeply hydrate, strengthen, plump and feed your skin while giving you a dewy luminous glow.
Double the size of competitive BB Cream = you save money & the planet. 30ml is the standard BB Cream / makeup size which means our product would be $30 if comparing pricing with other brands.

Our Mineral BB Cream is made with clean natural sustainably sourced organic ingredients that are breathable and won't cause breakouts. We don't use silicones or fillers to cut costs and quality.
・Key Benefits
✓ Natural Buildable Coverage: Evens skin tone for a flawless, natural finish. Option to build for heavier coverage.
✓ Skin-Nourishing: Enriched Hyaluronic Acid, Peptides and Vitamins E and C for rejuvenation. Reduces appearance of fine lines and wrinkles.
✓ Hydration Boost: Keeps skin moisturised, dewy & radiant throughout the day.
✓ Lightweight Non-Comedogenic: Allows skin to breathe without clogging pores. Feels comfortable and weightless on skin.
✓ Adaptable Shades: Caters to a diverse range of skin tones.
✓ Highlighted Ingredient - Zinc Oxide: Provides broad-spectrum UV protection. ** This DOES NOT count as SPF protection. Here at Sabbia Co we do not believe in endorsing SPF 'blended' products. The safest and most effective way to protect your skin is with sunscreen after your skincare and before you makeup / BB Cream.
✓ Universal Premium Formulation: Crafted with the highest quality organic ingredients for optimal results. Suitable for all skin types, including sensitive skin.
✓ Free from Harsh Chemicals: No parabens, phthalates, or artificial fragrances.
✓ Eco-Friendly: Crafted with sustainably sourced ingredients and packaged in refillable recycled glass bottles.
✓ Vegan & Cruelty-Free: Proudly formulated without animal products or testing.
・How To
Use after applying skincare.

Step 1: Apply 1-2 pumps of mineral bb cream to clean fingertips or brush and gently work into entire face, neck, and chest.

* Option to layer the Mineral BB Cream to create a fuller coverage (try 2-3 layers, waiting 30-60 seconds between).Watch how here.
・Ingredients
Ingredients: Sustainably packaged in recycled glass bottle and recycled cardboard box. Not tested on animals. Vegan. Australian Made.
Aloe Barbadensis (Aloe Vera) Leaf Juice, Rosa  Eglanteria (Rosehip) Oil, Stearic Acid (Vegetable), Glyceryl  Stearate (Vegetable), Vegetable (Palm Free) Glycerine,  Hyaluronic Acid, Hydrolyzed Rice (Peptide) Protein, Teriminalia  Ferdinandiana (Kakadu Plum) Extract*, Camellia Sinensis  Leaf (Green Tea) Extract*, Calendula Officinalis Flower Extract,  Xanthan Gum, Cetearyl Alcohol (Coconut), Thymus Vulgaris  (Thyme) Extract, Olea Europeia (Olive Leaf) Extract, Rosmarinus  Officinalis Leaf (Rosemary) Extract, Lavandula Angustifolia  (Lavender) Flower Extract, Pelargonium Graveolens (Geranium)  Oil, Backhousia Citriodora Leaf (Lemon Myrtle) Oil, Citrus  Aurantium Dulcis (Orange) Peel Oil* - * Organic Ingredients. Powders: Titanium Dioxide, Zinc Oxide, Rice Powder,  Magnesium Myristate, Magnesium Stearate, Kaolin Clay,  Boron Nitride & Iron Oxides, Mica CI 77491 & CI 77492
* = organic ingredients
Warning: For external use only. We recommend patch testing a small area of skin first. Avoid eye contact. If an adverse reaction occurs discontinue use and consult your Doctor. Keep out of reach of children. Do not swallow. Store below 25°C/77°F.
・Suitable For
Here at Sabbia Co we pride ourselves in making skincare for EVERYONE! Our products are potent and effective while being gentle on sensitive skin.
Sabbia Co formulations have been developed by the Founder Katie herself after extensive research in Cosmetic Chemistry and Plant Based Medicine.
Sabbia Co products use high potency plant extracts to improve the skins health. This results in a healthy, more hydrated and repaired skin barrier. An impaired skin barrier is more often than not the cause of inflammation in the skin that presents instead as breakouts, redness, dryness and other skin concerns.
・Pregnancy / Breastfeeding Info
Made from the base of our Multi-Vitamin Moisturiser which has safe and effective levels of high-performing amino acids and repairing minerals to stimulate collagen production and cellular skin barrier repair.
Increase your results with:
REAL customer results & reviews
Real People, Real Results
In a study on 30 women, after 4 weeks of use. Subjects of all skin types, ages and ethnicities.
After a single use
• 100% said their skin was hydrated
• 100% noticed a healthy glow
In just two weeks
• 100% showed improved skin hydration
• 100% said the product reduced breakouts compared to other makeup
Why This BB Cream Is Like No Other
FAQ
Does it contain SPF?
Technically yes, it contains Zinc Oxides. However here at Sabbia Co we do not believe in endorsing SPF 'blended' products. The safest and most effective way to protect your skin is with sunscreen after your skincare and before you makeup / BB Cream. Mixing SPF with products lessens the SPF's integrity and doesn't allow an eloquent UV coverage marker.
Is there only one shade?
At present our BB Cream comes in one universal shade and uses tinted minerals to allow the formulation to match and suit an array of skin types and shades. While this shade will suit 90% of skin tones, we know that isn't enough. We are a universal and inclusive brand that is currently working on shades extensions.
How will this help my skin?
Not only is our Mineral BB Cream packed full of skin loving ingredients it has been uniquely formulated  with a blend of Rosehip Oil, Aloe Vera Leaf and plant extracts to brighten, soothe and repair, providing your skin with a vibrant, nourished and plump glow.    
How can I refill / recycle this product?
Shipping
Fast shipping
Daily dispatch MON, WED & FRI
Order tracking
Once your order has been shipped you will recieve your tracking #.
Get in touch
If you have a question please email sabbiasquad@sabbiaco.com
loved by 20,000+ customers. loved by editors. soon to be loved by YOU.
Where does it fit in my routine?
In the AM

At Sabbia Co we personally do a water cleanse as soon as we wake, then follow with Collagen C Serum (plus an extra pump for under those sleepy eyes!). Then after exercise use the cleanser with konjac sponge followed by our AM skincare mist, serum, moisturiser, oil, SPF and BB cream.
* Option to layer the Mineral BB Cream to create a fuller coverage (try 2-3 layers, waiting 30-60 seconds between)
In the PM
First cleanse with makeup pad/cloth and water, followed buy konjac sponge and cleanser. Once the skin is cleansed you can follow with PM skincare mist, serum, moisturiser & BB cream.
What a beautiful BB cream! I am quite pale and was a bit worried that it would be too dark for me but it blends with my skin nicely. It leaves a gorgeous dewy glow which I love.
I don't think that this BB cream is for me. I find that it's a bit dry. Probably better for someone with oily skin. I ended up using a moisturiser with it, which I typically don't do with a BB cream.
Cannot get over how amazing this is!
I previously purchased this product and I will be purchasing more in the future! I have acne prone skin and struggled to find bb creams that didn't feel oily or would wear off throughout the day. I work in Aviation and deal with all forms of weather conditions. Since using this product I have sweated, cried, been completely drenched by the rain and this stuff does not budge! I have received SO many compliments saying how natural and beautiful my skin looks which has really helped me appreciate my skin. I only put a thin layer on so my acne scars are still visible but this product, amongst the other Sabbiaco products I use, have boosted my confidence and made me feel like I don't have to hide my scars any more. I have recommended this brand to everyone who has complimented my skin!
Not enough coverage for my age of 62.
Hi Mary, I'm not sure if you are aware but our BB Cream is buildable if you would like to get a fuller coverage. Try 2-3 layers, waiting 30-60 seconds between. We have a video tutorial on the product page, or feel free to email us if you need help.
Love this. I would like more coverage, but it is buildable
latest from #sabbiasquad skin school
Finding the right products for your skin can be tricky, but layering your skincare correctly will help you prevent and treat issues. Knowing which products to use at what time...