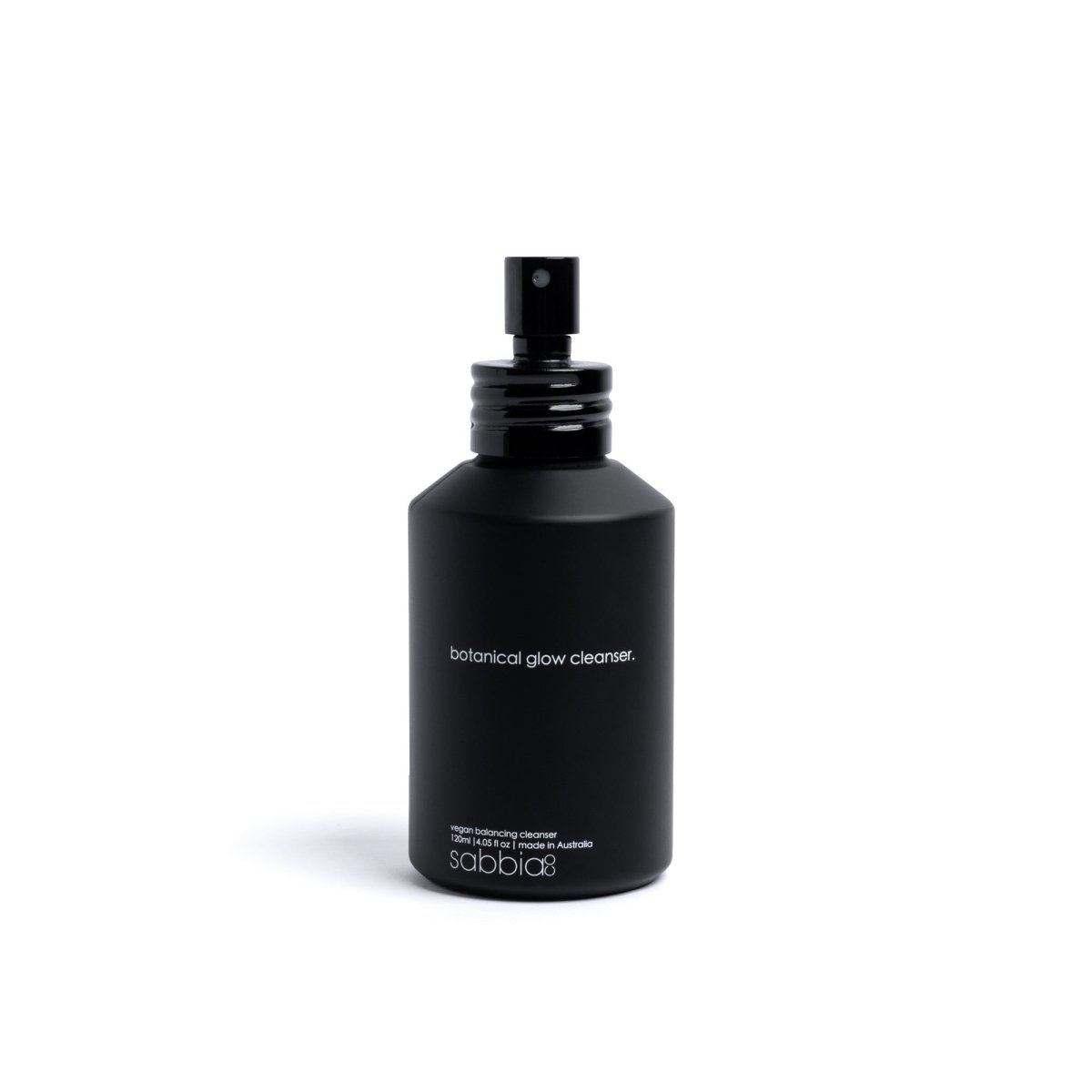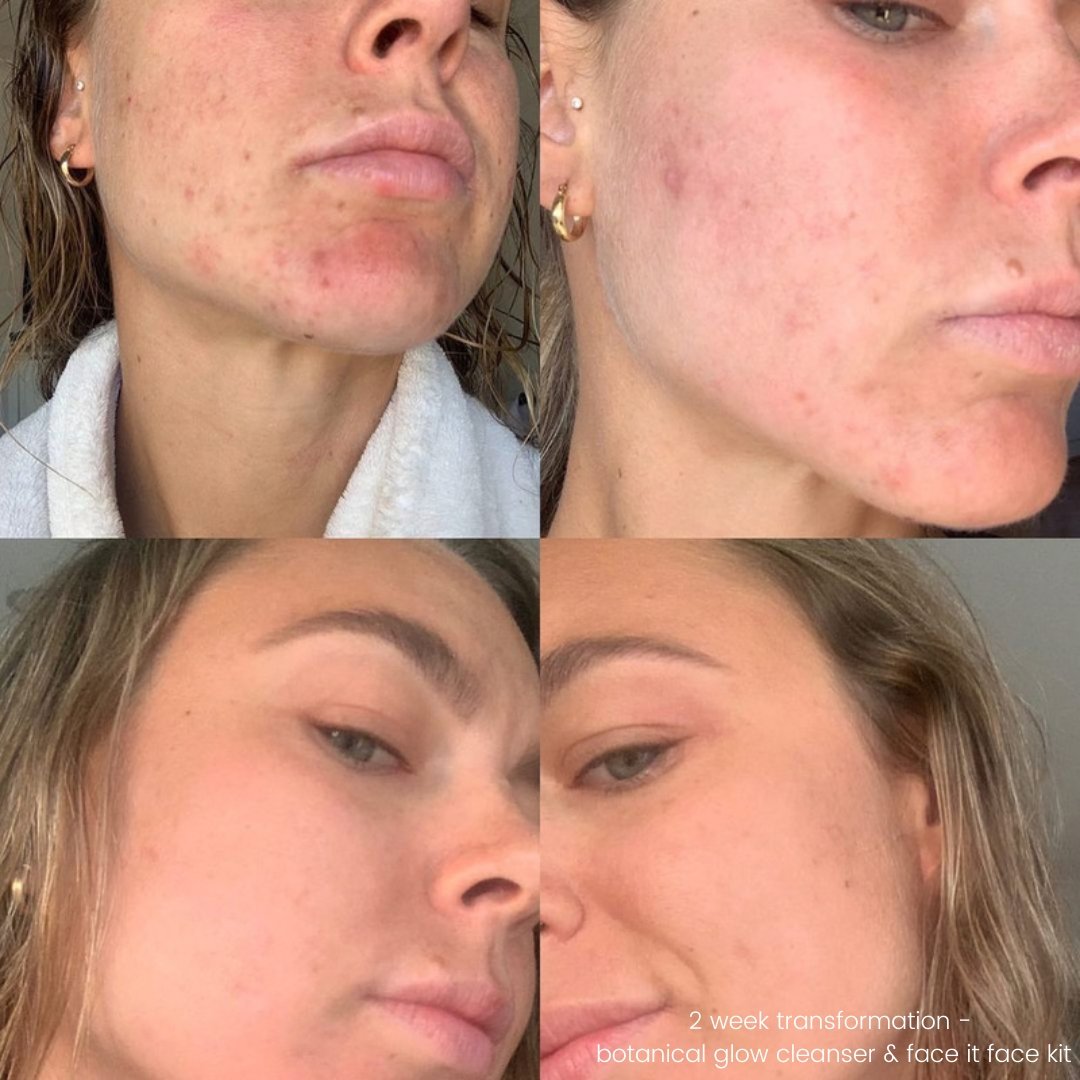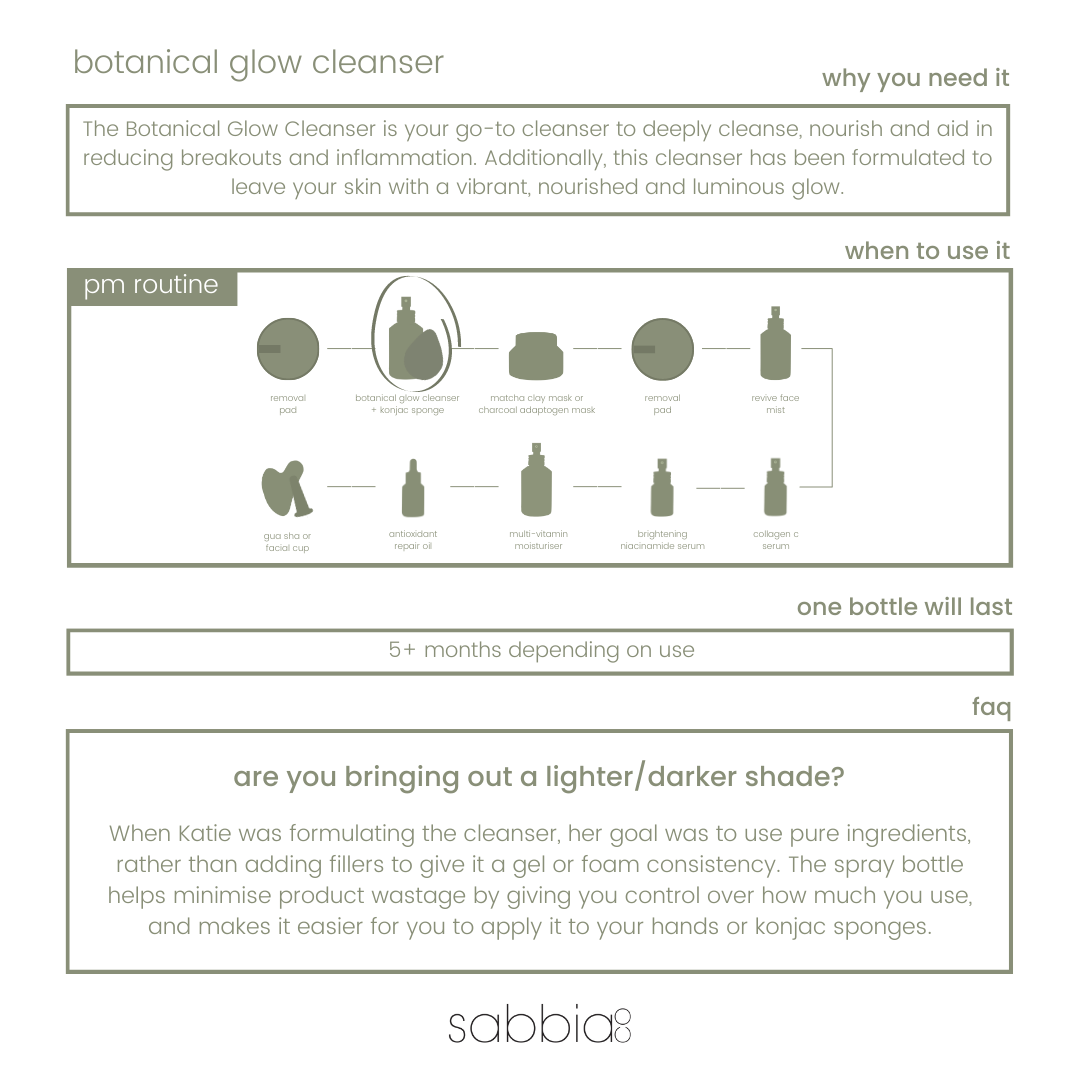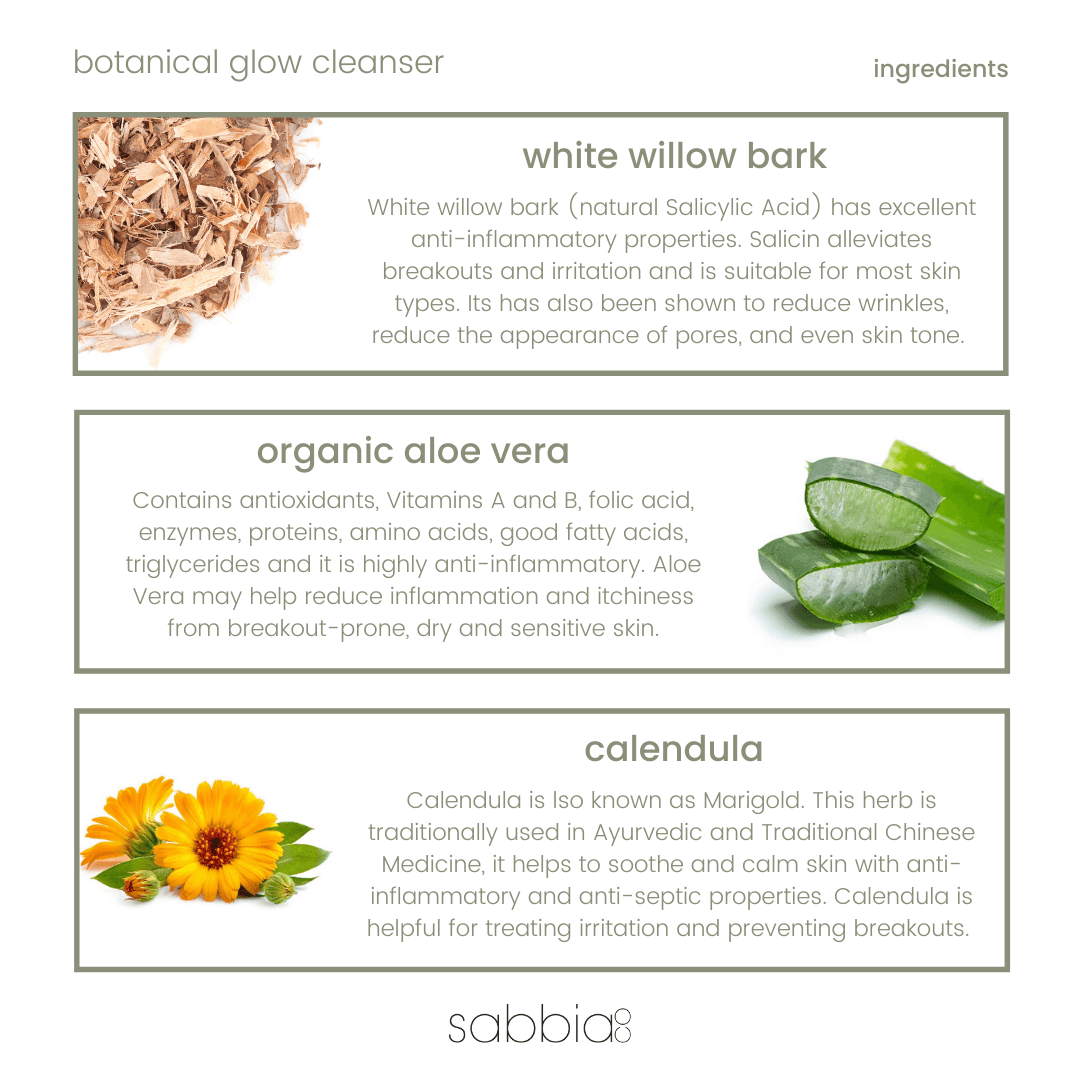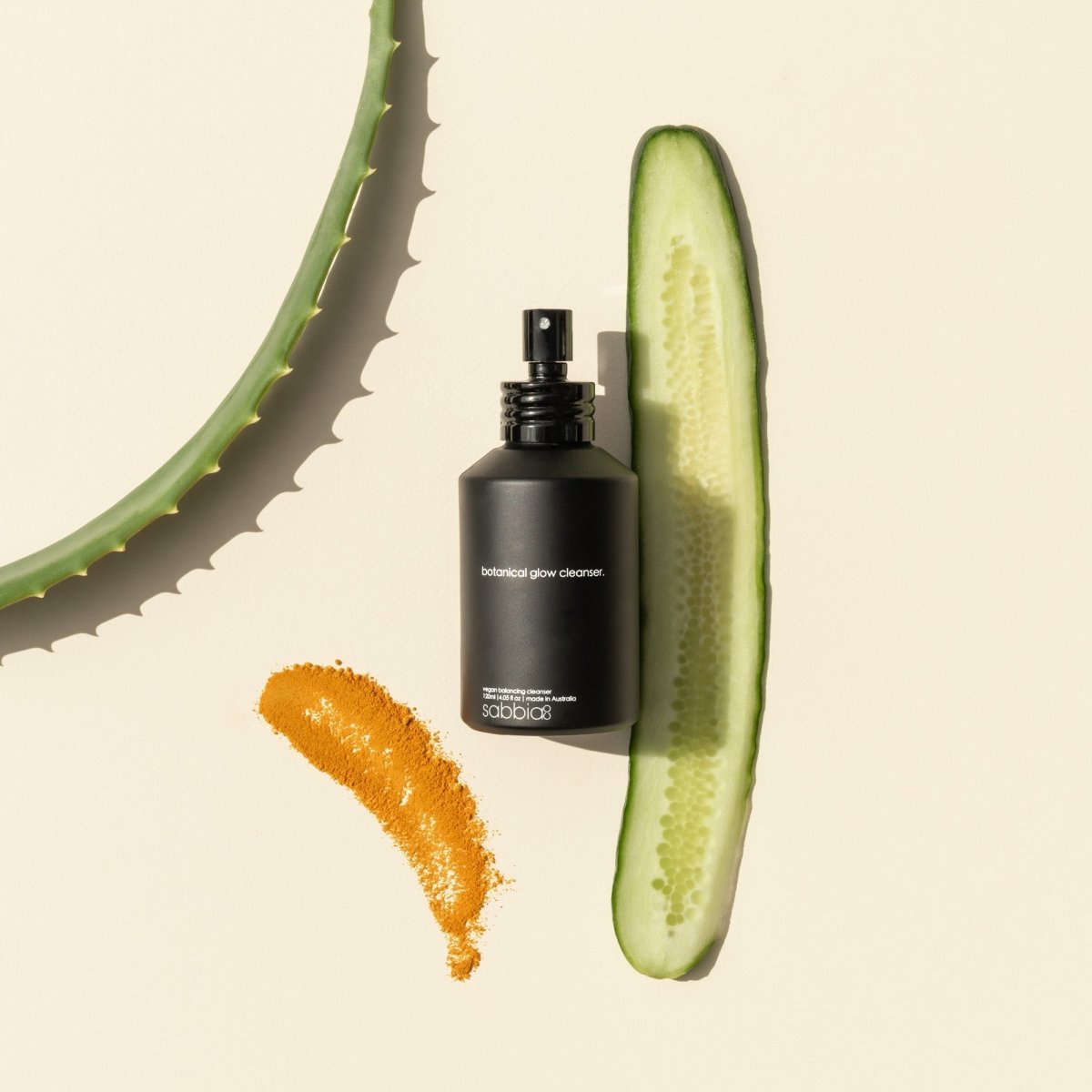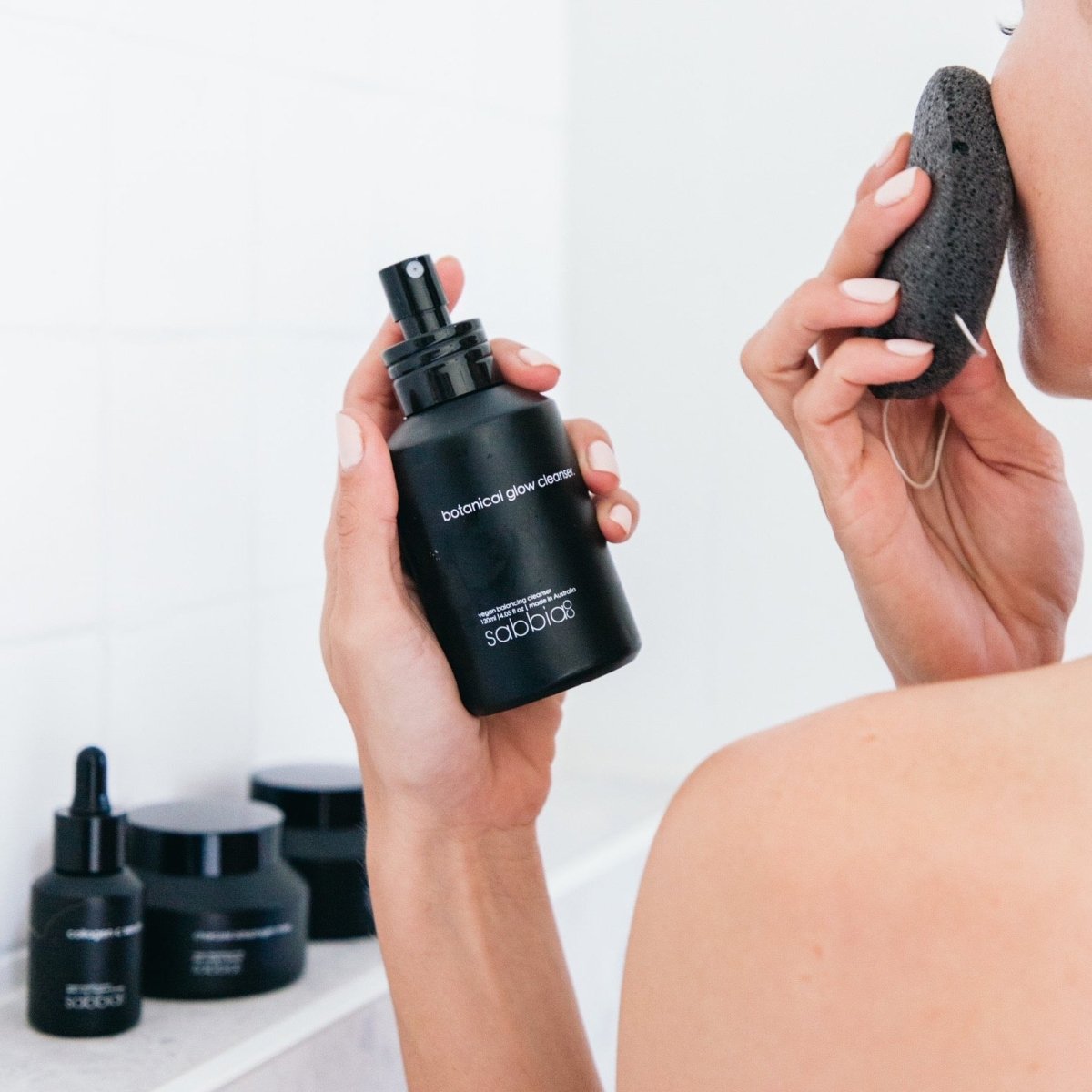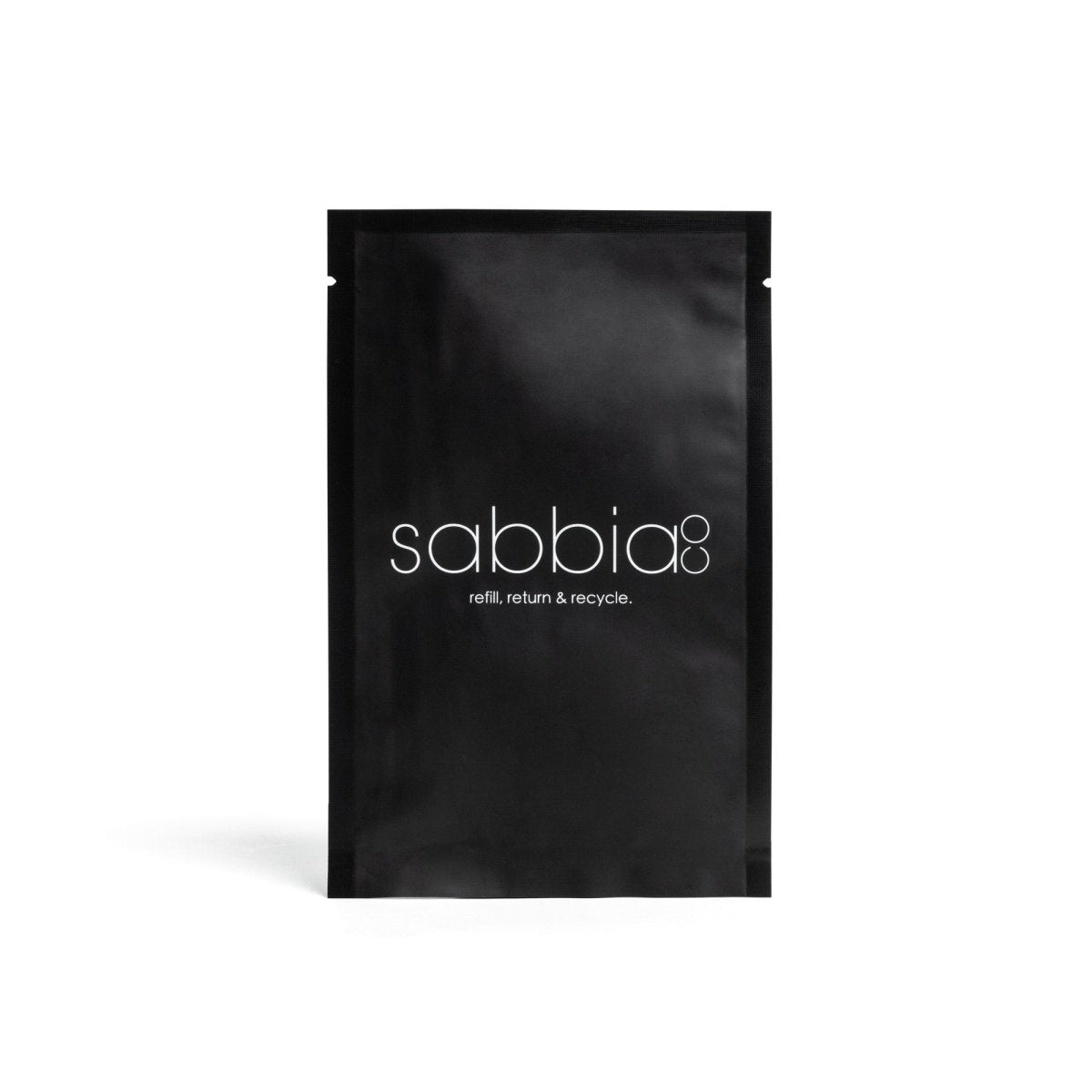 botanical glow cleanser | 120ml hi
Description
The Botanical Glow Cleanser is your go-to cleanser to deeply cleanse, balance, nourish and may assist in reducing breakouts for a luminous glow.  
How To
Step 1: Moisten hands and face with water.
Step 2: Apply 3-4 spritz of botanical glow cleanser to either a konjac sponge or clean fingertips.
Step 3: Gently massage over the entire face, neck and chest then rinse thoroughly. For a double cleanse repeat.
Learn more about layering skincare here. 
Care / Ingredients
Ingredients:Sustainably packaged in its own glass bottle and recyclable cardboard box. Not tested on animals. Vegan. Australian Made.
Purified Water, Potassium Oleate (Sunflower), Potassium Cocoate (Coconut), Vegetable (Palm Free) Glycerine, Aloe Barbadensis Leaf Juice Powder, Teriminalia Ferdinandiana (Kakadu Plum) Extract, Calendula Officinalis Flower Extract, Curcuma Longa (Turmeric) Extract, Salix Alba Back (White Willow) Extract, Lactobacillus (Radish Root) Ferment, Caprylyl/Capryl (Vegetable) Glucoside, Tremuloides (Aspen Bark), Roman Anthemis Nobilis (Chamomile) Flower Oil, Cucumis Sativus (Cucumber) Seed Oil, Leptospermum Petersonii Leaf (Lemon Tea Tree) Oil, Citric Acid
Warning: For external use only. We recommend patch testing a small area of skin first. Avoid eye contact. If an adverse reaction occurs discontinue use and consult your Doctor. Keep out of reach of children. Do not swallow. Store below 25°C/77°F.
Highlight Ingredients
White Willow Bark (Salicylic Acid) - high in tannins, phenolic acids, flavonoids, and various minerals, all of which help soothe the skin and aid in cell regeneration, allowing for a more youthful, refreshed complexion. Salicin (natural Salicylic Acid) has excellent anti-inflammatory properties. Salicin alleviates acne and irritation and is suitable for most skin types. Salicin's anti-inflammatory effects have also been shown to reduce wrinkles, reduce the appearance of pores, and even out skin tone while promoting increased firmness. A natural exfoliant, White Willow Bark removes dead skin cells and clears pores to reveal a more radiant, clear complexion. Although extremely effective, White Willow Bark is gentle and non-irritating, making it safe for nearly all skin types. 
Organic Kakadu Plum - Identified as the world's richest source of Vitamin C. These plums contain approximately 3000mg of Vitamin C per 100g of fruit! This is more than 75 times the amount found in other citrus fruits. Rich in phytochemicals which have anti-carcinogenic, anti-fungal, anti-viral and anti-inflammatory properties. This supercharged ingredient works to stimulate the production of collagen and reduce fine lines and wrinkles. Vitamin C is also effective at reducing the appearance of scarring or hyperpigmentation as it naturally lightens the complexion. Packed with powerful antioxidants that also flush out toxins helping to clear pimple-causing bacteria from the face.
Organic Aloe Vera - Contains antioxidants, Vitamins A and B, folic acid, enzymes, proteins, amino acids, good fatty acids, triglycerides and it is highly anti-inflammatory. Aloe Vera may also help reduce inflammation and itchiness from psoriasis, acne, dry and sensitive skin.
Calendula - Also known as Marigold. This herb is traditionally used in Ayurvedic and Traditional Chinese Medicine, it helps to soothe and calm skin with anti-inflammatory and anti-septic properties. Calendula is helpful for treating irritation and preventing acne. As a skin conditioner, Calendula Extract stimulates collagen production and it also reduces the occurrence of dry skin, as it maintains the skin barrier and provides a non-stripping feeling.
Turmeric - Contains antioxidants and anti-inflammatory components that help acne prone skin due to its anti-bacterial benefits. Turmeric is known to create a natural glow in the skin.
Lemon Tea Tree Essential Oil  - Anti-bacterial, anti-fungal and great for acne prone skin. Lemon Tea Tree Essential Oil contains properties that can potentially reduce inflammation and P. acnes, the bacteria that causes inflammatory acne. Astringents are also known for getting rid of dead skin cells that clog pores and its lightly exfoliating properties can also reduce hyperpigmentation from acne. 
Cucumber Oil - Rich in linoleic acid (part of the Omega 6 family), Vitamin E, and other nutrients. Cucumber Seed Oil is an excellent anti-ager, keeping the skin's protective barrier strong and improving firmness and elasticity. Both antibacterial and anti-inflammatory, this versatile oil diminishes signs of ageing while promoting cell regeneration. Oleic acid also strengthens the integrity of the cells and helps to heal eczema, psoriasis, rosacea, and acne.
Chamomile Essential Oil - Comprising powerful anti-inflammatory and calming properties, Chamomile Essential Oil is a wonder ingredient to help soothe your complexion. Whether it's rosacea, irritation, acne or any other skin concerns, Chamomile Oil is a great natural addition to calm your skin.
Pregnancy / Breastfeeding Info
Safe and effective levels of high-performing botanicals that assist with hormonal breakouts and deeply cleanser after the breastfeeding sweats (mama's you KNOW!)
Increase your results with:
botanical glow cleanser | 120ml hi
Real People, Real Results
In a study on 30 women, after 4 weeks of use. Subjects of all skin types, ages and ethnicities.
After a single use
• 100% said their skin was brighter
• 96.65% noticed a healthy glow
In just two weeks
• 100% showed improved skin texture
• 96.65% said the product reduced breakouts
• 96.65% said the product revitalised and brightened the skin
FAQ
How does it work with Konjac Sponges?
The Botanical Glow Cleaner and Konjac Sponge work as the go-to cleansing duo. Cleanse and gently exfoliate together by spraying 2-3 pumps on the damp Konjac Sponge. This will leave your skin feeling hydrated and nourished.
How will this help my skin?
Packed full of Australian, raw and vegan ingredients to remove makeup, dirt and pollutants from the skin. With an infusion of skin loving botanicals that are hydrating, full of antioxidants, minerals and vitamins to reduce the likelihood of blemishes. 
No only is our Botanical Glow Cleanser going to assist in reducing breakouts it's been formulated with a unique blend of White Willow Bark, Kakadu Plum, Calendula, Cucumber and Aloe Vera, to brighten, soothe and purify, providing your skin with a vibrant, nourished and luminous glow.
How can I refill this product?
Shipping
Fast shipping
Daily 2pm dispatch MON - THURS.
+ local pickup MON-THURS
Order tracking
Once your order has been shipped you will recieve your tracking #.
Get in touch
If you have a question please email sabbiasquad@sabbiaco.com
Where does it fit in my routine?
In the AM
Botanical Glow Cleanser is the first step in your AM skincare routine. Apply 3-4 pumps either on clean finger tips or a Konjac Sponge. Follow with your serums and moisturiser.
In the PM
Botanical Glow Cleanser is the first step in your PM skincare routine. Apply 3-4 pumps either on clean finger tips or a Konjac Sponge. 15%OFF Follow with your serums, moisturiser and oil.
Love!!
This cleans my face perfectly even with sunscreen and makeup. I loved it without the turmeric sponge but paired together, definitely the best way to cleanse. Being refillable is my favourite thing and I'll be sticking with Sabbia for skincare!
So nice lovely product getting compliments regarding my skin
Actually works
Effective but still gentle. I now have the full sabbia range and have never felt more confident in my skin
My skin looks great
This cleanser is really lovely.It does actually make your skin glow and is perfect for sensitive skin as it leaves feeling clean but not 'tight'
Only issue is don't accidentally get it in your eyes as it does sting