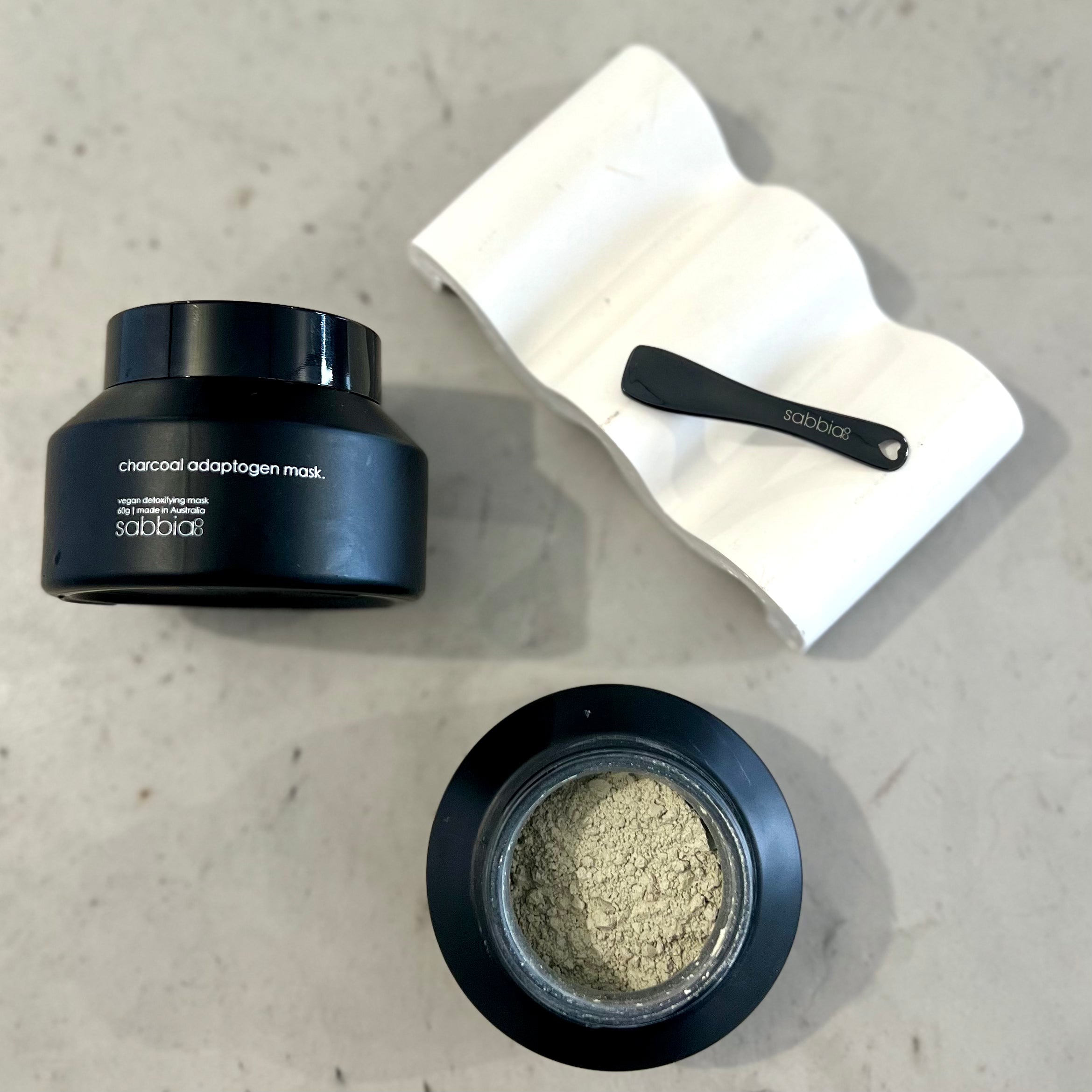 Description
The spoon is your go-to scooper for getting the perfect mask amount
** this item cannot be purchased with a discount code.
How To
Step 1: Mix 6-8 scoops (1 tablespoon) of mask powder to 1/2 teaspoon water.

* See mask consistency video here.
Increase your results with:
FAQ
Which mask is good for me?
Matcha Clay Maskis best for sensitive impaired sensitive skin.
Hero ingredients;Organic Tasmanian Kelp Extract - packed full of antioxidant Vitamins A, B, C  & E, Calcium, Zinc, Iron & an abundance of amino acids, which helps to repair skin barrier.
Matcha Green Tea - has high levels of EGCG and antioxidant properties that make it an incredibly soothing exfoliant, and perfect for targeting common skincare problems. It also assists in cooling and reducing redness.  

Charcoal Adaptogen Mask is best for oily skin with large pores that is in need for a deep detox.
Hero ingredients;Adaptogens are unique plants that look for stressors in the body and help to bring them back into balance. Ashwagandha, Gotu Kola and Reishi Mushrooms have potent healing properties. They assist in soothing skin concerns, puffiness, wrinkles and free radical damage, while also promoting cell regeneration.
Activated Coconut Charcoal effectively cleanses the skin, unclogs pores, removes deeper impurities, and dead skin cells. Activated Charcoal detoxifies the skin by drawing out bacteria, chemicals, dirt, heavy metals, and other micro particles.  

** Both masks have White Australian Kaolin Clay - Kaolin has cleansing and detoxifying agents. Clay aids in drawing out toxins and impurities 100 x its own body weight, all while feeding the skin with nourishing nutrients. Multi Masking is the pinnacle of masking.
How will this help my skin?
The spoon eliminates bacteria from your hands/fingers going into your skincare. Bacteria is the main cause of breakouts/irritation.
How can I refill / recycle this product?
Shipping
Fast shipping
Daily 2pm dispatch MON - THURS.
+ local pickup MON-THURS
Order tracking
Once your order has been shipped you will recieve your tracking #.
Get in touch
If you have a question please email sabbiasquad@sabbiaco.com
Where does it fit in my routine?
At Sabbia Co we personally do a water cleanse as soon as we wake, then follow with Collagen C Serum (plus an extra pump for under those sleepy eyes!). Then after exercise use the cleanser with konjac sponge followed by our AM skincare (mist, serum, moisturiser, oil, SPF and BB cream).
In the PM
First cleanse with makeup pad/cloth and water, followed by konjac sponge and cleanser. Once the skin is cleansed you can follow with PM skincare (mask, mist, serum, moisturiser, oil and facial tools).
* We recommend masking 2-3 times a week. Always apply your mask to cleansed and exfoliated skin (mask after cleanser/konjac sponge and before applying skincare).