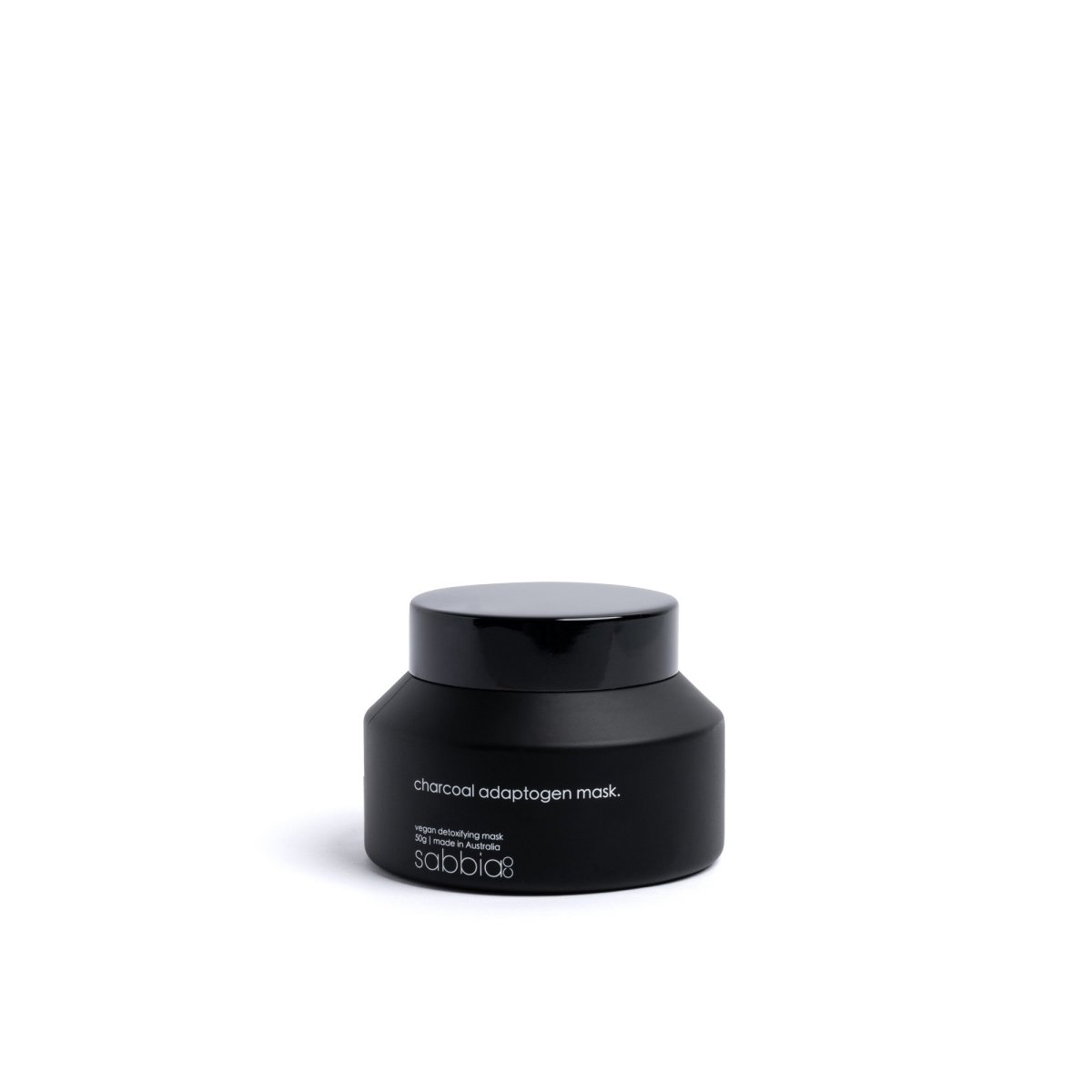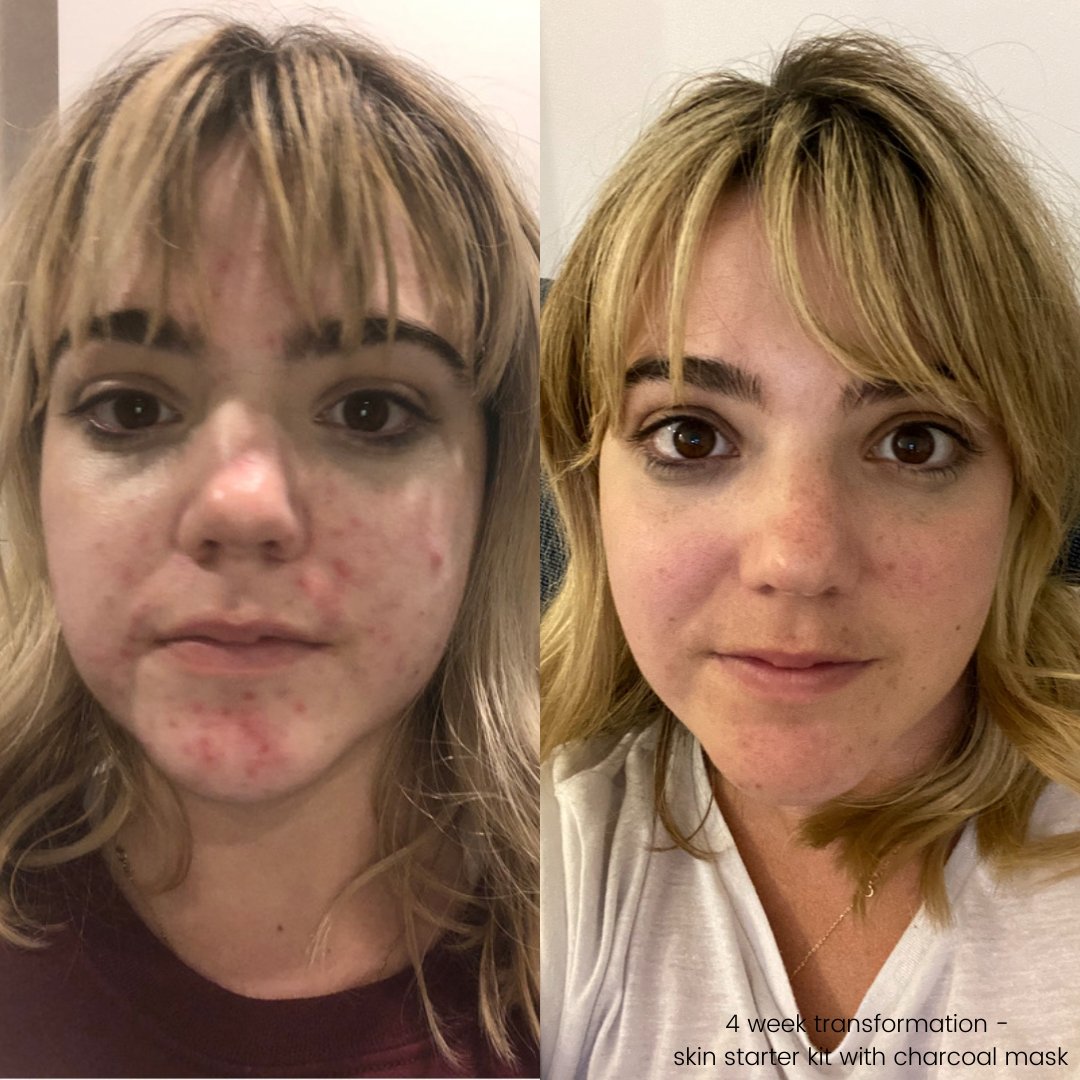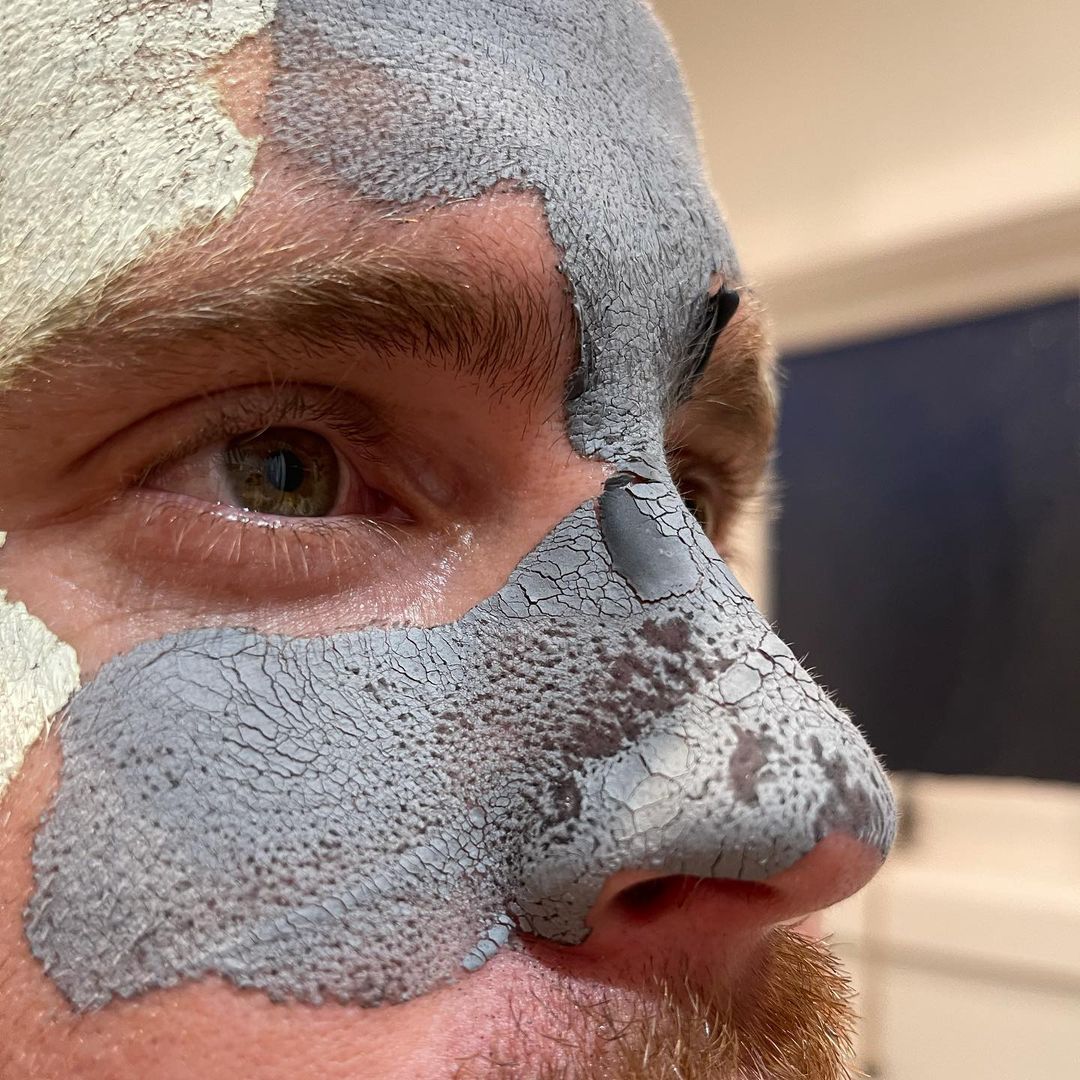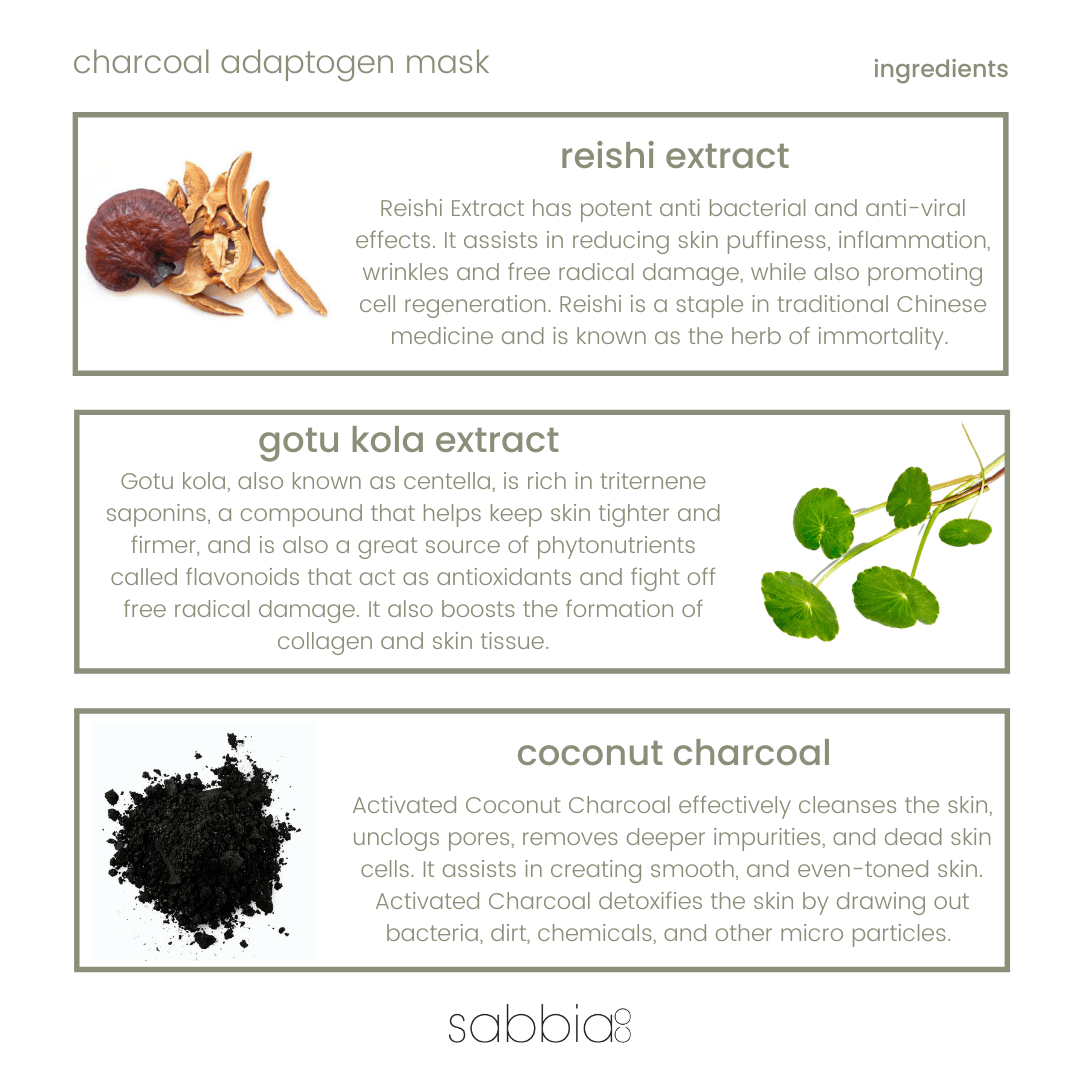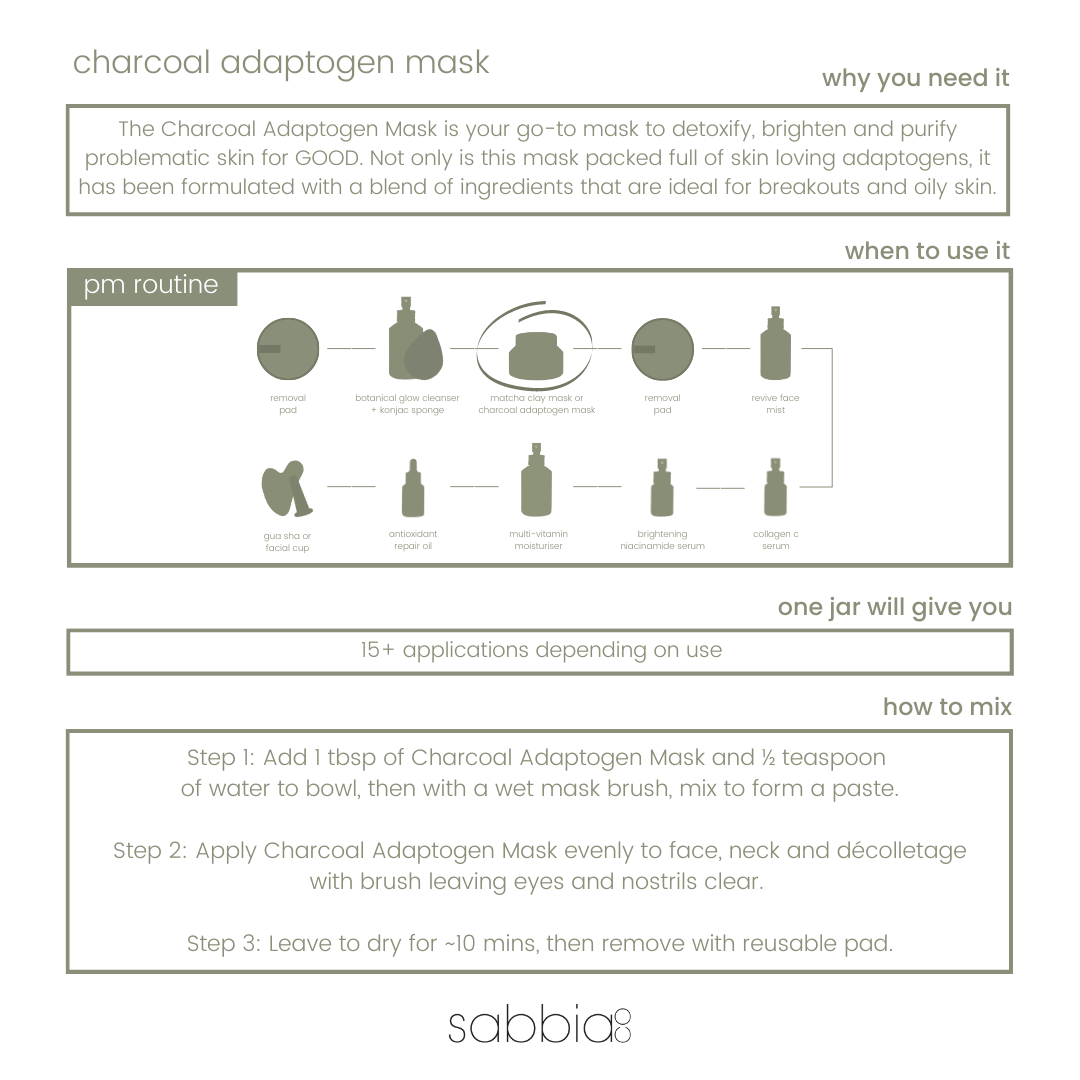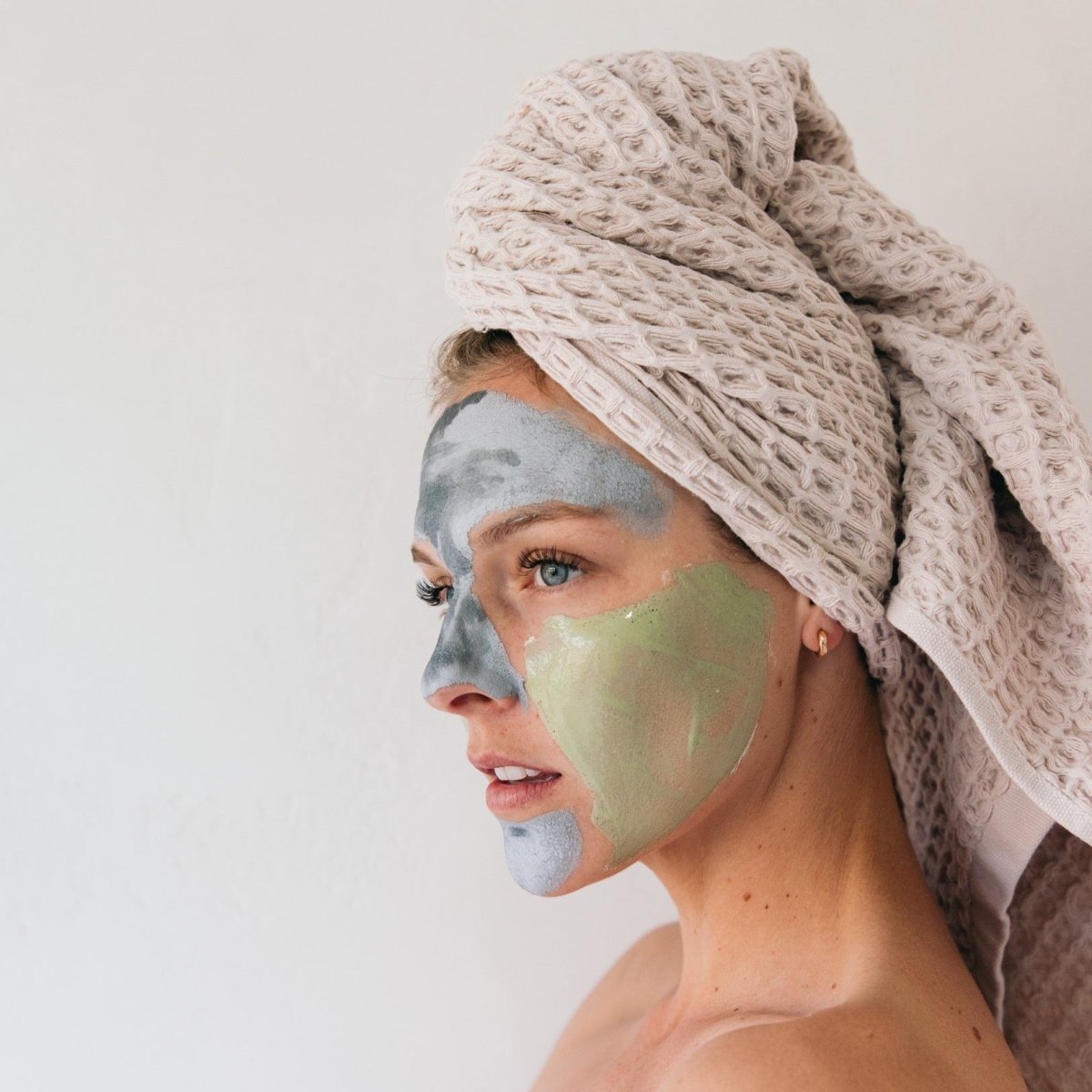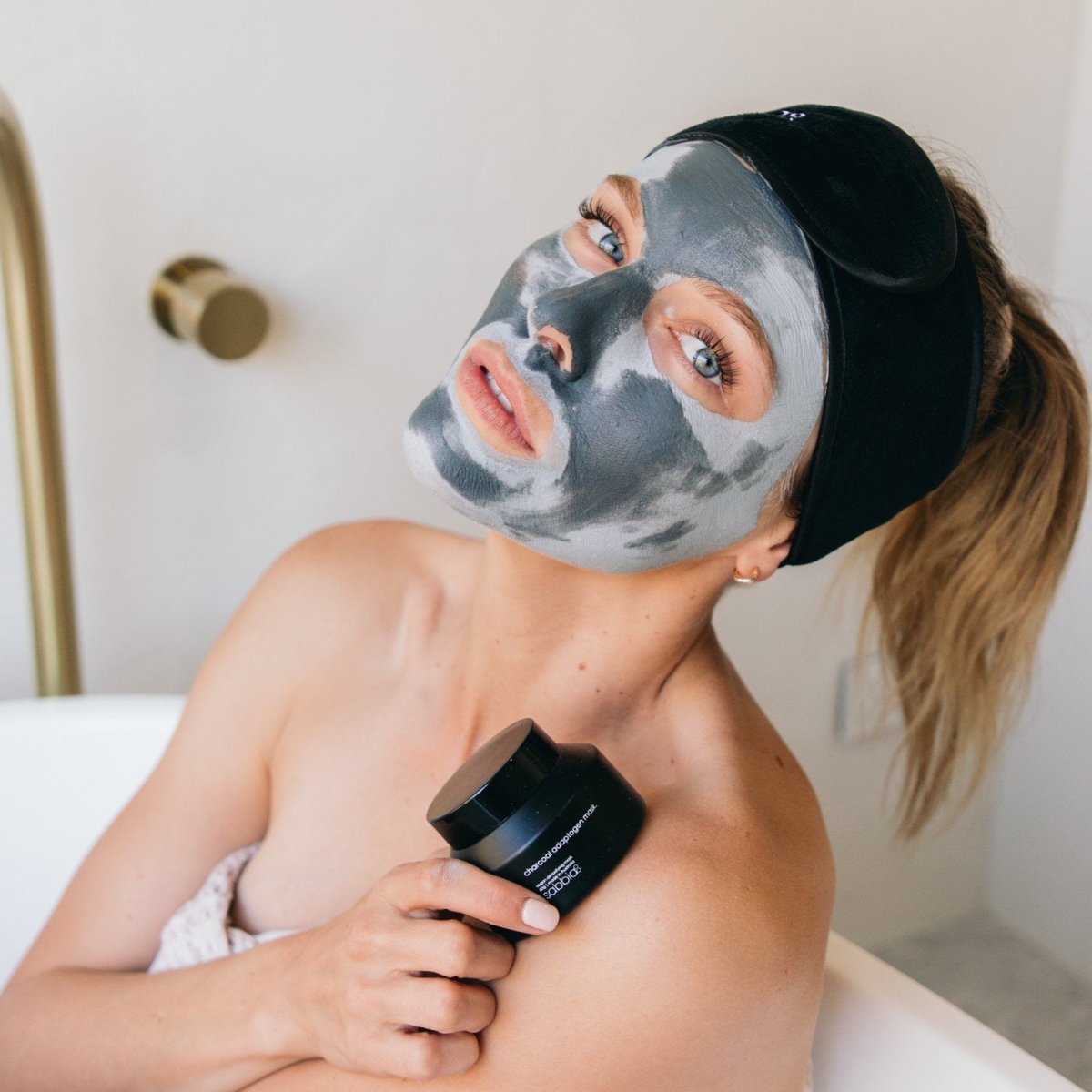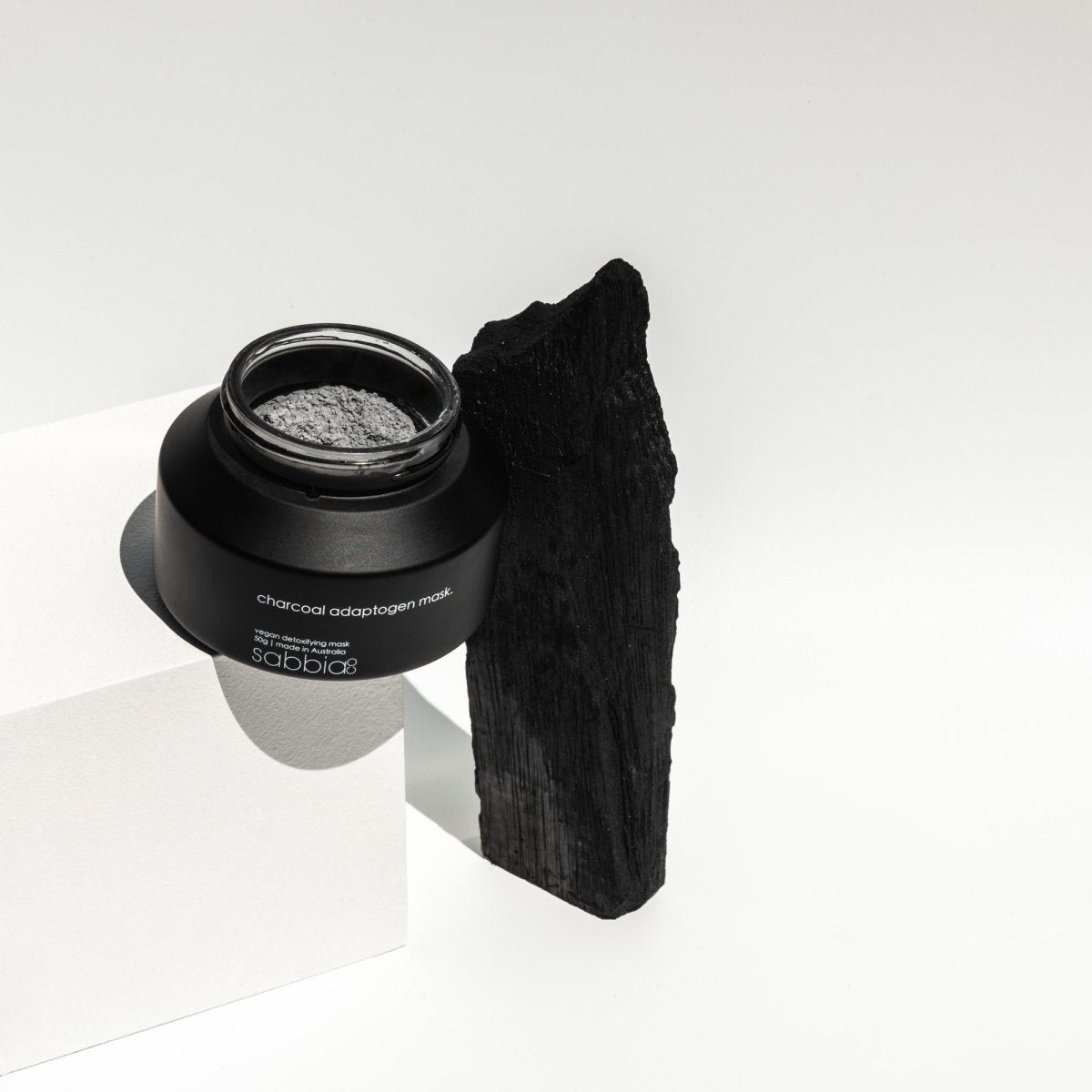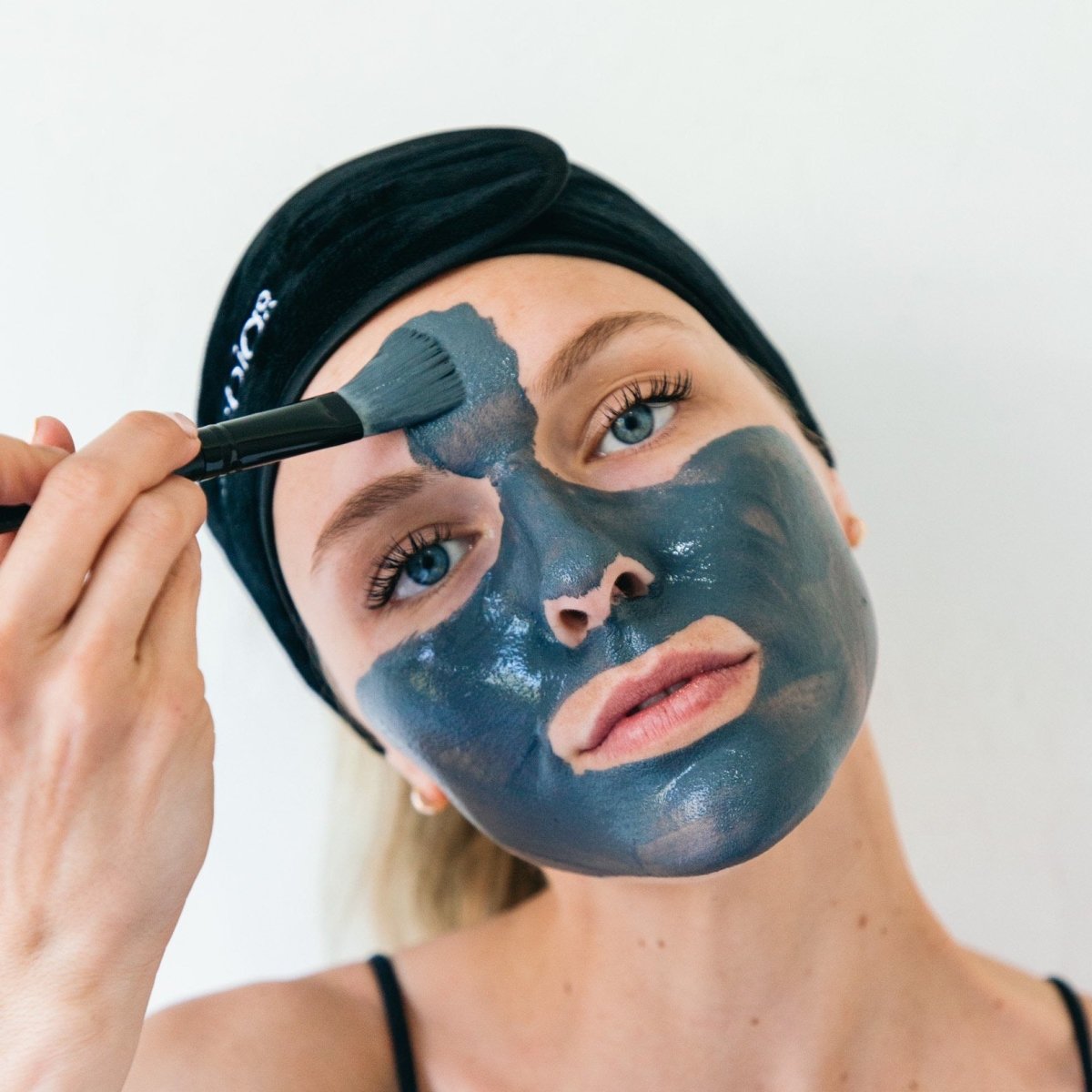 charcoal adaptogen mask | 60g
RESTOCKED for the 10th time!
"SO EFFECTIVE! I am shocked at how good this mask is! The deep clean is real!"
Description
A 3-in-1 mask to detoxify, brighten and purify and soothe problematic skin. Formulated with Bamboo Charcoal, Organic Adaptogenic Mushrooms and Australian Clay to reduce redness and calm irritated skin. Also doubles as a spot treatment.
・Key Benefits
✓ Deep Detox: Natural clays that draws out 100 times their weight in impurities and cleanse pores to reduce breakouts and pore size.
✓ Potent Charcoal: Rich in antioxidants, draws out impurities, toxins, and excess oil from the skin.
✓ Skin Calming: Enriched with Adaptogenic Herbs for rejuvenation. Balances skin's response to stress and external factors.
✓ Antioxidant Rich: Protects against environmental damage and free radicals, reducing the signs of aging.
✓ Elasticity Boost: Nourishes and promotes firmer skin.
✓ Brightening Boost: Revives and imparts a radiant complexion.
✓ Multi Use Application: Alter powder amount for deeper detox. Option to use as a spot treatment on one off breakouts.
✓ Exfoliation: Ounce applied you can use your fingers tips and the Jojoba Beads will gentle exfoliate.
✓ Universal Premium Formulation: Crafted with the highest quality organic ingredients for optimal results. Suitable for all skin types, including sensitive skin.
✓ Free from Harsh Chemicals: No parabens, phthalates, or artificial fragrances.
✓ Eco-Friendly: Crafted with sustainably sourced ingredients and packaged in refillable recycled glass bottles.
✓ Vegan & Cruelty-Free: Proudly formulated without animal products or testing.
・How To
Step 1: Use 2-3 times a weeks depending on desired results. Mix a small amount of Charcoal Adaptogen Mask with water to form a paste. Ratio tips: 1 tablespoon powder with ½ teaspoon water.   
** If you have our Antioxidant Repair Oil add 1/2 - 1 dropper of the oil to level up your mask!

Step 2: Apply Charcoal Adaptogen Mask evenly with application brush leaving eyes and nostrils clear.   
Step 3: Relax for 5-10 minutes as the Charcoal Adaptogen Mask begins to dry. Rinse off with warm water and moisturise as usual. Any excess clay can be used on the neck and décolletage.
* Can be used as a regular spot treatment on breakouts, watch how to here.
Learn more about layering skincare here. 
・Ingredients
Ingredients: Sustainably packaged in recycled glass bottle and recycled cardboard box. Not tested on animals. Vegan. Australian Made.
Kaolin (White Australian Kaolin Clay), Bentonite  (Australian Bentonite Clay), Ganoderma lucidum (Organic Reishi Extract), Centella asiatica (Organic Gotu Kola Extract), Withania somnifera (Organic Ashwagandha Extract), Activated Coconut Charcoal.  
Warning: For external use only. We recommend patch testing a small area of skin first. Avoid eye contact. If an adverse reaction occurs discontinue use and consult your Doctor. Keep out of reach of children. Do not swallow. Store below 25°C/77°F.
・Suitable For
Here at Sabbia Co we pride ourselves in making skincare for EVERYONE! Our products are potent and effective while being gentle on sensitive skin.
Sabbia Co formulations have been developed by the Founder Katie herself after extensive research in Cosmetic Chemistry and Plant Based Medicine.
Sabbia Co products use high potency plant extracts to improve the skins health. This results in a healthy, more hydrated and repaired skin barrier. An impaired skin barrier is more often than not the cause of inflammation in the skin that presents instead as breakouts, redness, dryness and other skin concerns.
・Pregnancy / Breastfeeding Info
Safe and effective levels of high-performing mushrooms and clays that assist with pregnancy breakouts. Packed full of Adaptogens, Activated Charcoal and Australian Clays to detoxify, brighten and purify problematic skin.
Increase your results with:
charcoal adaptogen mask | 60g
REAL customer results & reviews
Real People, Real Results
In a study on 30 women, after 4 weeks of use. Subjects of all skin types, ages and ethnicities.
After a single use
• 100% said their skin was brighter
• 96.65% noticed a healthy glow
In just two weeks
• 100% showed improved skin texture
• 96.65% said the product reduced breakouts
• 96.65% said the product revitalised and brightened the skin
FAQ
Is this the right mask for me?
The charcoal Adaptogen Mask is go-to mask to detoxify, brighten and purify problematic skin for GOOD. This mask is great for problematic or congested skin.
This mask will fight off free radicals that accelerate the ageing process, and help to restore youthful, healthy PLUMP skin. It will balance the moisture levels in your skin while giving you a deep cleanse and reducing the occurrence of breakouts. 
How will this help my skin?
Packed full of Australian vegan ingredients to treat congested, dull, blemished and problematic skin. The Adaptogens work to calm and soothe stressed skin. While the Bentonite, Kaolin and Activated Coconut Charcoal work together to detoxify the skin by drawing out bacteria, chemicals, dirt and other micro particles.
The hero ingredients - Adaptogens are unique plants that look for stressors in the body and help to bring them back into balance. Our unique blend of powerful herbs; Ashwagandha (abundant in antioxidants), Gotu Kola (for synthesis of collagen) and Reishi Mushroom (for elasticity and tone) will assist in creating an improved skin texture and a radiant complexion.
How can I refill / recycle this product?
Shipping
Fast shipping
Daily 2pm dispatch MON - THURS.
+ local pickup MON-THURS
Order tracking
Once your order has been shipped you will recieve your tracking #.
Get in touch
If you have a question please email sabbiasquad@sabbiaco.com
loved by 20,000+ customers. loved by editors. soon to be loved by YOU.
Where does it fit in my routine?
In the AM

At Sabbia Co we personally do a water cleanse as soon as we wake, then follow with Collagen C Serum (plus an extra pump for under those sleepy eyes!). Then after exercise use the cleanser with konjac sponge, mask followed by our AM skincare (mist, serum, moisturiser, oil, SPF and BB cream).
In the PM
First cleanse with makeup pad/cloth and water, followed buy konjac sponge and cleanser. Once the skin is cleansed apply the Charocal Adpotgen Mask. Followed with PM skincare (mist, serum, moisturiser, oil and facial tools).
* We recommend masking 2-3 times a week. Always apply your mask to cleansed and exfoliated skin (mask after cleanser/konjac sponge and before applying skincare). 
This powerful mask can also be used as a spot treatment to target small breakouts. Watch how to here.
Love this mask! Really works well. I have the problem of getting the right consistency and I seem to waste a lot of the product but overall, amazing.
Love this mask, my skin feels so amazing after using it.
SO EFFECTIVE
I am shocked at how good this mask is! I use it for full face or spot treatment like Katie shows on instagram
I now have the full sabbia range and have never felt more confident in my skin
latest from #sabbiasquad skin school
Finding the right products for your skin can be tricky, but layering your skincare correctly will help you prevent and treat issues. Knowing which products to use at what time...