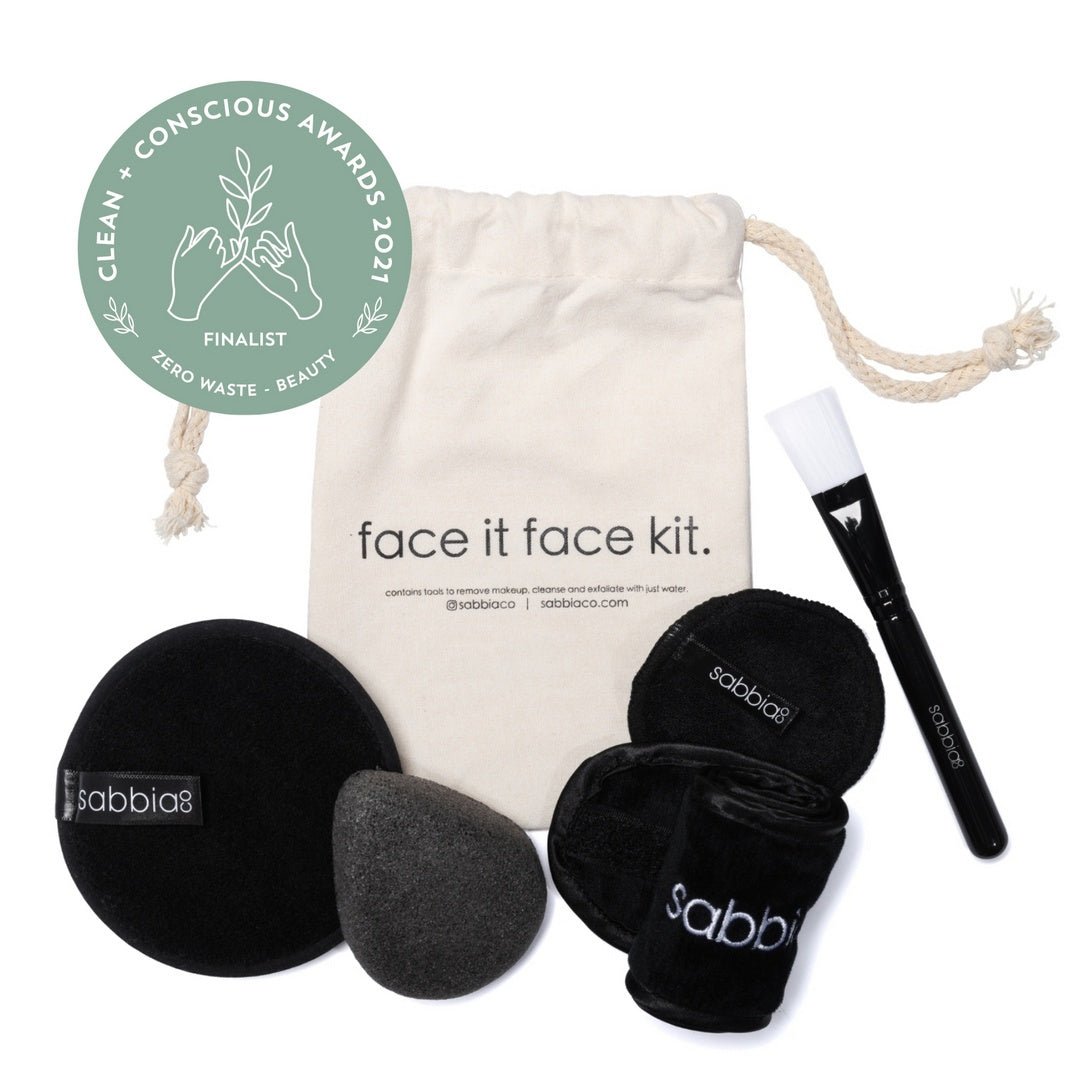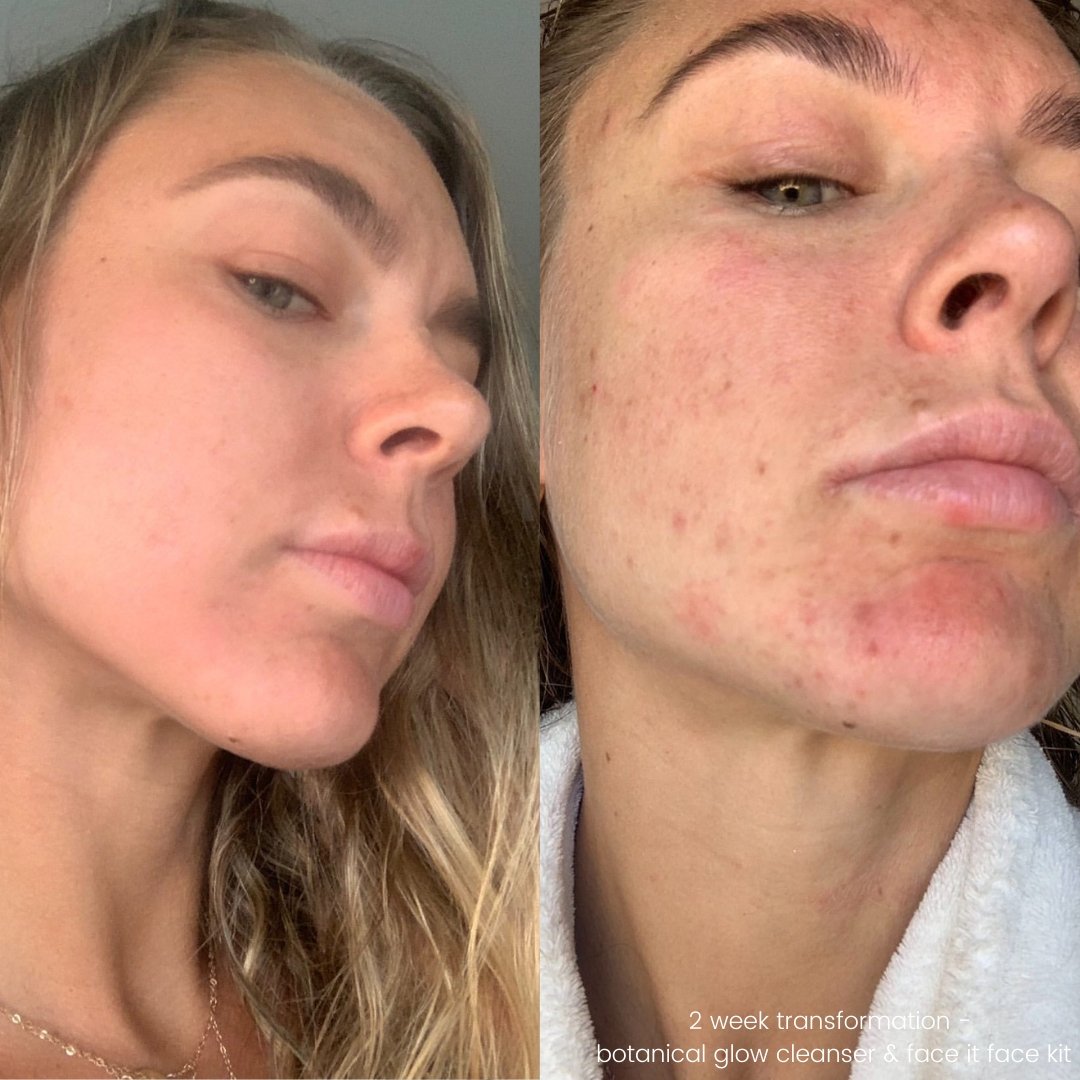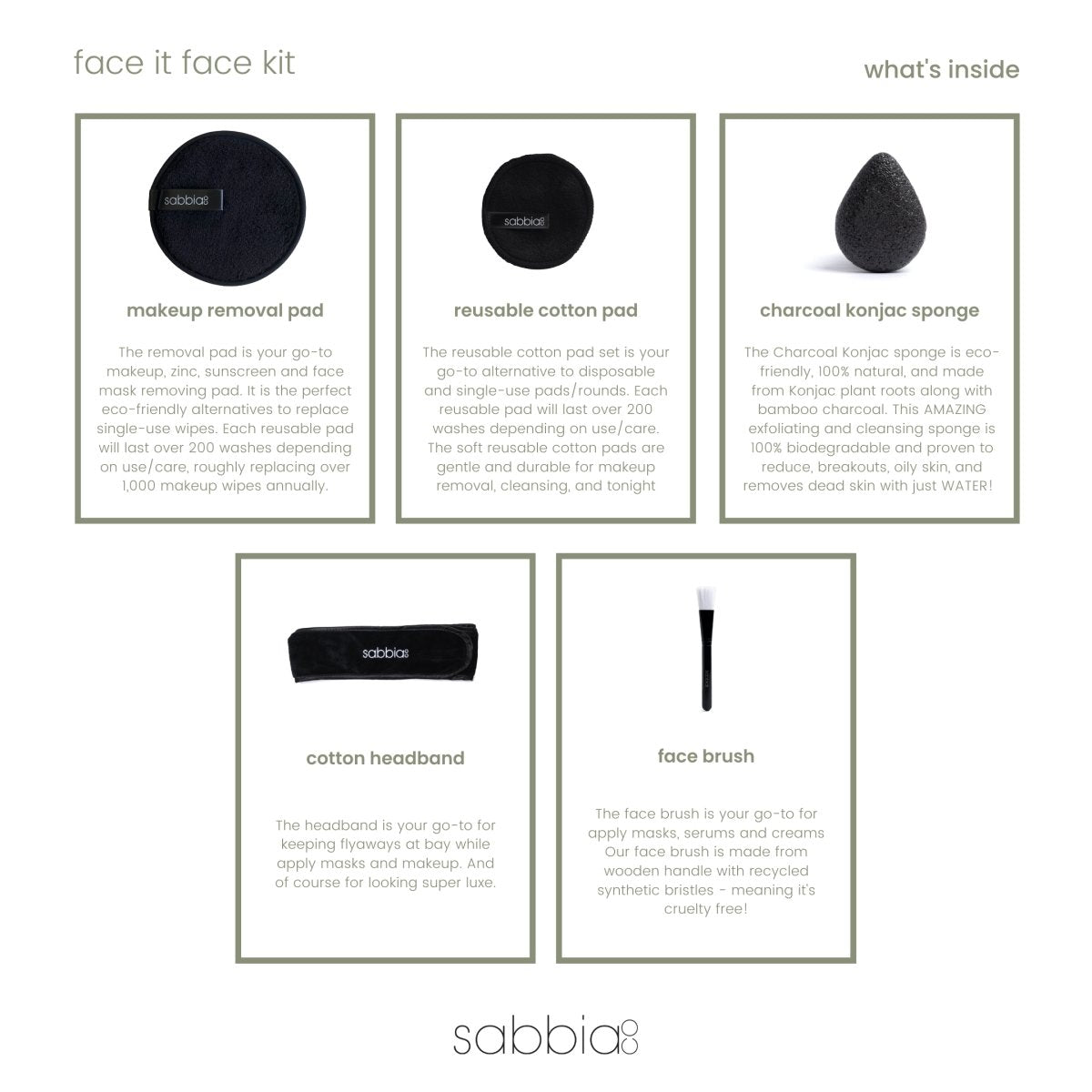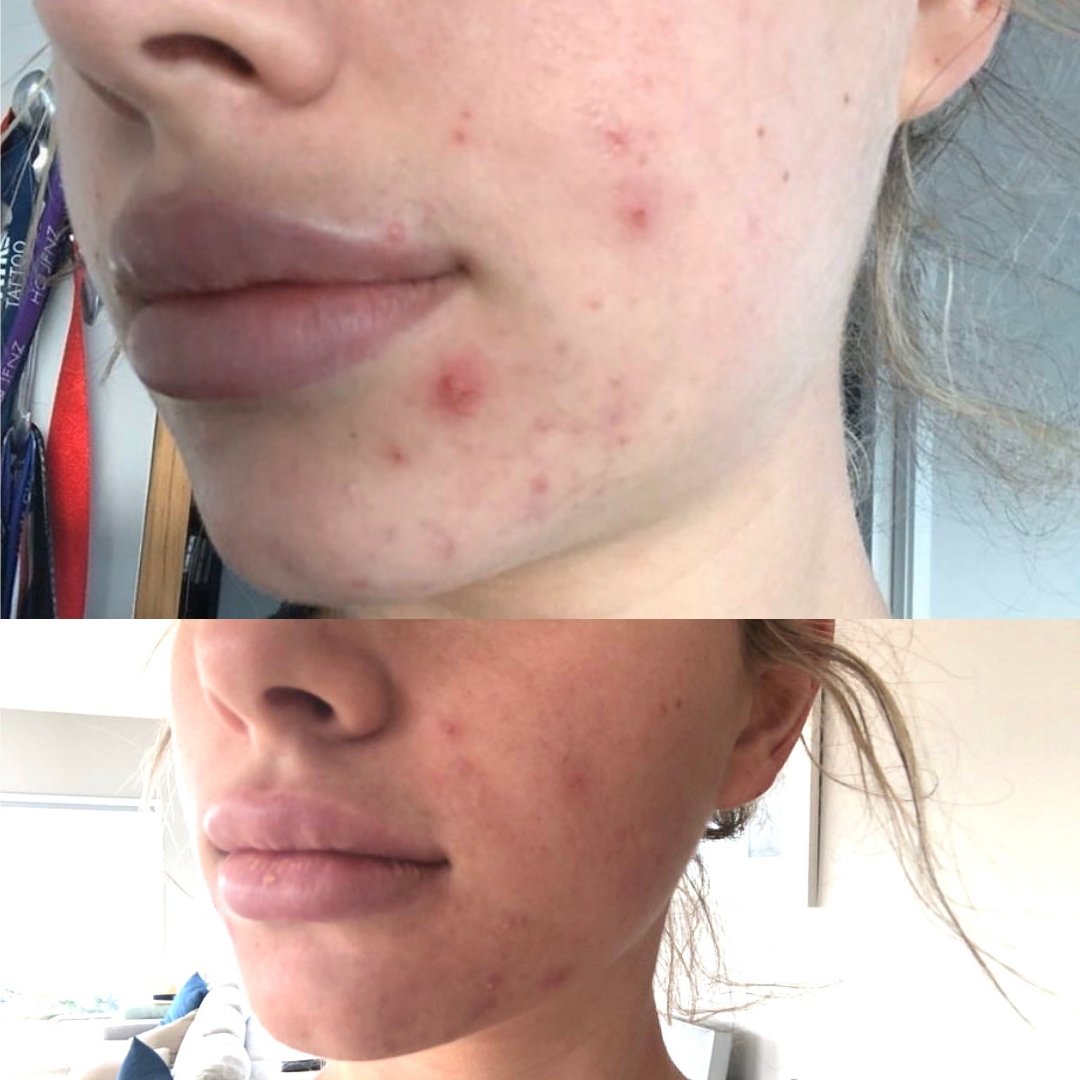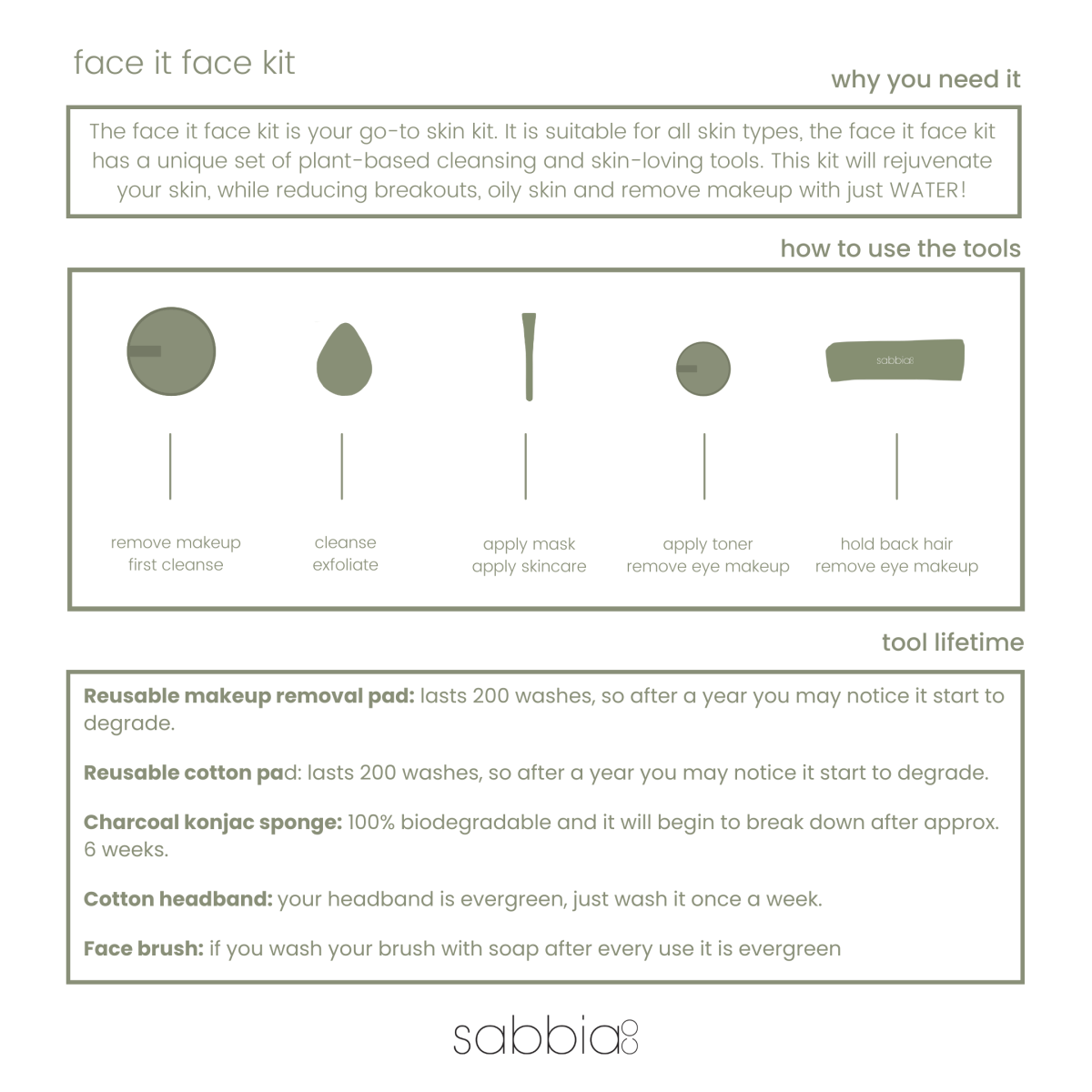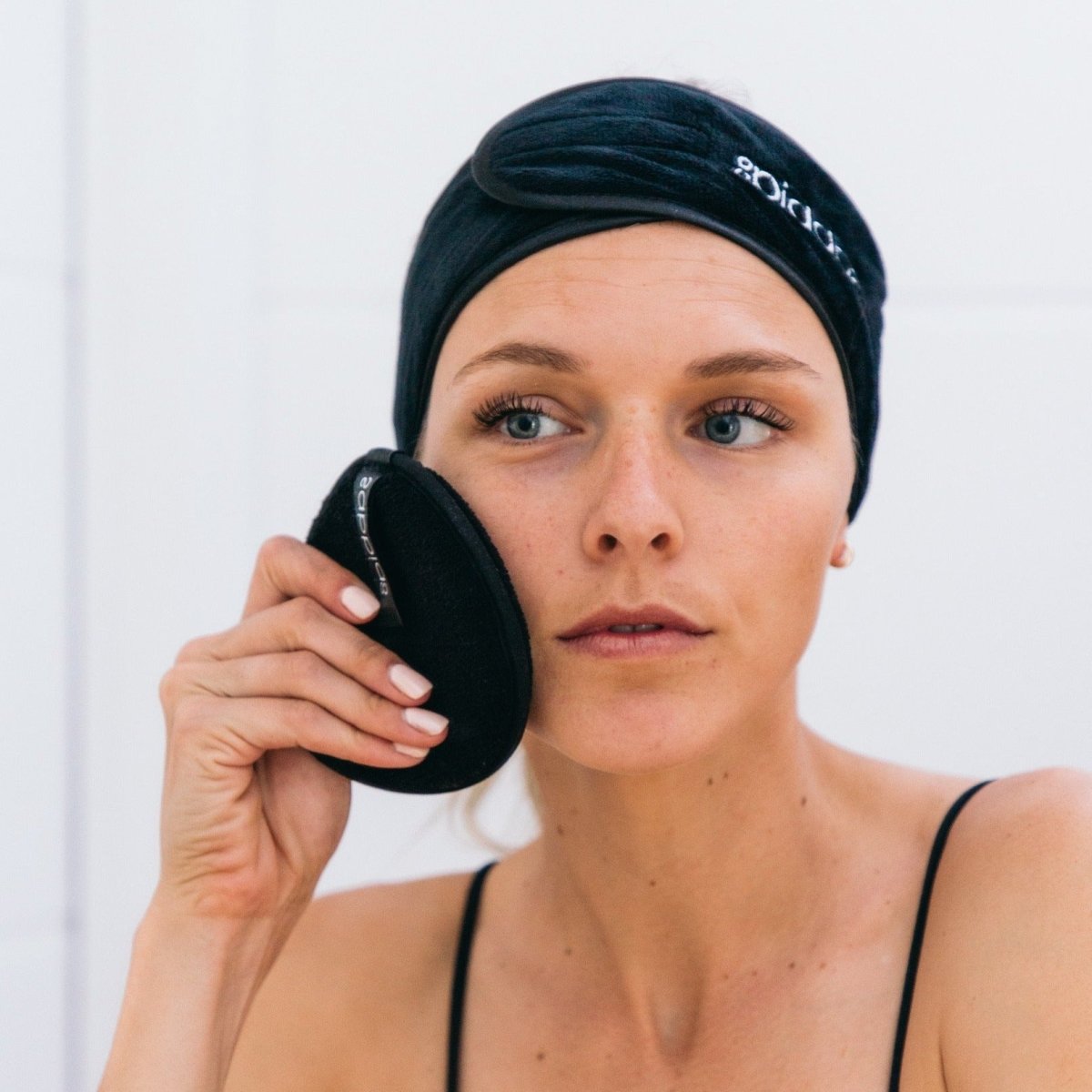 Description
Suitable for all skin types, Sabbia Co's face it face kit has a unique set of plant-based cleansing and skin-loving tools. This luxe kit will rejuvenate your skin, while reducing blemishes, breakouts, oily skin and remove makeup with just WATER!
How to use
Before using your tools make sure you pop the reusable tools (makeup pad, cotton pad and headband) in the washing machine like you would with new undies. Then soak your Konjac sponge in hot water to disinfect it and allow it to expand.    

Step 1: Use Cotton Headband to pull hair away from the face.   

Step 2: Soak Reusable Makeup Removal Pad in water and remove makeup.   
Step 3: Soak Charcoal Konjac Sponge in water and cleanse/gently exfoliate. This product can be used with just water or add your favouritecleanserfor a double cleanse.
  

Step 4: Apply toner or cleanser to Reusable Cotton Pad and cleanse/tone.   
Step 5: Applyface mask or treatment with Face Brush.
Care / ingridents
1 Charcoal Konjac Sponge - lasts 6-9 weeks depending on use.
Made from 100% Konjac root and charcoal bamboo. This product is 100% biodegradable. Read more here.


1 Reusable Cotton Pad - lasts over 200 washes depending on use.
Made from 100% cotton. Read more here.


1 Reusable Makeup Removal Pad - lasts over 200 washes depending on use.
Made from cotton and bamboo fiber blend. Read more here.
   

1 Face Brush - lasts 12+ months depending on use.
 Made from wooden handle with recycled synthetic bristles - meaning it is cruelty-free!
   
1 Cotton Headband - lasts 12+ months depending on use.
Made from Microfiber elastic cotton.    
*You can return your headbands, brushes, and pads to us for up-cycling or alternatively give them a second life by using them as bathroom, kitchen, or all-purpose cleaners. Please read here to learn more.
Increase your results with:
FAQ
how often should I wash my makeup pad?
After each use hand wash with warm water and natural soap, hang to dry. Once a week put in a machine wash with your dark clothes. Place the pads in a laundry bag to avoid losing them in the wash.  

Being washable and reusable means you can use them, wash them, and reuse them again. Each reusable pad will last over 200 washes depending on use/care.
  
how to do clean my konjac sponge?
After each use, hand wash with warm water and hang to dry. Once a week, soak your Konjac sponge in very hot (not boiling) water for 5 minutes to disinfect it.
Each Konjac sponge will last for 6-9 weeks depending on use/care. You will notice your sponge will begin to biodegrade towards the end of its life - this is pretty AMAZING to watch, as it means there is little to no waste! 
what skincare products work well with the face it face kit?
Shipping
Fast shipping
Daily 2pm dispatch MON - THURS.
+ local pickup MON-THURS
Order tracking
Once your order has been shipped you will recieve your tracking #.
Get in touch
If you have a question please email sabbiasquad@sabbiaco.com
Where does it fit in my routine?
In the AM
At Sabbia Co we personally do a water cleanse as soon as we wake, then follow with Collagen C Serum (plus an extra pump for under those sleepy eyes!). Then after exercise use the cleanser with konjac sponge followed by our AM skincare (mist, serum, moisturiser, oil, SPF and BB cream).

In the PM
First cleanse with makeup pad/cloth and water, followed by konjac sponge and cleanser. Once the skin is cleansed you can follow with PM skincare (mist, serum, moisturiser, oil and facial tools).
* We recommend masking 2-3 times a week. Always apply your mask to cleansed and exfoliated skin (mask after cleanser/konjac sponge and before applying skincare). The headband keeps all your flyaways off your face.
Great bunch of items for daily use. You can feel the quality.
Love this prosucy
I purchase these to replace the use of disposable cotton pads in my brow studio. I am in love with this product and how much of a difference it has made to the amount of throw away I have at the end of the day. I strongly recommend other brow stylists make the switch as well.
LOVE IT!
Make-up remover is AWESOME! Gets off mascara and all!
Sponge is great WITH NO PRODUCTS! My skin feels clean and fresh.
The best Purchase I have made for my skin. I am 46 and have always had pimples. 2 weeks and I'm almost clear 😊
Thank you 🥰
Love!
These products are very high quality. I love that the wipes are black - they go back to looking brand new after every wash (I used to have white ones from another brand but they became discoloured and stained so easily).
The sponge is also incredible and exfoliates my skin so gently. Definitely a NEED for anyone into skincare!