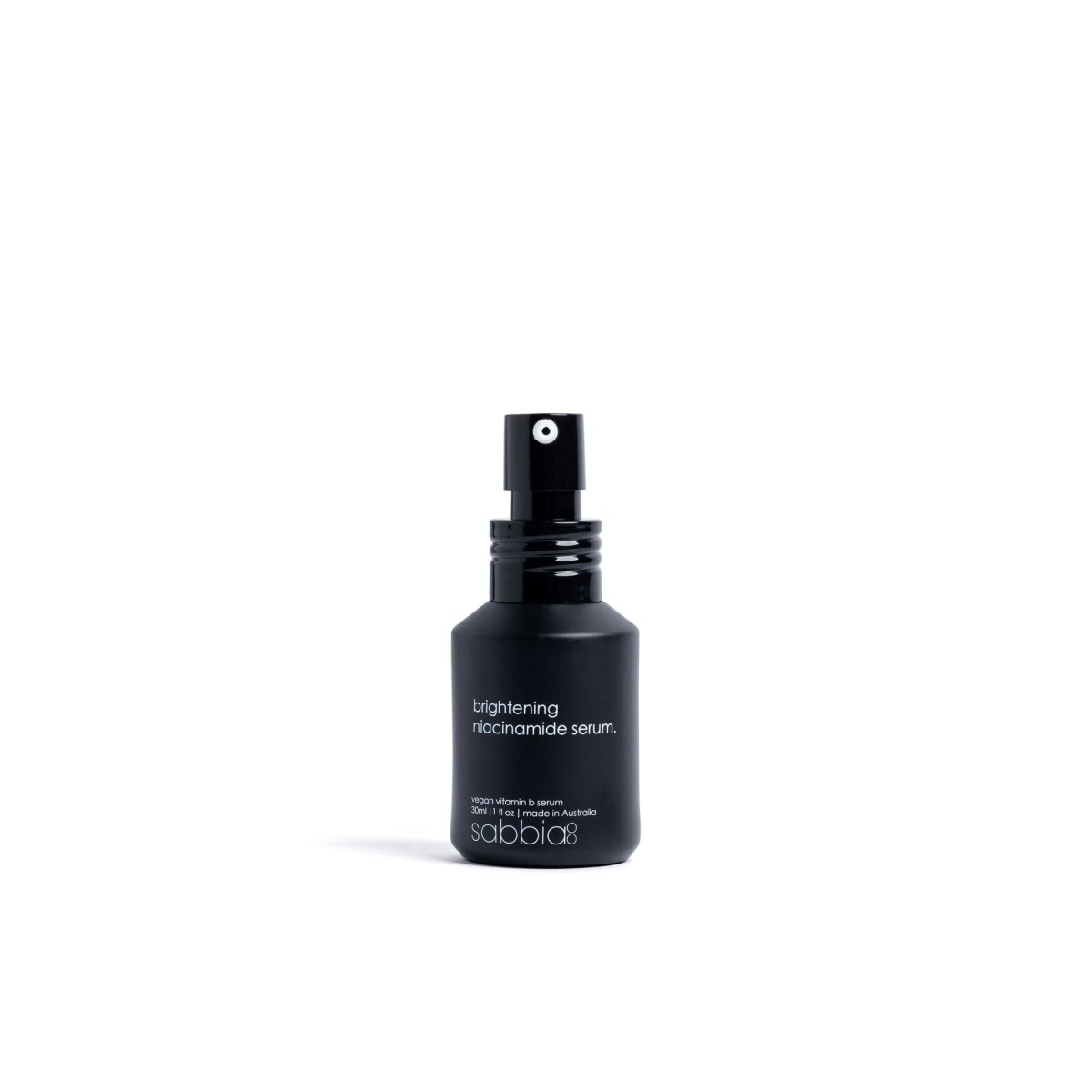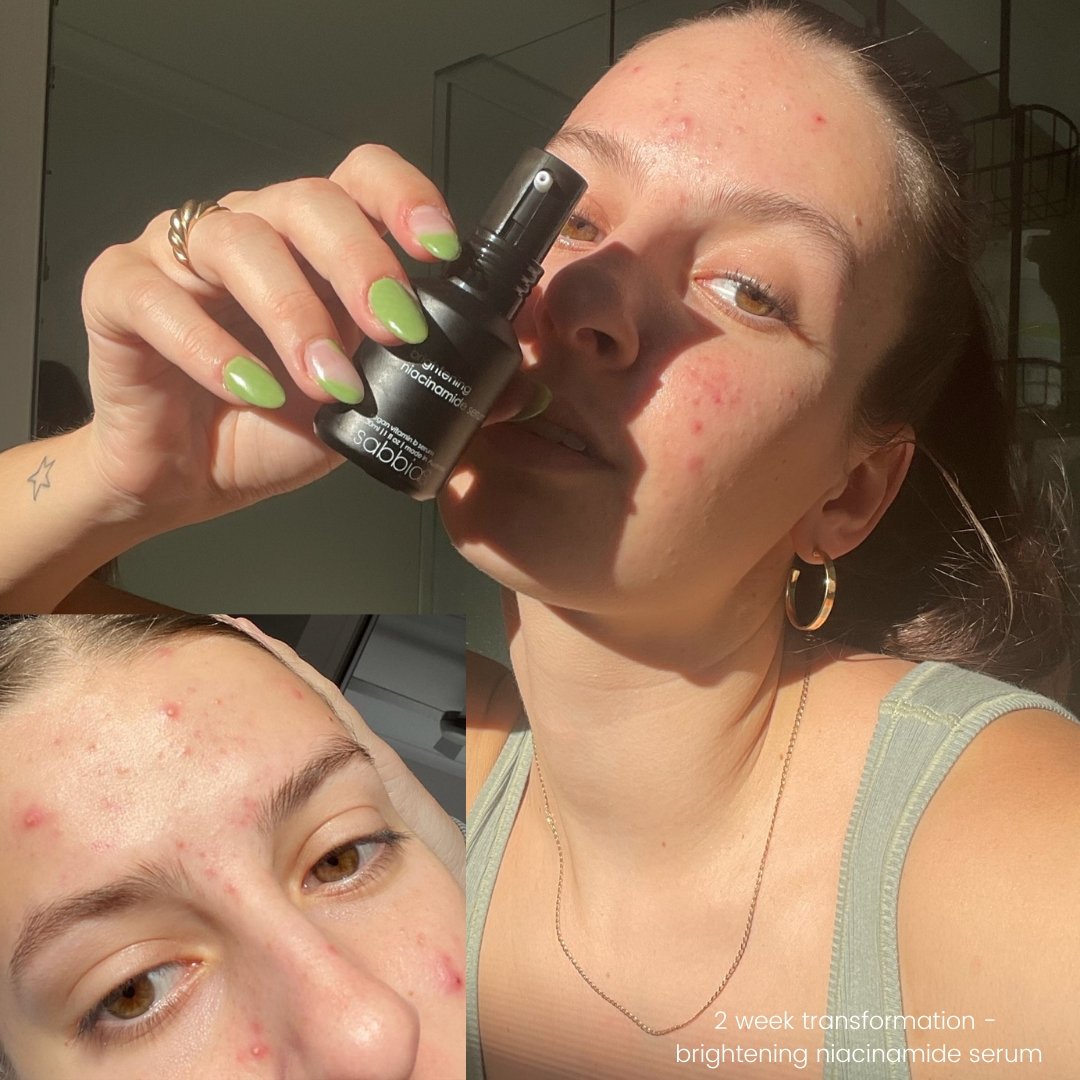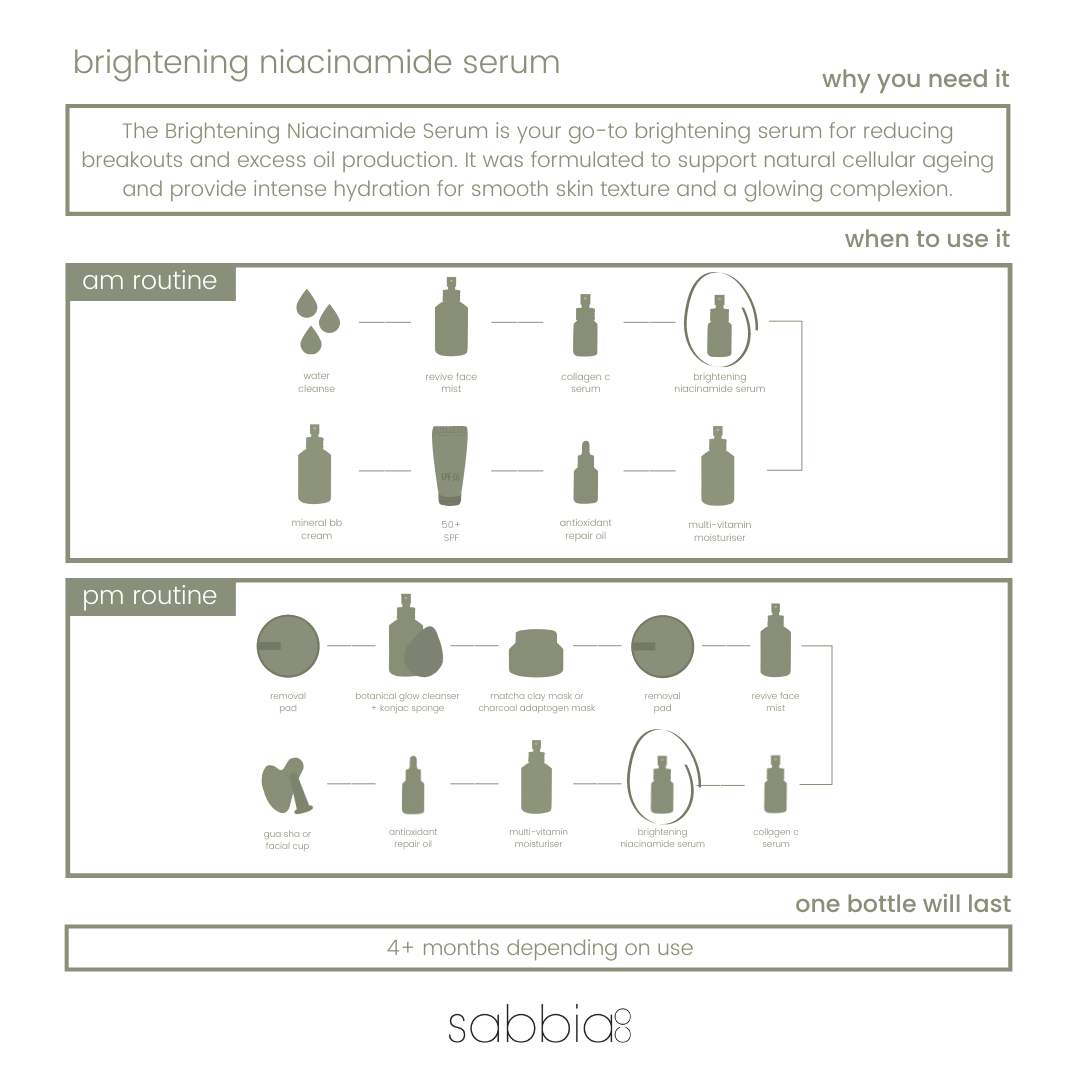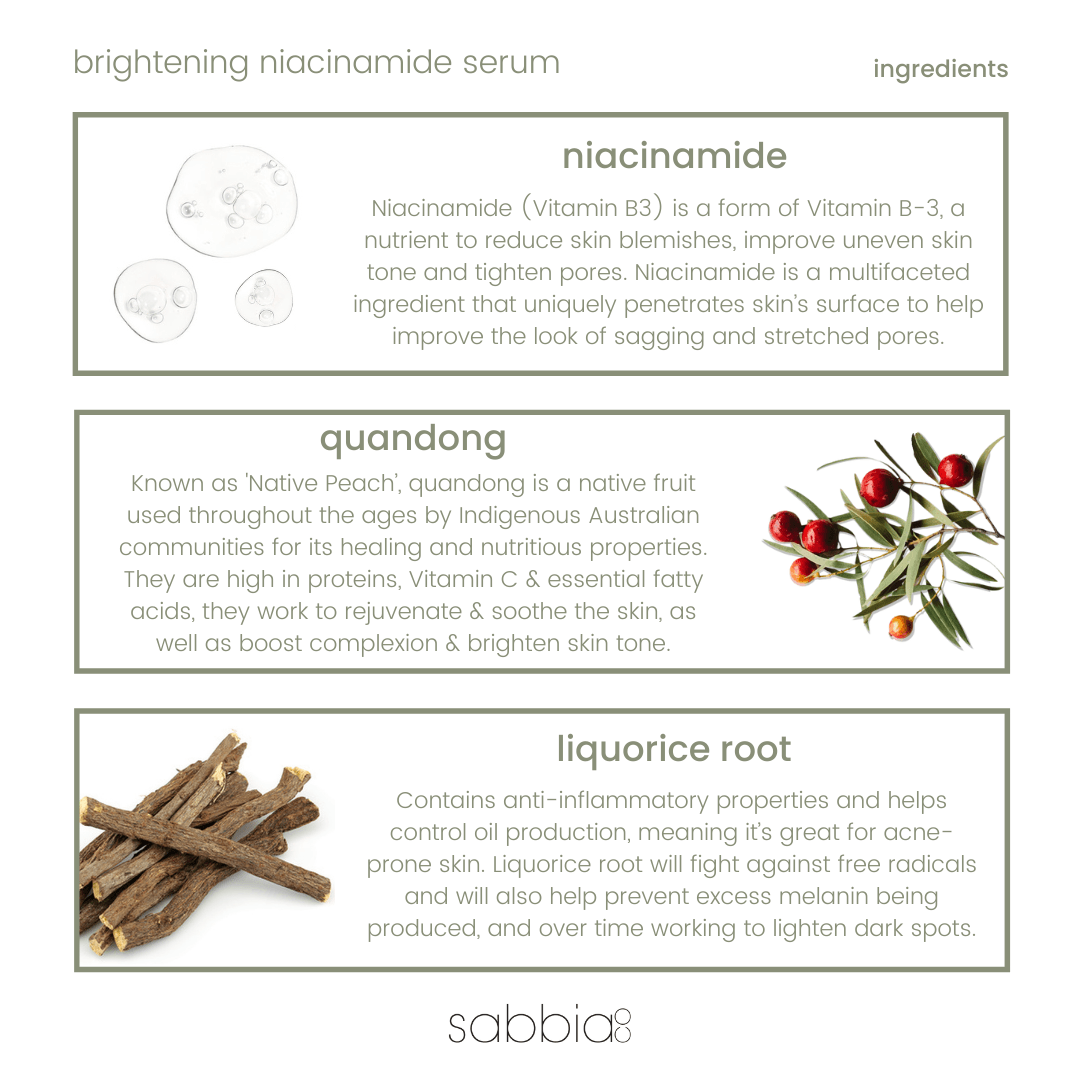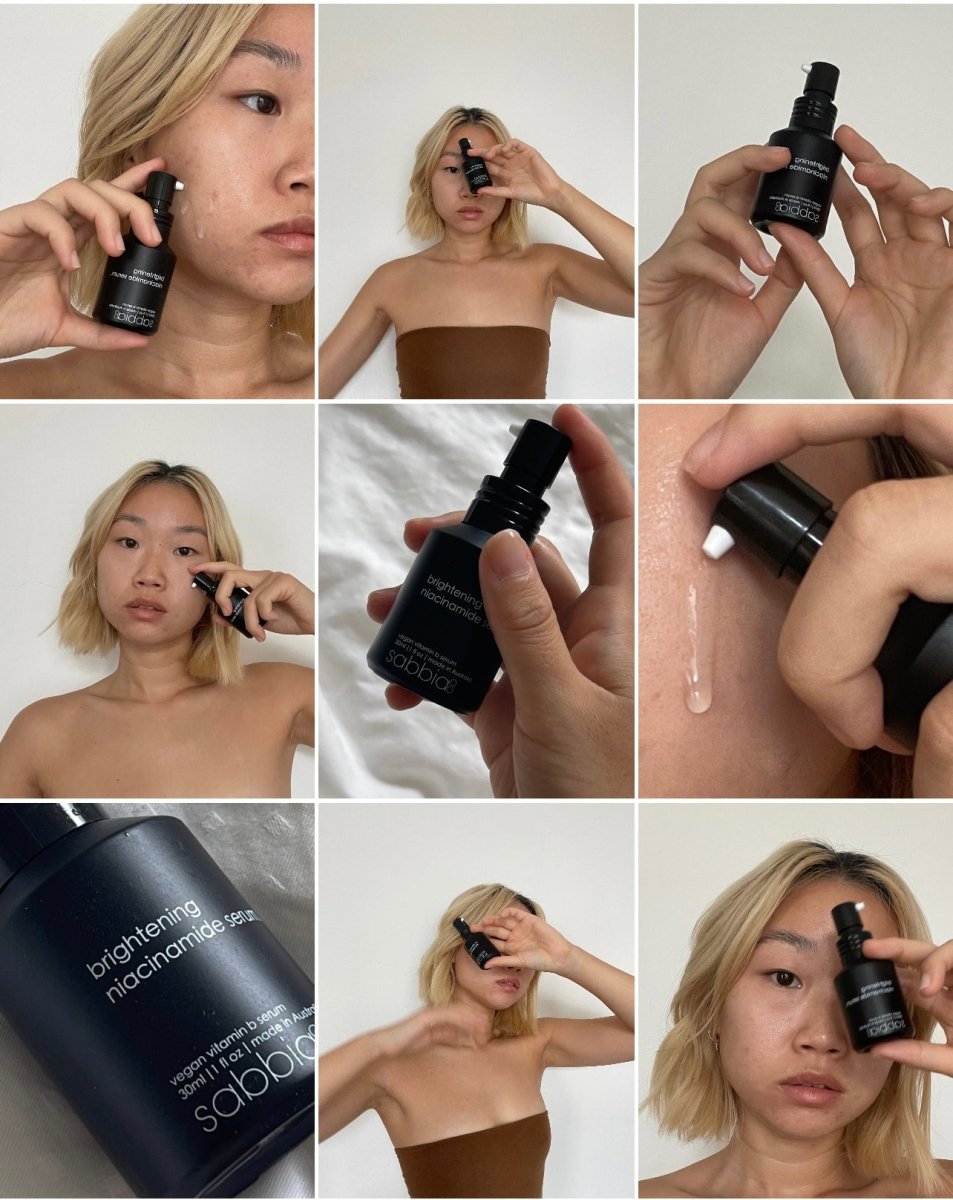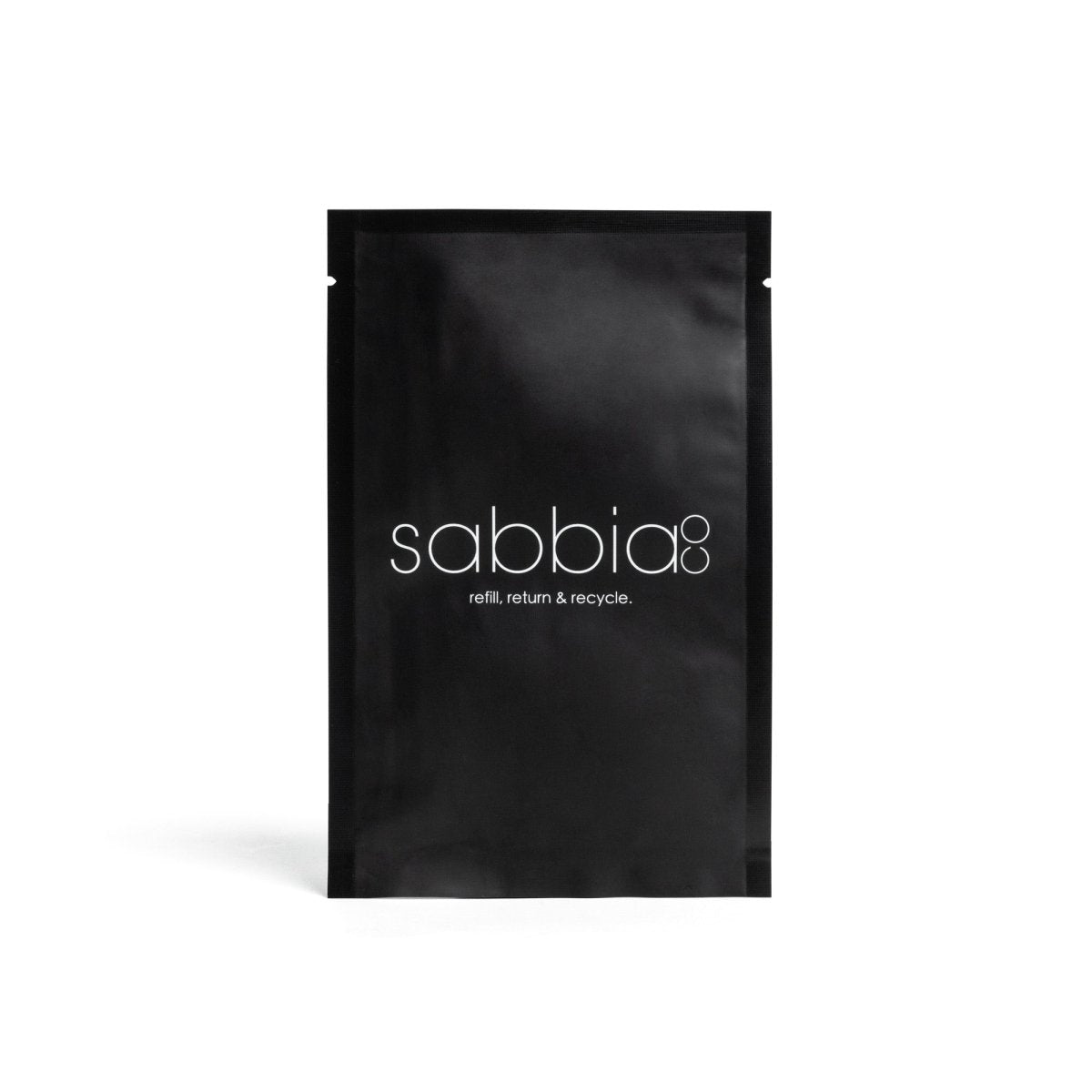 brightening niacinamide serum | 30ml
Description
The Brightening Niacinamide Serum is your go-to brightening serum to soothe, rejuvenate, reduce breakouts, excess oil production and dark spots for a healthy glow. 
How To
Step 1: Slightly moisten face, neck, and décolletage. This helps to hold optimal hydration.
 
Step 2: Apply 1-2 pumps of brightening niacinamide serum to clean fingertips and gently massage over the entire face, neck, and décolletage.  
* If you use our collagen c serum in your routine apply the collagen c serum first, wait 60 seconds then apply brightening niacinamide serum. Combining these 2 products forms a powerhouse combo that addresses uneven skin tone, ageing, breakouts, and dullness. 
Directions: Use morning and night after cleansing. 
Learn more about layering skincare here.
Care / Ingredients
Ingredients: Sustainably packaged in its own glass bottle and recyclable cardboard box. Not tested on animals. Vegan. Australian Made.
Ingredients: Purified Water, Vegetable (Palm Free) Glycerine, Santalum Acuminatum (Quandong) Extract, Glycyrrhiza Glabra (Licorice) Extract, Aloe Barbadensis Leaf Juice Powder*, Triticum Aestivum Leaf (Wheatgrass) Extract, Niacinamide (Vitamin B3), Sclerotium (Mushroom) Gum, Lactobacillus (Radish Root) Ferment, Cocos Nucifera (Coconut) Fruit Extract, Populus Tremuloides (Aspen Bark) - * Organic Ingredients
Warning: For external use only. We recommend patch testing a small area of skin first. Avoid eye contact. If adverse reactions occur discontinue use and consult your Doctor. Keep out of reach of children. Do not swallow. Keep in a cool, dry place.
Highlight Ingredients
Niacinamide (Vitamin B3) - Is a form of Vitamin B-3, an essential nutrient to reduce skin blemishes, improve uneven skin tone and tighten pores. Niacinamide is a multifaceted ingredient that uniquely penetrates skin's surface to help improve the look of sagging and stretched pores. It normalises pore function and protects from further stretching when exposed to damaging UV light for a dramatically smoother, younger-looking complexion. It also helps to balance oil production, reduces water loss in skin, and lessens inflammation. Niacinamide works extremely well combined with other skin-boosting ingredients.
Quandong - Also known as 'Native Peach' are a native Australian fruit used throughout the ages by Indigenous Australians communities for its healing and nutritious properties. Quandong's are high in proteins, Vitamin C & essential fatty acids, they work to rejuvenate & soothe the skin, as well as boost complexion & brighten skin tone.
Liquorice Root - Contains anti-inflammatory properties and helps control oil production, meaning it's great for acne-prone skin. Liquorice root will fight against free radicals and will also help prevent excess melanin from being produced (AKA pigment or colour), over time working to lighten dark spots.
Wheatgrass Extract - Detoxifying, rich in antioxidants, vitamins A, C and E, repairs damaged epidermal tissue, inhibits acne breakouts and assists in reducing the appearance of blemishes and scars.
Organic Aloe Vera - Contains antioxidants, Vitamins A and B, folic acid, enzymes, proteins, amino acids, good fatty acids, triglycerides and it is highly anti-inflammatory. Aloe Vera may also help reduce inflammation and itchiness from psoriasis, acne, dry and sensitive skin.
Radish Root - contains natural moisturising and calming properties, which help alleviate dry, cracked skin and reduce swelling. It also reduces itchiness and the natural moisturisers in radish root can regulate the skin's oil production.
Increase your results with:
brightening niacinamide serum | 30ml
Real People, Real Results
In a clinical study on 30 women, after 4 weeks of use. Subjects of all skin types, ages and ethnicities.
After a single use
• 100% said their skin was hydrated
• 96.65% noticed a healthy glow
In just two weeks
• 100% showed increased skin hydration
• 96.65% said the product reduced breakouts.
• 96.65% said the product revitalised and brightened the skin
FAQ
How does it work with the Collagen C Serum?
How will this help my skin?
Packed full of Australian vegan ingredients to plump, repair, strengthen and naturally boost your skins complexion. With Niacinamide (Vitamin B3), Quandong, Liquorice Root and Organic Aloe Vera this serum is your skins botanical BOOSTER!
Not only is our Brightening Niacinamide Serum packed full of skin loving liquids it has been uniquely formulated with a blend of Indigenous Australian and Ayurvedic plant medicine to brighten, soothe and purify, providing your skin with a vibrant, nourished and luminous glow.
Brightening Niacinamide Serum is a natural booster serum focused on brightening, reducing excess oil and melanin production. This serum contains plant-based ingredients designed to support natural cellular ageing and provide intense hydration for flawless skin texture and a smooth complexion.
How can I refill this product?
Shipping
Fast shipping
Daily 2pm dispatch MON - THURS.
+ local pickup MON-THURS
Order tracking
Once your order has been shipped you will recieve your tracking #.
Get in touch
If you have a question please email sabbiasquad@sabbiaco.com
Where does it fit in my routine?
In the AM
At Sabbia Co we personally do a water cleanse as soon as we wake, then follow with Collagen C Serum (plus an extra pump for under those sleepy eyes!). Then after exercise use the cleanser with konjac sponge followed by our AM skincare (mist, collagen c serum, brightening niacinamide, moisturiser, oil, SPF and BB cream).
In the PM
First cleanse with makeup pad/cloth and water, followed buy konjac sponge and cleanser. Once the skin is cleansed you can follow with PM skincare (mist, serum, moisturiser, oil and facial tools).
Life Changing
This serum is everything it says and more, I've been struggling with my skin for years and cannot believe how quickly this calmed my skin, reduced oiliness and my breakouts, pigmentation and scarring.
I now have the full sabbia range and have never felt more confident in my skin
Glowing skin
I have been using this for 6 months now but I noticed results within 10 days. My old scars from my acne have faded, my skin looks bright and glowing. Use this in conjunction with the collagen c serum and you won't regret it!
Love
I love the niacinamide serum so much, it gives my skin a fresh glowing look
Great product!
Have been using niacinamide for a while but have since moved onto sabbias product and it's great! My skin is looking and feeling so much better! Can't wait to see even better results in a few months
Fabulous
I love this serum!!! I have sensitive skin and it is one of the few serums that have worked to calm my skin and smooth pores. Will definitely be ordering again!